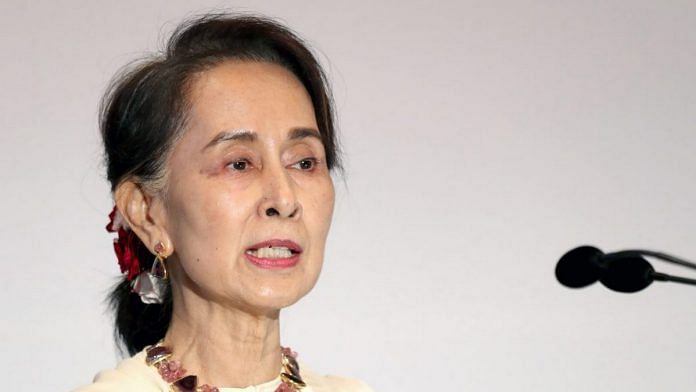 Myanmar/Singapore: When Aung San Suu Kyi was awarded the Nobel Peace Prize in 1991, she was hailed as an imprisoned martyr dedicated to bringing democracy and human rights to a country that for decades had withered under a brutal military junta. Now as Myanmar's de facto leader she is set to face her European peers, defending her country in The Hague on the charge of genocide.
On Tuesday, the International Court of Justice began hearings on only the third genocide case heard by it since World War II. In it, Myanmar stands accused of carrying out the systematic rape, torture and murder of thousands of Rohingya Muslims that forced more than 740,000 people to flee across the border to Bangladesh where they now live unwanted and in squalor.
Suu Kyi in her capacity as state counselor leads a team to defend Myanmar against the accusations largely directed at the same military apparatus that for 14 years kept her under house arrest until her release in 2010. The decision to appear before the court comes despite overwhelming evidence of guilt, while Suu Kyi herself is accused by UN investigators of "complicity" in the atrocities.
The trial marks a low point for the reputation of a democracy icon who during her political rise in Myanmar's 2015 elections was often compared to the likes of Nelson Mandela.
Filed in November by the small Muslim-majority African nation of Gambia, the case argues Myanmar is in violation of the 1948 Convention on the Prevention and Punishment of the Crime of Genocide after security forces engaged in widespread "clearance operations" in Rohingya villages that began in earnest in August 2017. Myanmar has been a member of the convention since 1956.
"Many thousands of people have already died as a direct result of Myanmar's genocidal acts," Abubacarr Tambadou, Gambia's Minister of Justice and Attorney General, said in opening remarks just steps away from Suu Kyi. "In excess of biblical proportions."
"All that we seek from you is that you tell Myanmar to give the Rohingya a chance to live a decent and dignified life in freedom and peace," he added.
Suu Kyi listened as Gambia's lawyers graphically described instances of rape and murder against women and girls throughout Rakhine State by the country's security forces. Myanmar will get its chance to formally respond on Wednesday morning.
Fallen Star
"It's hard to think of figure in modern history who's public perception has fallen so sharply," said Murray Hiebert, a senior associate of the Southeast Asia Program at the Center for Strategic and International Studies in Washington and former senior director for Southeast Asia at the U.S. Chamber of Commerce.
Since the 2017 anti-Rohingya violence, international organizations have withdrawn a number of accolades from Suu Kyi including the U.S. Holocaust Museum's Elie Weisel award and Edinburgh's Freedom of the City award. The latest came in November when Amnesty International withdrew its most prestigious human rights award, calling out Suu Kyi by saying, "you no longer represent a symbol of hope, courage, and the undying defense of human rights."
"For clarity, the Lady is not the one who committed the alleged crimes," Myo Nyunt, spokesman of the National League for Democracy, said in a phone interview, referring to Suu Kyi's popular name. "She didn't keep silent on this. We do believe in her sincerity about the truth, and she has taken the crucial responsibility to defend her country, which is admirable."
Military spokesman Brigadier-General Zaw Min Tun, did not respond to multiple phone calls seeking comment.
Calls for Solidarity
Suu Kyi still enjoys wide support from the Bamar, or ethnic Burmese, who make up a majority of Myanmar's 54 million population. On Tuesday, thousands of supporters gathered in Yangon to watch a live telecast of the court proceedings and to defend the woman they say is protecting Myanmar's national interest.
"We love Mother Suu with all my heart," said Than Than Zin, a 58-year old shopkeeper. "Whatever she does, we believe she is doing for the good of our country."
Following multiple investigations, the UN directly accused Myanmar's military, known as Tatmadaw, of perpetrating the atrocities with "genocidal intent" while the U.S. State Department in July sanctioned four Myanmar military officials including army Commander-in-Chief Senior General Min Aung Hlaing for "gross human rights violations." The military has repeatedly dismissed the charges as "false accusations."
By contrast China, as Myanmar's top investor, called for closer relations with Myanmar following a meeting between Suu Kyi and Minister of Foreign Affairs Wang Yi December 6.
With elections expected in the second half of next year, experts say the case will hardly impact support for Suu Kyi as the country grapples with bread and butter issues like expanding an economy that suffered under decades of isolationist rule. The army has denied Suu Kyi the right to assume the presidency, while also maintaining a stronghold on parliament with a mandatory 25% of all seats and automatic veto rights.
"Aung San Suu Kyi may think she is serving the national interests by going to The Hague, but if all she does is deny or defend the military's actions, the only interest she will be serving is theirs," said Nicholas Bequelin, East and Southeast Asia Director for Amnesty International. "She should be standing side by side with victims and survivors in the pursuit of truth and accountability."-Bloomberg
---
Also read: What is the Rohingya genocide accusation that Aung San Suu Kyi will defend at UN court
---