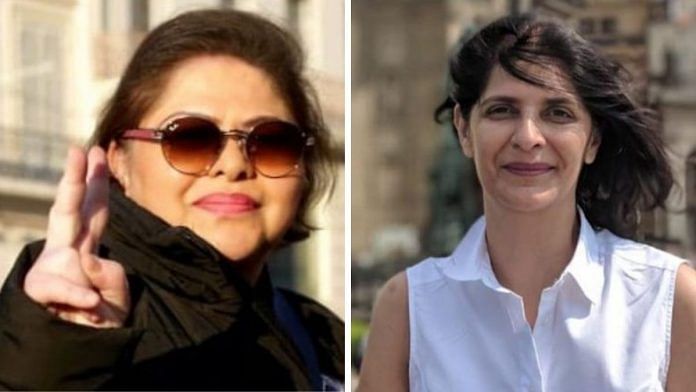 New Delhi: British and other European security services have warned Pakistani dissidents living across the continent that their lives could be in danger from forces back home, a report in The Guardian has revealed.
"British security sources are understood to be concerned that Pakistan, a strong UK ally — particularly on intelligence issues — might be prepared to target individuals on British soil," said the report, published Saturday.
Calling it a 'hit list', the newspaper noted that individuals who received warnings include London-based political analyst Ayesha Siddiqa, British-Pakistani YouTuber and columnist Gul Bukhari and Paris-based journalist Taha Siddiqui.
Rights activists from Balochistan and members of the Pashtun Tahafuz Movement — a group representing the country's Pashtun community, which has alleged persecution by the military — living in Europe also received warnings, according to the report.
Speaking to ThePrint, Siddiqui said, "I have been told by French authorities in Paris to completely cut off interaction with certain Pakistanis that I knew and advised me to be extremely careful when interacting with any Pakistanis in Paris." The journalist moved to France after escaping an abduction attempt in Islamabad in 2018.
He also alleged that his father was once interrogated by an officer who claimed to be an ISI brigadier and asked him: "Is Taha not worried if something happens to his parents or his siblings living in Pakistan?"
Pakistan Information Minister Fawad Chaudhry told local daily Dawn that the report is based on conspiracy theories.
"The Met Police is holding one of Pakistan's biggest terrorists there… how can they talk about threats? This is propaganda against ISI (Pakistan's intelligence agency)," he said Monday.
---
Also read: Why is India amber and Pakistan red? Minister Fawad Chaudhry tweets online petition to UK govt
---
'Out to silence journalists'
According to political scientist Ayesha Siddiqa, she received an 'Osman warning' — or a "threat to life" notice — from the Metropolitan Police, The Guardian reported.
"The Met's counter-terrorism command said that there was credible information of a threat to my life. It's a life and death matter," Siddiqa told the British daily.
She further said the British authorities asked her husband if anybody had offered him money to ask her to return to Pakistan.
Meanwhile, Bukhari, who fled to the UK after she was abducted in Lahore in 2018, said the Met Police warned her not to share her home address with anyone.
The report comes a month after a man in London was charged with conspiring with others to murder Ahmad Waqass Goraya, an exiled Pakistani blogger and political activist, in the Netherlands.
Journalists in Pakistan have also alleged that the Pakistani government is out to silence journalism.
Geo News anchor Hamid Mir, who was banned from going on air after he criticised the military establishment last month, told BBC that he is facing more censorship under the Imran Khan government than he did under military dictator Pervez Musharraf.
"I am banned on my TV channel and I cannot write my regular column in my newspaper. This is not the first time. When Pervez Musharraf was in power, he also banned me on TV but you see, he was a military dictator, he only banned me on TV, he never banned me on newspaper. Now Mr Imran Khan is the prime minister of Pakistan, and now unfortunately not only am I banned on TV but I am banned from my newspaper column," Mir said Monday.
In 2020, two Pakistani dissidents were found dead in Canada and Sweden under mysterious circumstances. Karima Baloch, who campaigned for an independent Balochistan, was found dead in Toronto, Canada, last December while journalist Sajid Hussain disappeared in Sweden's Uppsala in March 2020 and was later found dead in a river.
(Edited by Rachel John)
---
Also read: Pakistan criticises India for 'refusing' permission to 5 foreign journalists from visiting PoK
---