Despite two waves of the Covid-19 pandemic, the Maharashtra Industrial Development Corporation (MIDC), which is the nodal investment promotion agency of the Maharashtra government, has facilitated investment commitments worth Rs 1,29,439 crore in one year from June 2020 to June 2021, under the Magnetic Maharashtra 2.0 initiative. It has signed 56 MOUs with large conglomerates including that from countries such as the US, the United Kingdom, Spain, Japan, Singapore and South Korea.
These agreements are across sectors, ranging from energy to food processing to automobile and electronics, and are expected to generate 2,98,292 jobs. Under the decisive leadership of Hon'ble CM Shri Uddhav Thackeray ji and the dedication of Hon'ble Industries Minister Shri Subhash Desai ji, the government has been committed to ensuring that Maharashtra does not lose its momentum as far as development is concerned.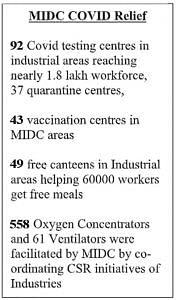 Maharashtra has consistently been the top performing state in terms of investments, industrial development and FDI. Even during the pandemic time, Maharashtra has been the highest recipient of FDI. The MIDC has helped the state secure Foreign Direct Investments worth Rs 1,71,807 crore since October 2020.
The Covid-19 pandemic, in addition to its healthcare challenges, has fundamentally altered how businesses operate. However, the Maharashtra government's support systems have proved to be resilient and robust in these testing times, and the government is continuously improving its service delivery to be a true growth partner.
In addition to reforms, to minimise the impact of the second wave on economic activity, the state government has consistently helped MIDC in ramping up Covid-19 relief measures. It has promptly given special approval to financial incentives for setting up new oxygen manufacturing plants, under which the industries will be relieved from GST abatement, exemption of stamp duty and electricity duty, subsidy on electricity tariff, interest subsidy for MSME units, and more.
A special capital subsidy will also be provided for oxygen units producing between 25 MT to 50 MT of oxygen. Some of these units set up in Vidarbha, Marathwada, Dhule, Nandurbar, Ratnagiri, and Sindhudurg regions shall be eligible for incentives up to 150 per cent of their qualified fixed capital investments.
Single window clearance, dedicated employment portal
Maharashtra is the undisputed leader in contribution to national growth. Maharashtra, widely known as the powerhouse of India's development, has a Gross State Domestic Product (GSDP) size worth $402 billion, the highest among all other Indian States and Union Territories, and accounts for 14 per cent of India's overall GDP. It is the result of a proactive government which emphasises on the smooth functioning of the industrial ecosystem. To minimise the economic impact of the pandemic, the Industries Department formulated and modified essential guidelines and permissions.

The state also owns the largest share in Foreign Direct Investment. It has attracted $140 billion FDI in 2000-2020, accounting for 30 per cent of India's share. Maharashtra also tops the list in manufacturing and exporting as it contributes 15 per cent of the industrial output of the country and has the highest value of exports at $58 billion, accounting for 20 per cent of India's exports.
The MIDC also acts as a facilitator between investors and the state government by bringing in several key reforms such as Plug and Play infrastructure, under which investors are given ready-to-use infrastructure with affordable rental sheds, comprehensive utilities, expat housing, and modular spaces in a 100 per cent compliant ecosystem.
In order to attract greater investments in industries, it later introduced a new plan called Maha Parwana which rolled out several incentives and a single window clearance system for investors that meet statutory norms to start operations within 48 hours.
In July 2020, it launched Maha Jobs, a dedicated industrial employment portal to help new and potential investors employ the vast and skill-rich local talent in Maharashtra on the portal across 17 sectors and 950+ job roles. The portal received 2.94 lakh applicants, 2,731 employees and 38,042 job roles so far.
Industrial development has a direct impact on the GSDP (Economy) of the state and generates quality employment. Therefore, investments in the state are essential, now more than ever, for the state and its residents. These investments have a huge positive impact on the lives of everyone in the state.
With Magnetic Maharashtra 2.0 and reforms such as Plug & Play Infrastructure, Maha Jobs, Maha Parwana, Investor First Program, Capacity Augmentation of MIDC land banks and Dedicated Country Desks, Maharashtra is poised to attract more investments in the state. In the coming months, we can expect the Maharashtra Government to carry out more reforms to catapult the state into one of the top investment destinations in the world.
Follow us on Twitter
(ThePrint ValueAd Initiative content is a paid for, sponsored article. Journalists of ThePrint are not involved in reporting or writing it.)