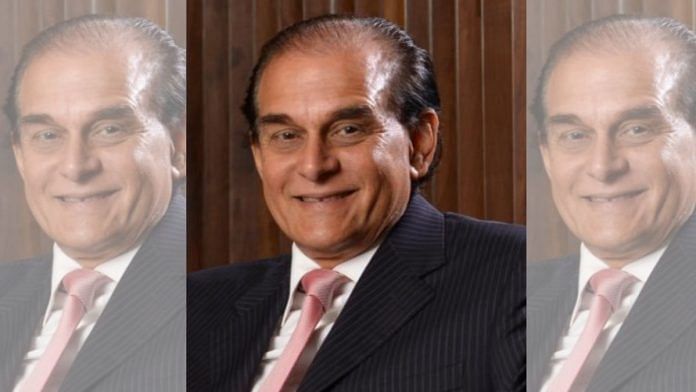 New Delhi: Training in retail and advertising from the bottom-up was crucial to building Marico from scratch, said Harsh Mariwala, the company's founder and chairman.
In a conversation with ThePrint's Editor-in-Chief Shekhar Gupta on 'Off The Cuff', Mariwala along with business guru Professor Ram Charan spoke at length about Marico's journey as a company as well as its flagship coconut oil brand Parachute.
"All my uncles and a lot of my friends said, 'Please change the brand name [of Parachute],' I don't know why but I decided to continue the brand name and I think the decision has paid off," said Mariwala, who has authored the upcoming book 'Harsh Realities: The Making of Marico' with Charan.
Responding to a question on the coconut oil brand's visualisation, the Marico founder dispelled any notions that the name Parachute was inspired by coconut trees.
Instead, Mariwala explained, the brand was named such due to World War 2. "The brand existed because of World War 2, parachutes were something new, people used to see parachutes flying down in the World War days."
---
Also read: IMF lowers India's GDP forecast to 9.5% for FY22 in view of 'severe' setback caused by 2nd wave
---
Working in an Indian business family
Speaking about their upcoming book, Mariwala and Charan also provided insights into businesses run by Indian families.
"Indian business families are different from the families I worked with in Brazil, China and Japan," said Charan.
He added that an Indian company's founder, often the family patriarch, typically calls the shots in a dictatorial manner that often leads to not a very clear channel of communication.
And according to Mariwala, the book 'Harsh Realities' is a memoir about his business journey, learning the ropes of the industry and working with his family.
"[Harsh Realities] is an account of my own journey, successes and failures, peppered with nuggets of wisdom from Prof. Charan…in a very easily readable story format," he said.
"Building the business from scratch…the experience helped me a lot," said Mariwala, "I saw many failures in my journey but I don't regret them."
---
Also read: Why Indian energy companies have the upper hand in renewables boom
---
Moment of 'digitise or die' for businesses
The two authors also spoke at length about the importance of understanding consumer behaviour to create a successful business like Marico.
Such an understanding is more important now than ever, Charan said, because of digitisation and the Covid-19 pandemic. Since businesses are facing heightened operational challenges, it is "digitise or die," he added.
Mariwala further reiterated the importance of working on the ground to truly understand the consumer's wants and needs.
"A CEO has to be in touch with the consumer. Consumer linkage and insight is the role of a CEO. If they think that it can be substituted through an excel sheet, then they are mistaken," he said.
Charan concurred and labelled a lack of expertise in this area as a "non-starter" for CEO candidates. "The 'kirana merchant' [corner shop owner] knows the consumer, remembers them, without computers. Today, sitting in the office doesn't make money."
Mariwala also touched on the challenges faced by him and his company, specifically the battle between Marico and Hindustan Unilever Limited (then Hindustan Lever Limited), a consumer goods company that had publicly stated it wanted to acquire Parachute and Marico.
"[Lever's] whole objective was to create fear within me. By then, we had gone public so the impact on our share prices was dramatic…they basically wanted to put pressure on me to sell out," he added.

---
Also read: June slowdown, slow recovery seen pushing RBI to hold interest rates next week
---