New Delhi: Rinju Rajan, Anusha Meher Bhargava, and Akhila Somanath, three women from different parts of India, are not techies. But technology — and its potential power as a positive force — is the lifeblood that drives their work now.
Rajan, Bhargava and Somanath, who have no educational background in information technology, have started a non-profit that seeks to help India's non-profits — especially the smaller ones — give up their fear of technology. The idea is to widen their horizons and give them a level playing field with the big guns. 
Set up in 2018, Tech4Good (T4G) Community works through a group of techie volunteers — called 'tech mentors', drawn from companies such as Google and Facebook, among others — who help guide different non-profits through questions such as the ideal software for a certain goal.
The non-profit creates awareness about tech use through social media, and organises workshops where each participating non-profit flags their exact issue, which is then matched with a 'tech mentor' who can resolve it.
T4G also aims to ease the sourcing of software, by guiding the organisations to the right software vendor, negotiating a sound deal, and advising them on budget-friendly solutions. A network of connections developed with multiple tech firms helps ease this goal. 
Over the past three years, the company claims to have aided as many as 600 non-profits.
---
Also Read: Indian IT industry attracts more women, but many exit within first 5 years in the job
---
How they came together
Of the three co-founders, Rajan is the only one who has studied in a technology institute. However, the IIT-Madras alum did an Integrated Master's in Development Studies from the institute, as part of its programme for liberal arts and social sciences. 
Rajan believes her inclination to see tech as a solution might be the result of her IIT roots. "My friends are engineers, and I think I was influenced by my friends, and IIT professors to think of tech as a positive force," she said.
Somanath is a graduate in psychology, journalism, and English who started volunteering with non-profits at 17. 
"At nearly 18, my friends were out partying and I somehow found myself teaching kids. It's something I really loved doing," she told ThePrint.
Bhargava, meanwhile, is a graduate of literature and has a Master's in International Relations. She loves drawing digital art, but that's something she describes as a self-taught hobby.
There was no "aha moment" for the trio — no epiphany — that drove them to set up T4G. It was instead a series of events — one thing led to another, as they say — that they came together. 
All three had worked in the non-profit sector and realised first hand how technology could be an equaliser, giving a small non-profit in rural Karnataka, for example, the same opportunities for finding resources like funding (such as through an online crowdfunding platform) that a larger non-profit would have.
The three met at the NGO Amnesty International, where they worked together, and developed a friendship.
"I viewed them (Rajan and Somanath) as individuals with integrity and believed that their work would reflect those values," said Bhargava.
They subsequently decided to start T4G.
Talking about their objective, Somanath said: "Non-profits are trying to solve some of the hardest problems in the world… Yet, in my experience the non-profit sector is hesitant to adopt technology."
Bhargava added: "The perception is that if a big, for-profit company is using a software or an app then it must be expensive, complicated to use."
The core team of T4G is currently spread across the country: Bhargava works from both Lucknow and Mumbai, while Rajan and Somanath work from Bengaluru. The two resident tech experts — Santhosh Lourdraj and Guruprakash Sekar — are based in Chennai. The latter two manage T4G workshops and maintain its online platform.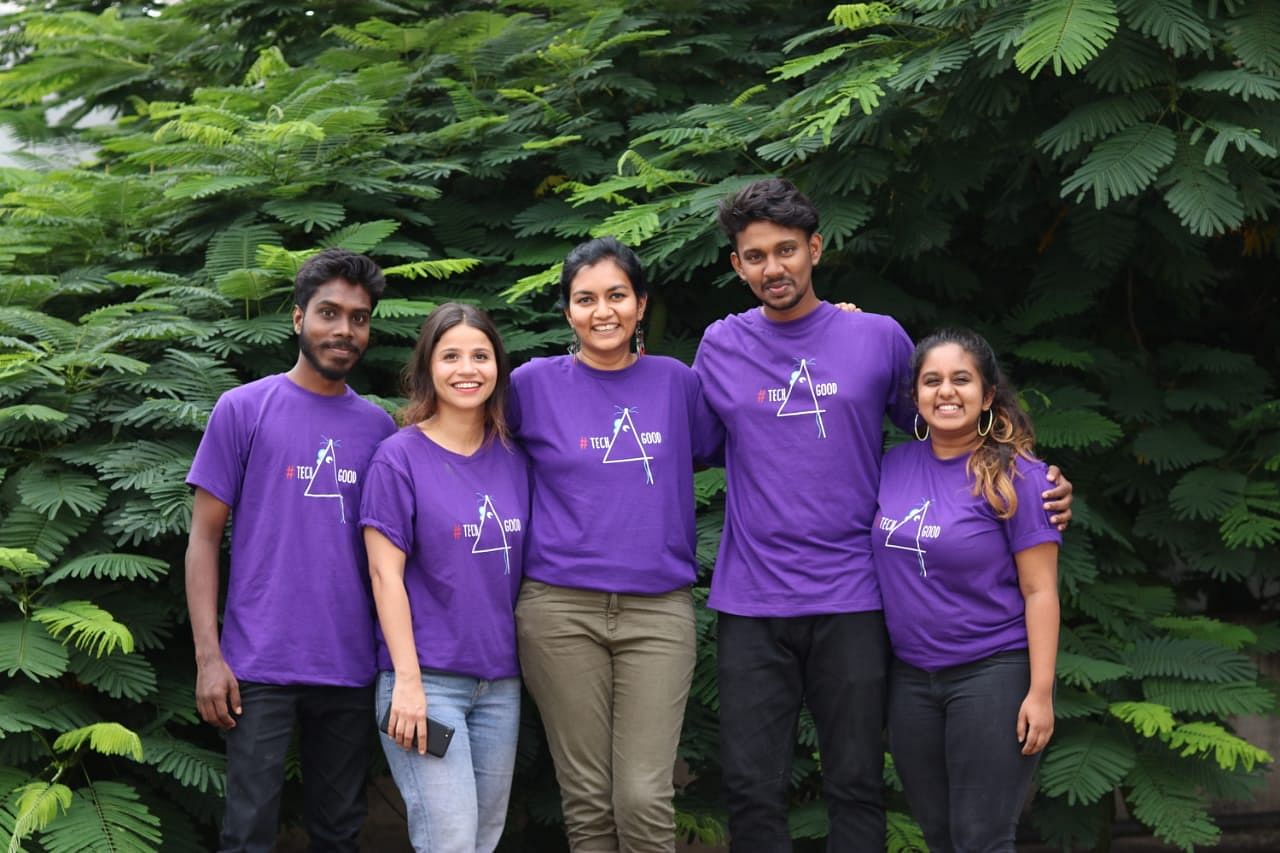 Since its formation, the team has worked remotely from their own cities, meeting only occasionally at their office on Wheeler Road in Bengaluru. 
Said Bhargava: "As a team of non-techies working remotely for close to three years now, we want to lead by example that technology is nothing to be afraid of."
T4G is registered as a non-profit under Section 8 of the Indian Companies Act, which applies to firms whose objective is to promote "commerce, art, science, sports, education, research, social welfare, religion, charity, protection of environment or any such other object".
Such companies don't work with profit as an objective and have to apply any profits made to furthering the organisation's goal. There are an estimated 3 million non-profits in India.
The operations of T4G — including salaries to the three co-founders and its two other staffers — are conducted through monetary grants. 
Currently, it receives two such grants — one under Facebook Pragati-The/Nudge Centre for Social Innovation Accelerator Program, a CSR initiative of the social media giant powered by the India-based tech non-profit incubator, and the second from the Mumbai-based EdelGive Foundation, a philanthropic initiative of the financial services firm Edelweiss that funds and supports NGOs.
It currently works with 25 volunteers, with the non-profit looking to double the number.
---
Also Read: We invest in tech, then expect people to catch up. And women get left out of Digital India
---
Helping out during pandemic
T4G's biggest opportunity yet to encourage the use of tech came during the pandemic, as almost all work shifted online in light of Covid restrictions.
As Covid emerged, the non-profit sector went into overdrive, trying to pull off more relief work, faster. T4G took it as the perfect storm to show what tech can do for an organisation working only online.
T4G set up online workshops and trained about 350 non-profits on what software they could use during the pandemic, ranging from data-collection tools, and process management tools, to project management tools. The non-profits were also guided towards subscription waivers and discounts on software.
Rajan said a very important part of sustaining the T4G model is to constantly network with organisations that are funding non-profits, and secure discount deals from software firms.
For example, the workshop series during Covid was sponsored by software firm Salesforce, investment firm Omidyar Network India, which works in the social work sector, and EdelGive Foundation.
It's also important, according to the co-founders, to build relationships with tech companies to ensure their employees are available to volunteer through T4G to teach at the workshops. So far, T4G volunteers have been drawn from Google, Facebook, Salesforce, Atlassian, Razorpay, and change.org. 
Speaking to ThePrint, two non-profits that T4G has worked with explained how their association had helped them optimise operations.
Tanushree Narain Sharma, Operations Director at the education non-profit Transform Schools, People for Action, said she was introduced to online work tool Trello at a T4G workshop.
With Trello, she said, "I am able to see our entire organisation's work laid out visually in front of me without referring to dozens of emails."
Pratip Ganguly, a member of another education-sector NGO, Sunbird Trust, which works in the northeast, noted that they had been facing difficulty writing down details of hundreds of beneficiaries and then transferring them to an Excel sheet.
At a T4G online workshop, Ganguly said, he heard of the open-source software OpenDataKit, which is aimed at aiding data collection in "resource-limited settings".
"In the remote areas Sunbird Trust worked, OpenDataKit was ideal as it does not require the internet to function and the data could be conveniently uploaded whenever connectivity was available," he added.
(Edited by Sunanda Ranjan)
---
Also Read: How WFH has come as a surprise boon for women in India's tech services
---