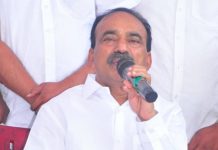 Eatala Rajender, a close aide of KCR who had been with TRS since its beginning, leaves the party around a month after being ousted from the cabinet. He calls the CM an autocrat.
On Monday, the party lost two of its senior leaders, Vijayashanti and Gudur Narayana, to the BJP. This came on the back of its abject failure in the Hyderabad civic polls.
JD(U) says govt should include MSP in laws, while AIADMK wants farmers' concerns to be addressed and JJP in Haryana has urged the govt to add a line on MSP in the laws.
Congress says govt didn't take farmers into confidence on agri laws, while TRS says it had opposed them in Parliament because they harm farmers' interests.
According to the final GHMC results, BJP has won 48 of 150 wards in the civic body, against 55 for TRS and 44 for AIMIM. Congress has won two.
BJP has turned a mere local election for 150 GHMC seats into a star-studded affair in its bid to take on the ruling Telangana Rashtra Samithi.
With BJP working to make in-roads in Telangana, KCR has also promised free power to barber shops, salons, laundry shops and dhobi ghats across the state.  
They have never officially been in alliance, but ruling party TRS and AIMIM have been known to share a friendly relationship since Telangana was formed in 2014.
Exits polls had predicted an easy win for the ruling TRS, with the Congress expected to put up a fight. Instead, the BJP won by a slender 1,079 votes.
Ahead of bypolls at Dubbaka, there's a BJP and TRS have got into a tussle, which is being viewed as an attempt by the BJP to expand its footprint in the state.