Smriti Irani has stuck to the script the past two years — delivered a big win, one that BJP can display for decades to come, and has not invited controversies.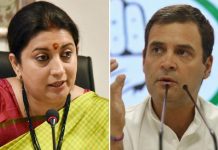 Rahul Gandhi released a white paper Tuesday on Modi govt's 'disastrous' Covid management, saying purpose was not to criticise but to help country prepare for possible third wave.
Bill makes offences with punishments ranging from 3 to 7 years as cognisable from non-cognisable — meaning a juvenile accused of such offences can be arrested without a warrant.
Taking a dig at TMC's poll slogan 'Bangla Nijer Meyeke Chai', Irani wondered if the people would want the return of a regime that unleashes political violence on people of the state.
Union Minister Smriti Irani also announced that certain crimes by children will not fall under 'heinous' category, thus ensuring that they are not tried in adult courts.
Irani was referring to the Congress leader's remarks at a poll rally in which he spoke about hiking the daily wage of Assam tea workers by making tea garden owners from Gujarat pay.
In 'Amethi Sangram: Aitihasik Jeet Ankahi Dastan', journalist Anant Vijay details BJP leader Smriti Irani's campaign in Gandhi pocket borough she succeeded in snatching from Congress.  
Group of Ministers on manufacturing flags need to shorten land acquisition process for industries, but clarifies they'll still need to seek permission.
The Group of Ministers also recommends building a brand 'Credible India' by avoiding arbitrary policy making at central, state and district levels.
News channels found the Opposition, middlemen, Khalistanis and other miscreants responsible for farmers' protests.