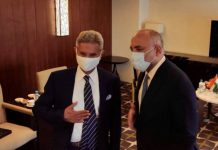 Atmar talked about escalating violence by Taliban as well as foreign terrorist groups in Afghanistan and described the attacks as a violation of international law.
US Secretary of State Antony J. Blinken sent a strong message to Beijing during his maiden visit to New Delhi Wednesday by meeting Ngodup Dongchung, representative of the Dalai Lama.
External Affairs Minister S Jaishankar had earlier held talks with Javad Zarif and called on Iran's President-elect Ebrahim Raisi during a stopover at Tehran on his way to Russia.
External Affairs Ministers Jaishankar also told BJP members that it was due to the government's efforts on global forums that sanctions were imposed on terrorists from Jaish & LeT.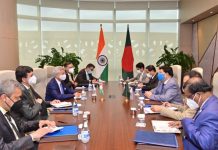 During his meeting with AK Abdul Momen, both sides also emphasised the need for resuming the activities of various joint mechanisms soon after the Covid scenario improves.
In his address at an SCO meeting in Dushanbe, Jaishankar described the situation in Afghanistan as well as public health and economic recovery as pressing issues facing the region.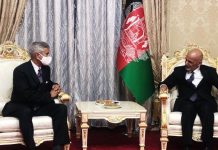 Indian officials say they are keenly aware of situation in Afghanistan, especially amid US exit and Russia's determination to mend fences with Pakistan, and thereby Taliban.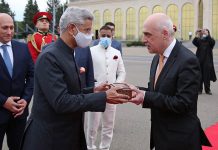 Relics belonging to St Queen Ketevan, excavated in Goa, were handed over by External Affairs Minister S. Jaishankar to the Georgian government Friday.
During his 3-day visit to Russia, Jaishankar said he reviewed the progress on broad-ranging cooperation on space, nuclear, energy and defence sectors with counterpart Sergey Lavrov.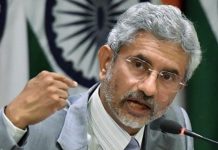 Addressing a think tank in Moscow, External Affairs Minister S. Jaishankar said Ladakh standoff has 'disturbed' the foundation of India-China ties in the past year.