Qatar's invitation to India to participate in the Taliban talks this week is an indication India has learnt several lessons in realpolitik.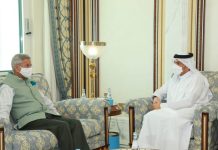 External Affairs Minister Jaishankar met his Qatari counterpart Mohammed bin Abdulrahman Al-Thani Tuesday. On 9 June, he had met Qatar's NSA Mohamed Bin Ahmed Al Mesned.
Oniba and Sharique Qureshi had been cleared of all charges after it came to light that Sharique's aunt, Tabassum Qureshi, planted narcotics in their bag without their knowledge.
Mohammad Shareeq & Oniba Qureshi went on a 'second honeymoon' to Qatar, a gift from a relative, when they were arrested in Doha for carrying hashish in their luggage.
Mohammad Shareeq and Oniba Qureshi have been in jail since 2019 for trafficking 4.1 kg of hashish. Qatar's highest court has now ordered the appeal court to review its verdict.
Until now citizenship in the UAE & some other Gulf states has been reserved for foreigners in special cases, but these changes will formalise such a process.
Qatar and the UAE have punched above their weight as regional powers and have attached themselves to powerful global and regional alliances.
Among Saudi, UAE, Bahrain & Egypt, there was a sense of resignation that the embargo failed in its objective — bring Doha to heel, or at least in line with Saudi-Emirati consensus.
A new US administration, combined with threats from Iran and a weakening economy, has seen Crown Prince Mohammed bin Salman's calculations shift to reconciliation.
In episode 654 of #CutTheClutter, Shekhar Gupta explains the implications of Saudi Arabia and its allies lifting their embargo on Qatar.