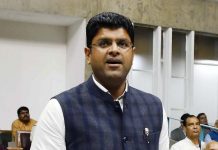 Haryana Deputy CM Dushyant Chautala has backed ally BJP on farm laws, despite his agrarian Jat vote base. Farmers say he misled them by claiming Devi Lal's legacy, but he says he'll ensure they benefit.
BJP has 40 members in Haryana assembly, along with 10 of ally JJP. It altogether got 55 votes, while Congress could only muster 32.
Haryana Deputy CM Dushyant Chautala has been under pressure to resign from within his party as well as protesting farmers. 
Chandigarh: After thousands of farmers gathered for a mahapanchayat in Haryana's Jind Wednesday in support of the farmers' protests, the Jannayak Janata Party (JJP), BJP's alliance partner in the state, is under pressure to quit the government. A rural Jat-centric party, the JJP is fast running out of reasons to stay in power with the BJP, especially with the focus of the farmers' agitation shifting from Punjab to Haryana and Uttar Pradesh, and Jats playing a pivotal role in the agitation. This shift occurred primarily due to Rakesh Tikait, a Jat farm leader from Uttar Pradesh, who successfully revived the agitation after the violence that occurred on 26 January in New Delhi. The sarvjatiya (all-caste) mahapanchayat in Jind, the first in the state on the farmers' agitation, was also the only one that Tikait has attended so far. It was called by the Kandela village khap, which is the most prominent in the state, and elicited a...
The Modi-Shah strategy of experimenting with CMs has been unravelling one after another. Manohar Lal Khattar may be the latest example to prove its fallacy.
Bhupinder Hooda says Congress is not in a rush to form the government in Haryana, BJP-JJP govt will 'collapse under its own weight'.
The ruling BJP-JJP alliance lost the mayoral seats at Ambala & Jat-dominated Sonepat while also suffering defeats at Uklana and Sampla in Rohtak.
JD(U) says govt should include MSP in laws, while AIADMK wants farmers' concerns to be addressed and JJP in Haryana has urged the govt to add a line on MSP in the laws.
Haryana's JJP is having a hard time explaining its stance on farm laws. Deputy CM Dushyant has backed partner BJP, but other MLAs have sided with farmers.
In his second defeat from the Jat-dominated seat, Dutt loses to Congress' Induraj Narwal by over 9,200 votes. Congress terms Baroda win farmers' victory against an 'anti-farmer regime'.