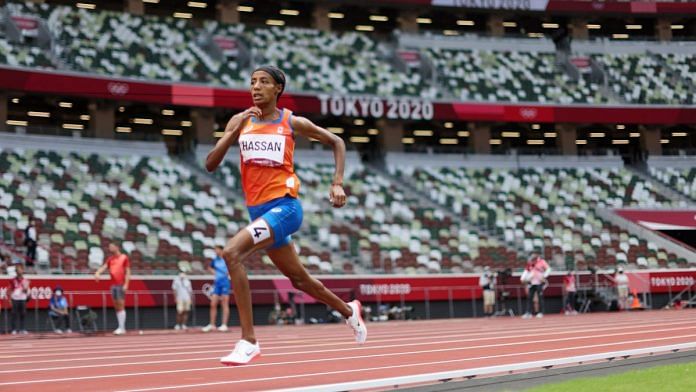 New Delhi: Dutch middle-and-long distance runner Sifan Hassan has secured a hat-trick of medals over the 1,500m, 5000m and the 10,000m at the Tokyo Olympics, becoming the first athlete to win three medals in these events at the same Olympics. 
The 28-year-old of Ethiopian descent is also the second woman to earn medals in three track events at the same Olympics — compatriot  Fanny Blankers-Koen first achieved the feat in the London Olympics of 1948. 
Hassan won bronze in the 1,500m before completing the long-distance double, bagging gold in 5,000m and scorching the field in 10,000 m Saturday evening, finishing with a time of 29:55.32. 
Hassan was aiming for a gold medal hat-trick but that was derailed by a bronze in the 1,500 m. Remarkably, she fell during the heats for the 1,500m but got up, and finished first in the race. 
Despite the bronze in the 1,500m Hassan reportedly told the media that she was elated by her performance. "I am so happy, I have no words. I am just so thankful and I don't think I could have done any better than this," she said. "During the medal ceremony I was thinking: 'It is over. Now you can sleep.' But I am super happy."
Refugee at 15
For all her athletic prowess, Hassan spent her teenage years as a refugee in the Netherlands. 
Her family had moved from Ethiopia in 2008, when the star was 15 years old. 
With only a pair of old training shoes and while living with other asylum seekers, Hassan kept working hard to train and improve herself. 
Speaking about the difficulties she faced as a child, she told The Guardian, "I think all of us, nobody has a perfect life.I tell people, When life is hard, you will see yourself like you never imagined before. Never give up."
(Edited by Arun Prashanth)
---
Also read: Caste, ethnicity, religion – United colours of Indian hockey prove the game thrives in inclusivity
---