New Delhi: It's been nearly a month of absolute classics, historic upsets and crazy comebacks, but we are finally one game away from crowning the new champions of the Men's T20 World Cup. In light of their victories over New Zealand and India respectively, Babar Azam's Pakistan and Jos Buttler's England go toe to toe at the Melbourne Cricket Ground. In what will be the first ICC tournament men's final since 1992 to feature these two nations, the winner will claim their second Men's T20 World Cup title and equal the record set by the West Indies in 2012 and 2016.
There's been some more twists in the lead-up to this final due to the unpredictability of weather conditions caused by La Niña and climate change, with thunderstorms predicted over the course of the day. However, in true "Four Seasons in One Day" fashion, as captured by the New Zealand-Australian rock band Crowded House, the rain has stayed away from the MCG so far. Long may that continue, although Monday has also been earmarked as a reserve day to ensure that a result is achieved.
England have won the toss and captain Jos Buttler elected to bowl first. Both teams' captains have named an unchanged lineup from their victorious semifinal encounters.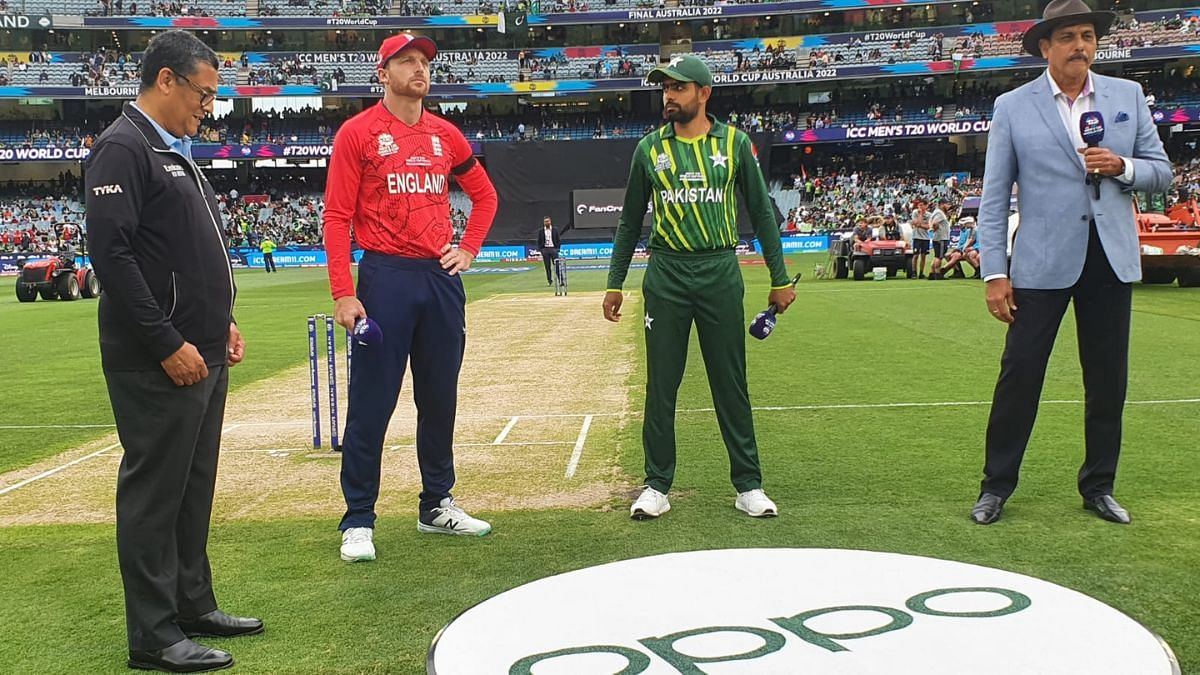 England Squad
Jos Buttler (c & wk), Alex Hales, Phil Salt, Ben Stokes, Harry Brook, Liam Livingstone, Moeen Ali, Sam Curran, Chris Woakes, Chris Jordan, Adil Rashid
Pakistan Squad
Babar Azam (c), Mohammad Rizwan (wk), Mohammad Haris, Shan Masood, Iftikhar Ahmed, Mohammad Nawaz, Shadab Khan, Mohammad Wasim, Naseem Shah, Haris Rauf, Shaheen Shah Afridi
3.18PM England have one hand on the Men's T20 World Cup trophy thanks to clinical display with the ball
At the halfway mark of this final with the threat of rain around, you'd have to say England have been in the ascendancy all the way through after winning the toss. Pakistan's weaknesses against higher bounce that was evident in their losses to India and Zimbabwe came to the fore once again in front of this English seam attack. But the initial star bowling performance came from Adil Rashid, who removed two of Pakistan's top order. Rashid further deceived the middle order with his googlies and leg breaks, picking up a wicket-maiden in the process. With a potent batting lineup and the possibility of the ball skidding on in the second innings if it drizzles a bit, England should have more than enough to chase this down without much trouble.
3.13PM Over 20 Pakistan 137-8 (Rauf 1*, Shaheen 5*) – Jordan closes out with wicket as England need 138 to win the Men's T20 World Cup
Jordan to finish this dominant innings for England and delivers another change of pace length ball which Wasim Jr. wildly swings at and misses. He does it again, forcing another dot even as Wasim Jr. gives himself some room. It's been four overs and 21 minutes since Pakistan's last boundary, and Pakistan will have to continue to wait as Wasim Jr. mishits it to Livingstone at deep midwicket! Livingstone just nonchalantly throws the ball back to Jordan to finish off the over as England look to be in a hurry here. Rauf to face the fourth ball and swings but it's only another single to deep backward square leg. And Pakistan finally have that welcome boundary with a top edge! It's Shaheen who collects the four as his attempted pull shot goes over Buttler's head. Last ball now for Jordan and it's another swing and miss but Pakistan collect the bye to reach 137.
3.08PM Over 19 Pakistan 131-7 (Shaheen 1*, Wasim Jr. 4*) – Pakistan crawl past 130-run mark as Curran has 3-11 in stunning spell
This is stunning bowling, simply stunning from Curran as he shows his peers how to bowl against the tail. Conceding a single to Shaheen, he follows it up with a bouncer to Wasim Jr. followed by another single to end the best spell of the game so far, at 3-11
3.06PM Over 18.3 Pakistan 129-7 (Wasim Jr. 3*) – OUT! One-way traffic from England bowlers as Curran claims third
Curran to close out his super spell and remains on the money, conceding just 2 off his first 2 balls, and continuing the variations between short balls and the length balls. And then he delivers it full as an attempted yorker, forcing Nawaz to go for the leg-side boundary but he chips it straight to Livingstone at midwicket! This Pakistan innings has gone to pieces with them miles off what should be considered a par score at the MCG against this England batting lineup.
3.03PM Over 18 Pakistan 127-6 (Nawaz 3*, Wasim Jr. 3*)
Pakistan are getting gifted extra runs here, as Jordan should have had his second wicket of the over of Mohammad Wasim Jr. But Brook drops a regulation catch at gully and then his run-out attempt is so wayward that Pakistan pick up three on the overthrow!
3.00PM Over 17.2 Pakistan 123-6 (Nawaz 2*) – OUT! Chris Jordan gets in on the action with dismissal of Shadab Khan
Jordan for his third and changes his pace nicely as the new batsman Nawaz can only help it along to the fine leg fielder for a single. He wonderfully bowls a short one into the pitch as well for Shadab, as the extra pace and bounce beats Shadab's attempt to flat bat it over the top. Shadab hits it straight to Chris Woakes at mid-off and Pakistan lose their sixth!
2.55PM Over 16.3 Pakistan 121-5 (Shadab 20*) – OUT! Curran ends key partnership as Masood's brilliant innings comes to an end
Curran for his third as his short ball forces a mishit pick-up shot from Masood towards the large gaps on the leg-side, as Pakistan pick up two more runs. Masood gives himself some room but Curran holds his full and wide line, causing a play and miss. He goes full and straighter now, with Masood deep in his crease and whipping a slower ball to the leg side but it's not timed well enough and straight to Livingstone at midwicket! Another one for the England allrounder!
2.52PM Over 16 Pakistan 119-4 (Masood 36*, Shadab 20*) – Masood and Shadab accelerate key partnership in pursuit of 160+ score
Stokes to finish his spell and tries to follow Shadab making himself some room but goes too far down leg for a wide. He goes straighter now and Shadab times it well and hard, just about evading a valiant effort from Phil Salt running towards deep extra cover for a boundary! Masood to take strike now due to a single and picks Stokes' slower ball but can only hit it to deep cover for one. Stokes follows Shadab again who pulls towards the midwicket boundary but the fielders are better placed now and Sam Curran keeps it to three. Masood mistimes a single off Stokes' last ball but it's a successful 13-run over for Pakistan.
2.47PM Over 15 Pakistan 106-4 (Masood 34*, Shadab 10*) Pakistan cross 100 but need more boundaries for competitive total
Jordan for his second and there's another delay for a concussion check as Masood cops a short one on the helmet. But he's fine and gets off strike on the very next ball, Shadab takes a risk with slicing a length ball towards third man but it doesn't carry and Pakistan finally reach 100. And Masood has at long last, beautifully picked a gap against a pacer, timing it perfectly to deep cover for four! He comes down the pitch to give himself some room and clears the infield again but it's only for a single. Jordan ends the over with a poor leg side delivery and Shadab anticipates it but there's protection at fine leg and deep backward square so it's only another single.
2.41PM Over 14 Pakistan 98-4 (Masood 28*, Shadab 8*) – Shadab hits boundary but Rashid finishes with figures of 2-22
Rashid to close out his spell and begins with an ugly drag down that Shadab can only hit to long on for a single. Rashid overpitches on his third and Shadab punishes him this time, with a beautifully timed short arm jab that that's laser straight down the ground for four! Pakistan need many more of those get 170 but for now, a decent partnership will do nicely. Rashid recovers well to deliver another ball spinning away from Shadab's attempted drive and closes out what could be a title-winning spell.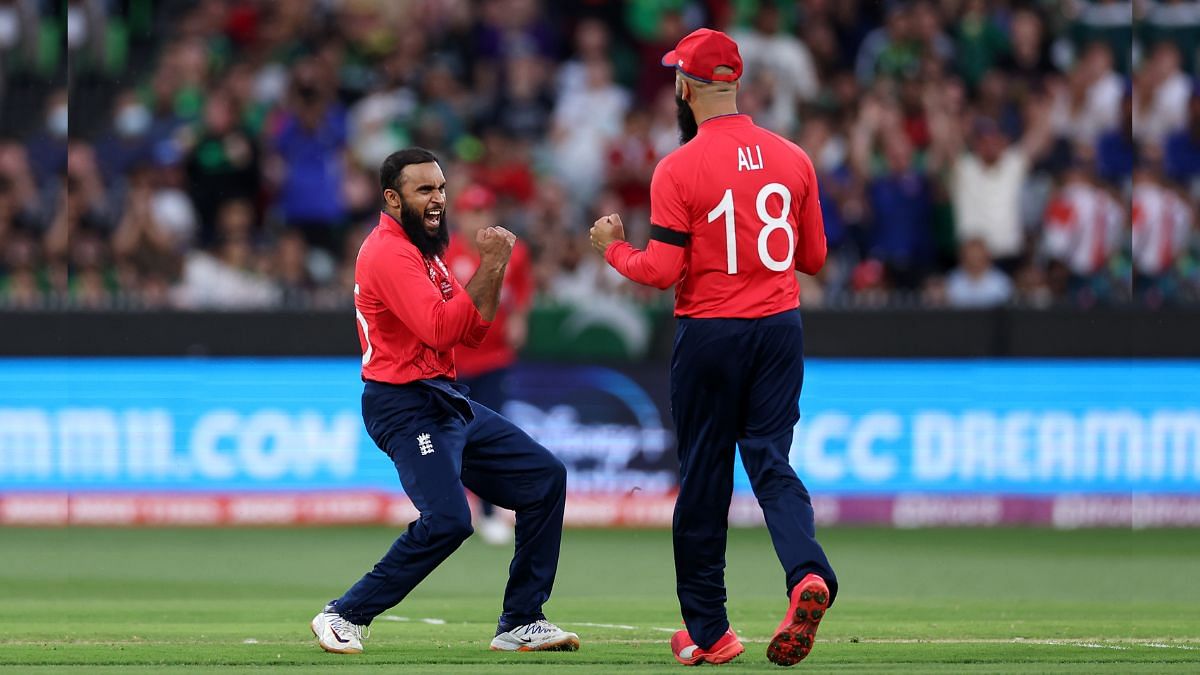 2.37PM Over 13 Pakistan 90-4 (Masood 26*, Shadab 2*)
Pakistan's best player this World Cup, leg-spin allrounder Shadab Khan, joins Shan Masood now with Pakistan falling apart. In search of a partnership, they look to continue rotating the strike and Shan pinches yet another well-made two.
2.34PM Over 12.2 Pakistan 85-4 (Masood 24*) – OUT! Pakistan reeling as Stokes dismisses Iftikhar Ahmed
Stokes to deliver his third with Pakistan reeling and in dire need of acceleration to a competitive score, as Masood pinches a single with a dab to the off side. And it's Stokes who claims England's fourth as Iftikhar departs for a duck! This could have been a test-match wicket as Iftikhar is undone by a classic length ball that bounced more than he expected. He simply edges the ball to Buttler, and England are bossing this final now!
2.30PM Over 12 Pakistan 84-3 (Masood 23*, Iftikhar 0*) – Rashid extracts major turn, bamboozles Iftikhar Ahmed to collect wicket-maiden
Rashid is extracting so much beautiful turn off this pitch, both towards and away from the new batsman, Iftikhar Ahmed. This time it lands on the seam and spins away twice as Iftikhar misses both times. Rashid is really putting on the squeeze here and it's a masterful wicket maiden!
2.28PM Over 11.1 Pakistan 84-3 (Masood 23*) – OUT! Rashid strikes again by deceiving Babar with signature googly
Rashid brings the breakthrough again as Babar has to go! It's a googly which Babar has not picked at all, trying to cut a ball that's very close to his body and Babar has simply mishit this straight back towards Rashid, who dives to his right to take an excellent catch. Pakistan pegged back again.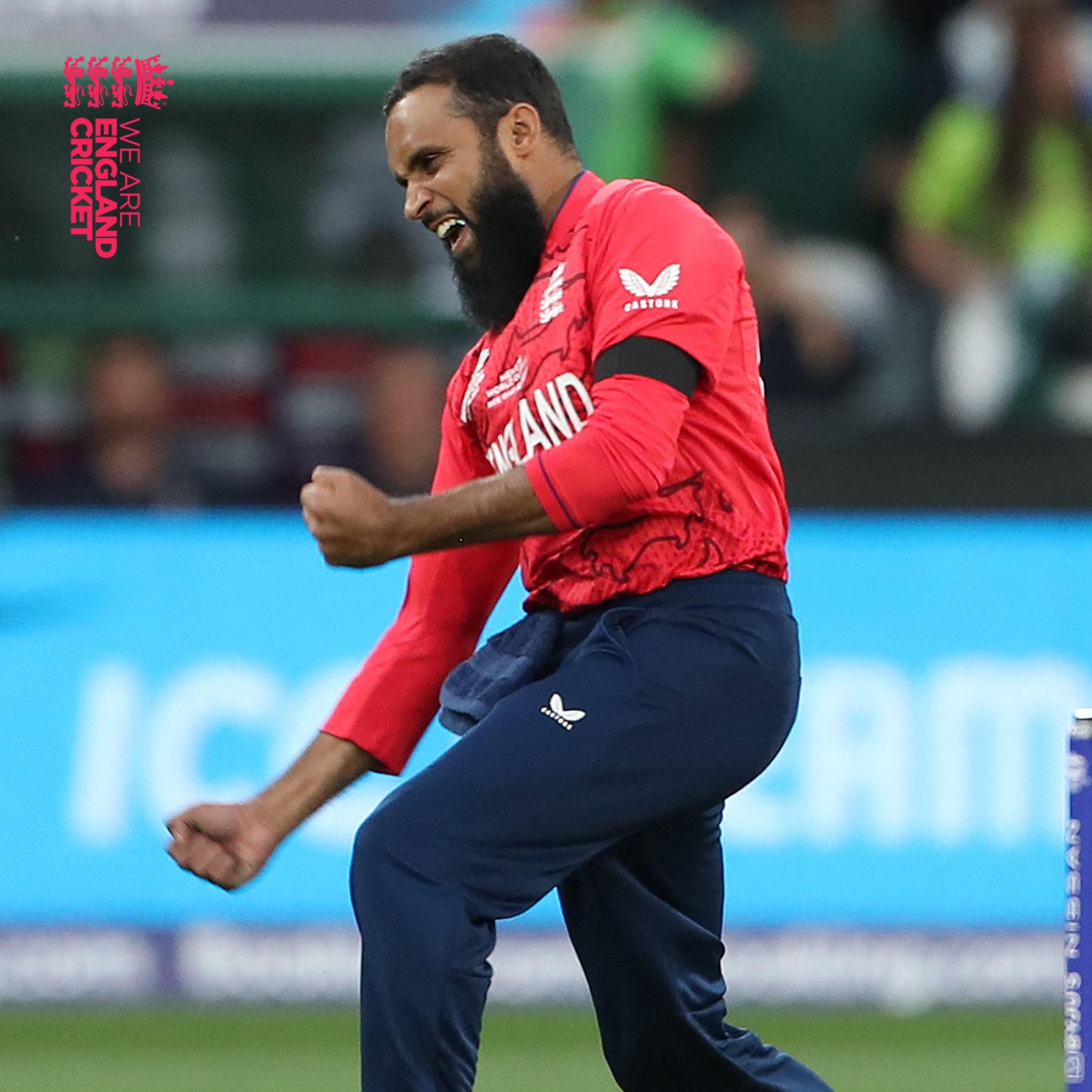 2.26PM Over 11 Pakistan 84-2 (Babar 32*, Masood 23*) – Masood targets Livingstone's leg spin with 16 run over
Livingstone for his first and his lack of turn is proving to be an issue for England on this pitch as Masood dances down the pitch and dispatching his down the ground for four! Shan follows this up with another excellent piece of footwork this time getting the elevation to smash Livingstone's leg spin for six! Pakistan clearly looked to target the allrounder and have plundered 16 runs off this over!
2.17PM Over 10 Pakistan 68-2 (Babar 29*, Masood 11*) – Babar Azam and Shan Masood lead gradual rebuild after England's early breakthroughs
Some more outstanding hustle running from this duo against Rashid, as Masood flicks it to the gap between long on and deep midwicket. Masood brings out the sweep too, but Rashid is bowling well to his field as Masood can only hit it to fine leg for one. Rashid cannot close out with a dot, as he first strays wide before a misfield gifts Pakistan another two as we reach drinks break.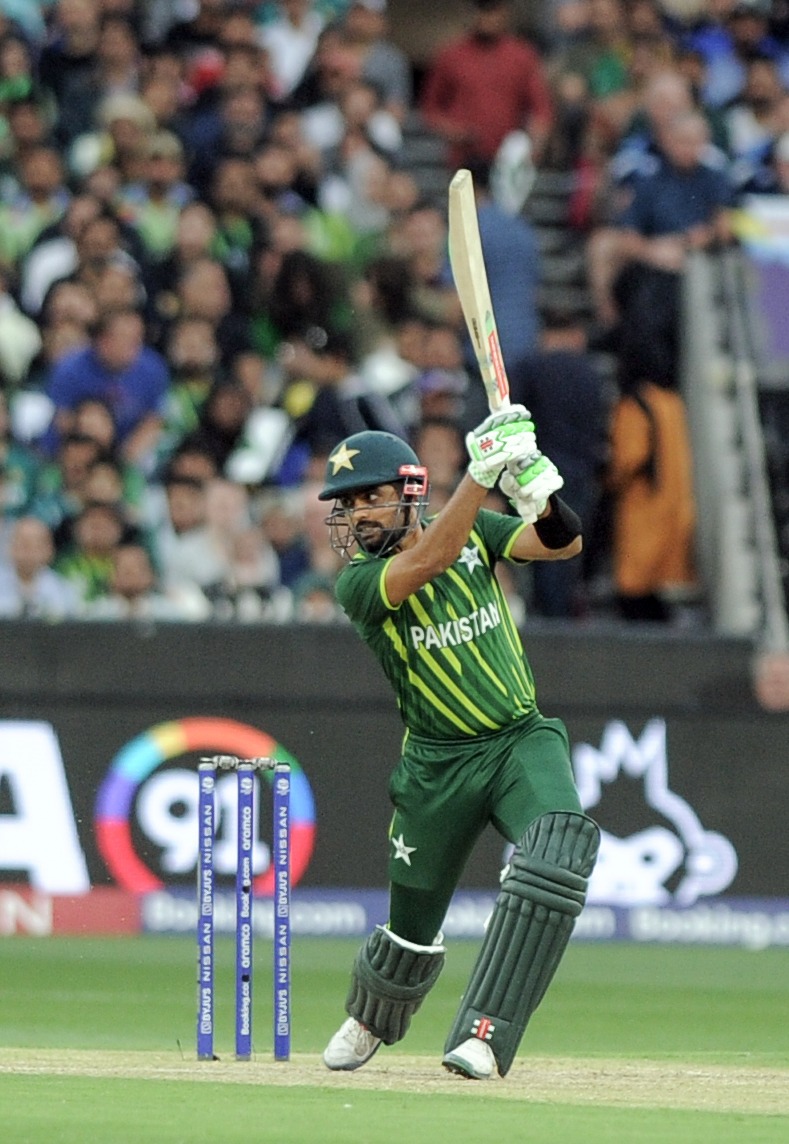 2.17PM Over 9 Pakistan 59-2 (Babar 28*, Masood 5*)
Buttler brings on Jordan with Pakistan looking to reconsolidate their innings, and Jordan errs down leg side on Babar's pads, as the captain tucks it away on the leg-side for four! Masood is great at finding the leg side gaps as well, picking up a two as it's 8 runs off the first 4 balls. Giving himself some room, Masood attempts the same on the off side but can only get a single, and it's a dot to finish.
2.13PM Over 8 Pakistan 50-2 (Babar 22*, Masood 1*)
This has been a brilliant over from Rashid, continuously bowling it at the stumps and causing Masood to play out dots, but Babar intelligently picks up some twos by repeatedly playing with soft hands to the on-side as Pakistan reach 50.
2.10PM Over 7.1 Pakistan 45-2 (Babar 18*) – OUT! Wrist spinner Rashid makes instant impact as youngster Haris holes out to Stokes
Rashid comes on and strikes immediately! A flighted delivery suckers Haris into getting the innings moving with a big shot but he simply holes out to Stokes and long on. Massive wicket for the wrist spinner and Pakistan are pegged back again.
2.03PM Over 6 Pakistan 39-1 (Babar 16*, Haris 4*) – Pakistan plod along to 39 runs off the powerplay
Woakes for his third and strays leg side again, as Babar simply picks it up to fine leg for four! Woakes goes wider and Babar mishits again but it's out of reach of Chris Jordan in the 30-yard circle. Haris can't read the slower delivery either, and nearly chips it to point but it falls short. Haris goes down the pitch to the next ball but plays and misses again. The scoreboard pressure relieves slightly with a leg-side wide and it seems to have helped Haris as he stays still and simply ramps a good length ball to fine leg for four!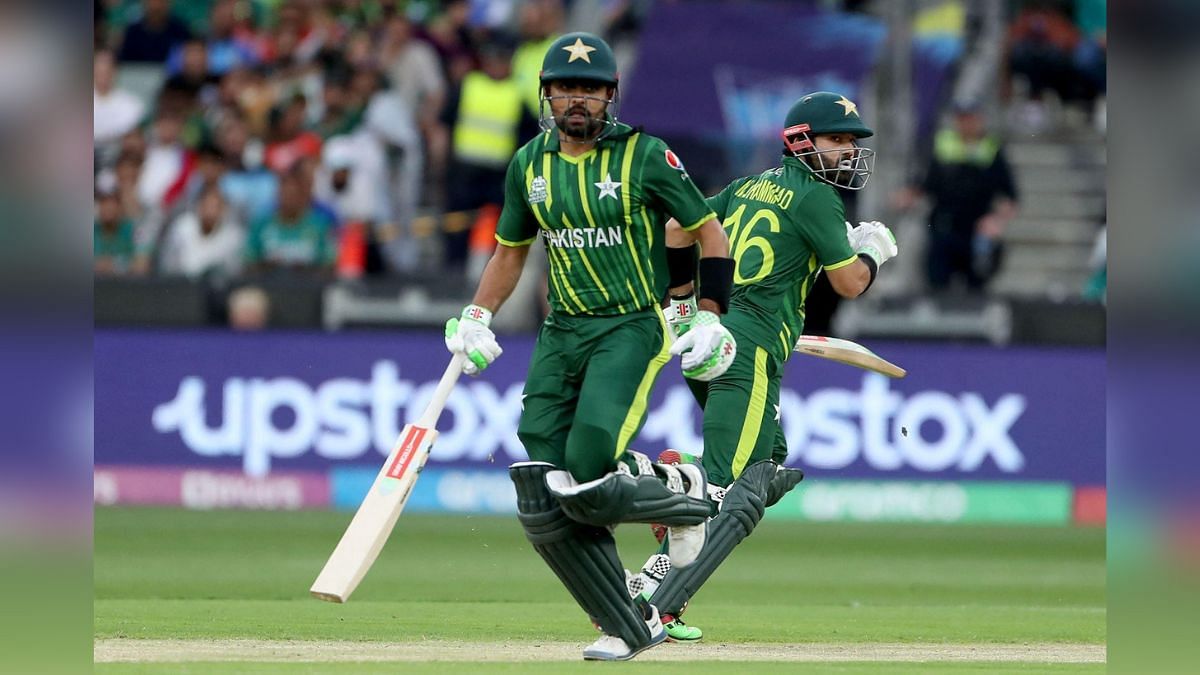 1.58PM Over 5 Pakistan 29-1 (Babar 11*, Haris 0*)
The 21-year-old Haris is the new man at the crease, keen to continue his high-intent, high-strike rate pinch hitting. He immediately tries to take on Curran but doesn't perfectly time his flat bat or his dab shot before playing and missing his next two deliveries. Top tier over from Curran.
1.55PM Over 4.2 Pakistan 29-1 (Babar 11*) – OUT! Sam Curran provides England's first strike with wicket of Rizwan
Curran resumes his spell, and straightaway there's a brief delay as Rizwan is receiving treatment, having injured his face with the helmet grille while diving to complete a single. No major damage done though but Rizwan falls with drag-on to his stumps! First blood to England and Sam Curran, as he offers some width to Rizwan but the cover drive was simply not on. Rizwan's off-side weaknesses prove to be his undoing again and England have the breakthrough!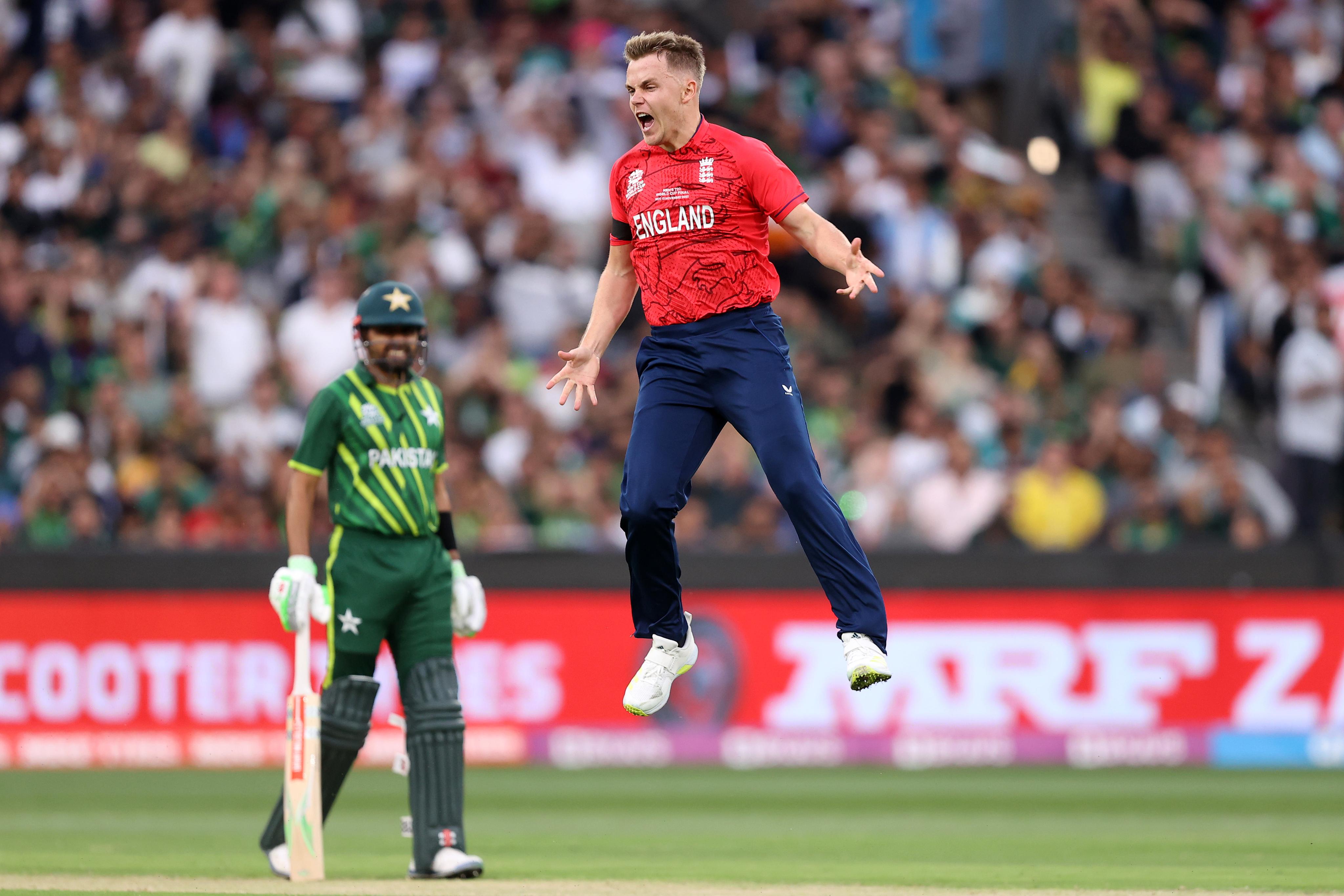 1.52PM Over 4 Pakistan 28-0 (Rizwan 15*, Babar 10*) – Rizwan sweeps Woakes over fine leg for first six of the final
Woakes back on and finally, Rizwan unleashes! Getting down on one knee to get underneath the bounce, he sweeps Woakes' off-pace delivery over fine leg for a much needed, 83-metre six. England pack the field a bit more in response, and Rizwan simply taps and runs to get off strike. Babar just turns the strike back over and Rizwan plays out a dot, before tapping it to point with soft hands for another quick single. Babar tries to whip Woakes over mid on and clears him but once again doesn't time it well enough, as Pakistan pick up three.
1.46PM Over 3 Pakistan 16-0 (Rizwan 7*, Babar 6*) – Pakistan openers struggle to attack on bouncy MCG pitch
Sam Curran on as first change and bowls it full and wide over the wicket, angling it away from Babar, who anticipates it better the second time and drives it to deep cover for one. Curran bowls it fuller on the pads to Rizwan who tucks it away to deep square leg for a couple, and pinches another quick single off the fourth. The openers have so far struggled to find boundaries on this MCG wicket, just as they did against India, and are just rotating the strike periodically. They need to get a move on, but Babar plays and misses the penultimate delivery and cops a late inswinger on his upper thigh. Excellent from Curran.
1.42PM Over 2 Pakistan 12-0 (Rizwan 4*, Babar 5*)
Woakes to share the new ball and fails to find the right line first up, a bit like Stokes, as the ball wobbles away for a wide down leg side. Wokes goes wider on the off side now, delivering it full and Babar drives it on the bounce to the short cover fielder. He goes straighter now, and Babar whips it to square leg for a single. Woakes repeats that type of delivery to Rizwan who inside edges it away to fine leg for one. Babar mistimes the penultimate delivery in the air but short of Jordan at mid on, perhaps misjudging the bounce, as the openers pick up another single.
1.36PM Over 1 Pakistan 8-0 (Rizwan 3*, Babar 3*) – Solid start for both sides as Stokes oversteps on first ball
Stokes opens the bowling for England and while he immediately finds some good shape and away movement, he also oversteps! A free hit at the outset for Pakistan, and Stokes has to bowl it again after straying too wide, but extracts excellent bounce as Rizwan misses his pickup shot. Stokes goes too leg-side once again but Rizwan can only deflect it to fine leg for two. Rizwan defends the next one to short cover, before driving one to mid off and attempting the most ill-advised single, but the fielder misses the direct hit! Babar on strike now and defends one for a dot, before cutting a short and wide one to backward point for three.
---
Also read: England's Jos Buttler, Alex Hales rip India apart to reach T20 World Cup final — key takeaways
---