Jalandhar: There's a little bit of Jalandhar in many of India's greatest sporting moments, from the sticks that the Indian hockey team wielded to win bronze at the Tokyo Olympics to the bats with which cricketing greats like Sachin Tendulkar and M.S. Dhoni hit their winning sixes.
The Punjab city is famous as one of the country's largest sports manufacturing hubs, churning out everything from pro-grade boxing gloves to the balls you'd lose while playing gully cricket.
Post-Covid, though, not so many people are buying what Jalandhar has to offer. ThePrint spoke to business owners and workers in Jalandhar who said that the sporting goods industry is in severe distress. Government officials, however, maintained that the issue was being blown out of proportion.
Ashish Anand, president of Jalandhar Sports Goods Manufacturers and Exporters, told ThePrint that the industry has shrunk dramatically to just Rs 200 crore from about Rs 2,000 crore pre-Covid.
"There are currently 500 micro, small, and medium enterprises functioning in the city, but around 40 per cent of the total manufacturing units have shut shop in Jalandhar since the beginning of the pandemic," Anand said. Some manufacturers added that they've had to cut jobs by 70-80 per cent as production has been halved.
According to the government, however, these figures are flawed. Tejveer Singh, Punjab principal secretary for commerce and industries, told ThePrint that "there is no distress to the best of my knowledge".
"In 2020-2021, the turnover of the industry was Rs 2,000 crore, of which Rs 500 crore was export costs. There's no way the industry has shrunk to Rs 200 crore, things would have been really, really bad had that been the case," Singh said, adding that he recently held a meeting with industry representatives "who did not flag any such concerns".
"Right now, their number one demand is to get a place to expand, a separate industrial park so they can increase their production. At 70 per cent job cuts, people would have been dying!" he added.
When ThePrint visited manufacturing areas in Jalandhar, however, the mood was subdued.
---
Also Read: Small units pack up, weavers prefer to be guards: How Covid ruined Karnataka garment industry
---
'Big job cuts'
A large section of Jalandhar's sporting goods industry — which includes shoes, helmets, and other personal gear — caters to the school-age segment.
Manufacturers told ThePrint that while demand for equipment for sports like boxing has increased as people return to gyms, the demand for team sports gear has not picked up. The biggest reason for this, they say, is that schools are still not functioning as normal and children are not as engaged in playground sports.
"Post-Covid, people are not playing outdoor sports as much. Those who are into making team sport equipment are badly battered. As long as kids don't play team sports or get back outside to play again, nothing can happen," said Ashish Anand, who is also the managing director of the sporting goods company Anand & Anand. "Our production has been slashed by 70-80 per cent and we've had to cut 400 jobs," he added.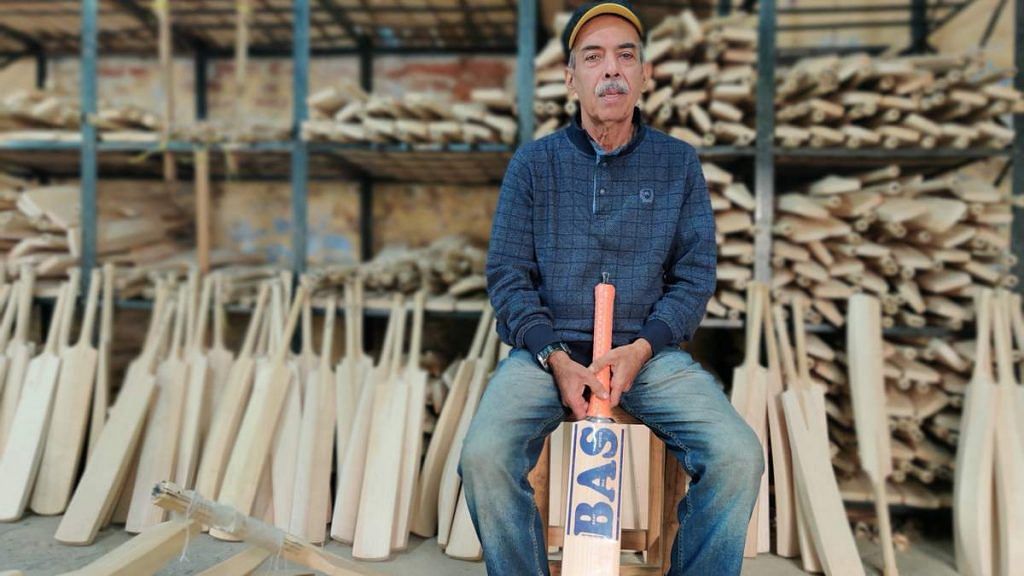 Somnath Kohli, proprietor, Beat All Sports, also said that until schools resume normal functioning, the sports business will not be able to recover.
"Everything is dependent on schools… Even sports academies are largely shut. As long as they don't open, our business will continue to suffer," he said.
Kohli, like Anand, said he has had to lay off workers, although he didn't specify how many. Anoop Anand, managing director and partner of Anand Co Sporting Foundation, which manufactures boxing and MMA equipment, also said he was compelled to cut jobs by 50 per cent.
'Work down by nearly 50%'
Among the worst affected in Jalandhar's sporting goods industry are daily-wage workers, many of whom are shoemakers in small shops and factories.
Sarita Devi, a 32-year-old migrant worker from Raibareli in Uttar Pradesh, told ThePrint that her earnings have dropped drastically since the pandemic.
"I get paid Rs 4 for every shoe upper that I make. Before the lockdown, I used to make up to 100 shoes a day, but about two months ago I couldn't make enough to even buy food to eat. I can't do any other work because I have kids and no other skill," she said.
Devi was working out of her house in Jalandhar's Bank Colony in the Model Town area.
Anil Ambedkar, who hails from Unnao in Uttar Pradesh and has been working as a shoemaker for the last 25 years, said that he was forced to walk all the way back to his village in UP during the lockdown. "The work is down by almost 50 per cent," he said.
Green shoots 
Despite the current difficulties, several manufacturers said that they were hopeful about new opportunities developing.
India's success at the Olympics has boosted interest in sports like boxing, hockey, and javelin throw, and there has been a concomitant increase in demand for equipment.
Kohli told ThePrint that demand for hockey sticks went up by 90 per cent after the men's team won a bronze at Tokyo, while Anoop Anand said Lovlina Borgohain's medal increased the popularity of boxing.
"Nobody used to be interested in hockey, but my sales have shot up by 90 per cent even in these Covid times. People suddenly got interested in javelin, too, after Neeraj Chopra won the gold medal. You go to any sports equipment shopkeeper, he'll have at least one javelin at his shop for sale," Kohli said.
Decathlon, the mammoth French sporting goods retailer, is also sending business towards Jalandhar for out-of-the-mainstream sporting equipment.
Ashish Anand told ThePrint that the company is giving out equipment-manufacturing contracts for sports that they hadn't catered to earlier. "They want equipment for horseback riding, rock climbing, camping, polo, water polo… this will give a big boost to the industry," Anand said.
(Edited by Asavari Singh)
---
Also Read: India must think beyond glory of medal winners. Many things still holding us back in sports
---