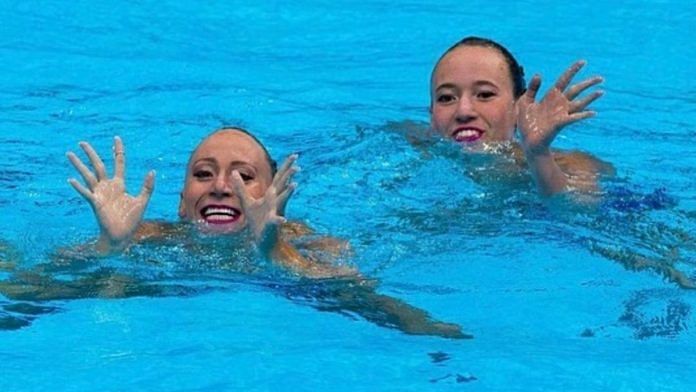 New Delhi: An Israeli artistic swimming duo grabbed the attention of Indian social media users Tuesday after they performed a part of their routine to the Bollywood song 'Aaja Nachle'.
Eden Blecher and Shelly Bobritsky were competing to qualify for the final of the women's duet technical routine event at the Tokyo Aquatics Centre. A clip of their routine, performed to the Bollywood song, has been shared multiple times on social media.
Nach le Nach le …used by team Israel for #ArtisticSwimming at #Olympics2020 @MadhuriDixit #BollywoodInspiredOlympians #AajaNachle pic.twitter.com/RQ7nThJsNG

— Collin DCunha (@collinDcunha) August 3, 2021
Israel ?? doing artistic swimming ?‍♀️ on Indian music. Aaja Nachle#Tokyo2020 #ind #isr pic.twitter.com/a9kfHEZYZ6

— Shashank Shukla (@aye_its_Shanky) August 3, 2021
OMG ISRAEL IS DOING ARTISTIC SWIMMING DUO ON AAJA NACHLE SONG!!!

— ✧ (@starsshinex) August 3, 2021
Thank you so much Team Israel for this!!! You have no idea how excited I was to hear and see this!! AAJA NACHLE!!! #ArtisticSwimming #Olympics #Tokyo2020 pic.twitter.com/lZ5mUq1qZP

— ???? ????? (@AnneDanam) August 4, 2021
Making their Olympics debut, the duo finished 15th with a combined 168.49 points, which was 26.51 points behind the leaders Russian Olympic Committee (ROC) and five points less than the qualifying points for top 12.
---
Also read: Indian boxer Lovlina Borgohain wins bronze medal at Tokyo Olympics
---
Artistic swimming in Olympics
The artistic swimming event consists of a free routine, which lasts 3-4 minutes, and a technical routine that involves five "designated movements" that last a maximum of 2.50 minutes, according to the Olympics website.
It adds that the performances are scored on synchronisation, difficulty, technique and choreography.
In the women's duet category, the duo's scores from the free and technical routine are combined to form a total score that determines who qualifies for the final round.
While Blecher and Bobritsky failed to qualify for the finals of the event, they received widespread praise on social media and by Israeli media for their performance.
Composed by Salim-Sulaiman and Piyush Mishra, and sung by Sunidhi Chauhan, 'Aaja Nachle' was the title track of the 2007 Hindi film of the same name starring Madhuri Dixit and Konkona Sen Sharma.
---
Also read: Swimming is better for the brain than any other activity. But scientists still don't know why
---