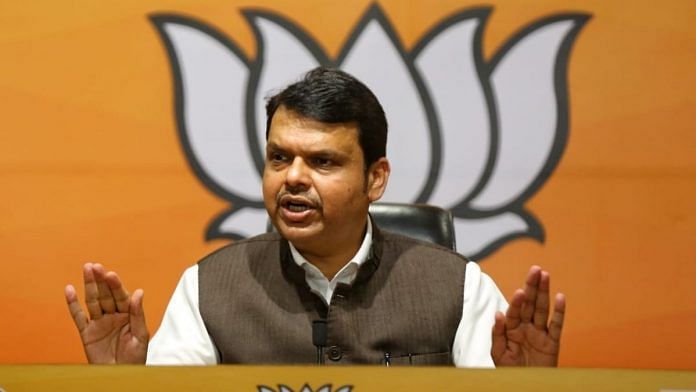 Mumbai: As 10 municipal corporations in Maharashtra head to polls in six months, the Bharatiya Janata Party (BJP) has started on-ground poll preparation by building the party's cadre in every district and training them to canvass among voters.
To this end, the party has launched a campaign called 'Samarth Booth Abhiyaan', under which every party MP, MLA and district president has been asked to take responsibility for a certain number of booths in their constituencies. There are a total of 90,000 booths of the BJP in Maharashtra, which are the party's smallest units in election campaigning.
These leaders are expected to personally address the booths, ensure the heads of these booths have been appointed, and build a team under every booth head as part of the campaign that will run from 1 to 31 August, multiple BJP leaders told ThePrint.
The party is also building a mobile application for its internal use where the personal data of the heads of all the booths will be uploaded and available to key functionaries.
"The one major learning from all the elections we have contested recently is that whoever has a pakka (solid) booth, is majboot (strong). So, we are strengthening our organisational structure. Wherever booths are weak, we are building them, appointing people there. It will be helpful for all elections in the state, especially the ten municipal corporation polls next year," said Keshav Upadhye, Maharashtra BJP spokesperson.
The cities scheduled to have civic polls in early 2022 are Mumbai, Thane, Ulhasnagar, Pune, Pimpri Chinchwad, Nashik, Nagpur, Amravati, Akola, and Solapur.
---
Also read: Another Thackeray son arrives: Raj Thackeray preps son Amit for 2022 Maharashtra civic polls
---
30 karyakartas per booth
Manoj Kotak, BJP MP from the Mumbai North East constituency, said he started the Samarth Booth Abhiyaan from the house of a booth chief in Kokan Nagar, Bhandup, a northeastern suburb of Mumbai.
"We have to ensure that the booth chiefs are in place and further build a team of 30 karyakartas under each booth. We are addressing them about the party's activities, achievements, what to highlight when they speak to voters and so on," he said.
Local corporators and booth heads are going door-to-door to enroll karyakartas who can be part of the booths in their wards.
In Mumbai, Samarth Booth Abhiyaan sessions are taking place with a backdrop of a large banner that says, "BhaJaPa yenar, Mumbai ghadavnar (BJP will come and shape Mumbai)," and "Vision Modijinche, Mission Devendrajinche (Modiji's vision and Devendraji's mission)."
The election to the cash-rich Brihanmumbai Municipal Corporation (BMC) will be especially significant for the BJP as the civic body has been the Shiv Sena's bastion for over two decades. In the 2017 election, the BJP and Shiv Sena contested independently and the former was just two seats short of the Shiv Sena's tally.
---
Also read: Congress' Nana Patole wants to fight solo in Maharashtra, but data says it's not a good idea
---
War rooms to verify details of booth chiefs
Manisha Chaudhary, BJP MLA, from Dahisar told ThePrint that her constituency has 293 booths, which she has been trying to strengthen under the campaign.
"We have to ensure we have the correct contact details of all the booth chiefs and the karyakartas and pass them on to the administration. Our war rooms at the district levels will then call up all these individual numbers to verify these details," Chaudhary told ThePrint.
"Booth workers are important because these are the people who directly interact with voters. These are the people who also bring people out to vote on the day of the election," she added.
Upadhye said the details of booth workers collected at the ground level and verified will be uploaded on a mobile application that the party is developing for internal use.
"The application will be for internal use so that any party leader with access to the app can pull out the names and contact numbers of any of the 90,000-odd booth leaders in Maharashtra," he said.
(Edited by Rachel John)
---
Also read: Migrants become 'sons of the soil' as Goa passes bill keeping 2022 vote bank in mind
---