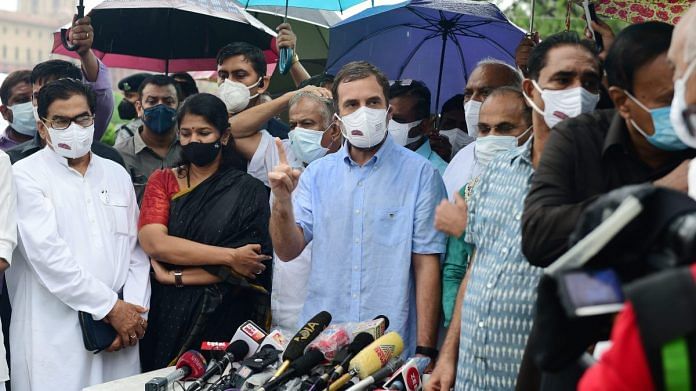 New Delhi: Former Congress chief Rahul Gandhi seems to be trying on a new avatar — a leader who is respected not just by his own party members, but also by those of other Opposition parties.
Over the last few weeks, Gandhi has been taking on a more active charge in the Monsoon Session. He has led Opposition meetings ahead of Parliament proceedings, held joint press conferences with leaders of other parties, and hosted a breakfast meeting, asserting Opposition unity.
This is in stark contrast with Gandhi's demeanour in earlier Parliament sessions. He drew flak for even missing a major chunk of the session in September last year as he accompanied his mother and Congress president Sonia Gandhi abroad for a health check-up.
In his latest interactions, Gandhi has been reiterating the need for a "foundation of unity" among all Opposition parties to defeat the BJP and Rashtriya Swayamsevak Sangh (RSS).
Gandhi has often been accused in the past of failing to build equations with leaders from other parties — unlike Sonia. But, party leaders say, Rahul has lately been trying to come into his own, making decisions and asserting himself independent of Sonia.
Former cricketer Navjot Singh Sidhu's appointment as the Punjab Congress chief was an example of him asserting his will despite Chief Minister Amarinder Singh's known proximity to Sonia.
"Almost every time the CM came to Delhi during the crisis, he met with Sonia ji, showing how close he is to her. But despite that ultimately it is Rahul's will that prevailed," a senior Congress leader said on condition of anonymity.
---
Also read: Prashant Kishor resigns as principal advisor to Punjab CM Amarinder Singh
---
'Forthright, active engagement' 
Congress leaders who have been taking part in these Opposition meetings say Rahul Gandhi has been taking "full charge" in them, ensuring he is the one mobilising all the leaders together.
"He is repeatedly emphasising the need to work together, and how all parties need to work with a common vision. He also is very respectful in these meetings, asking other party leaders their point of views," said a Congress leader who was present at the breakfast meeting. 
Last week, Gandhi led a meeting of MPs from 15 opposition parties, including the Congress, to strategise how they should be united over the Pegasus row. The meeting was held in Congress Rajya Sabha leader Mallikarjun Kharge's chambers in Parliament, but it was primarily Gandhi taking charge in the meeting, sources said. 
Following the meeting, the party representatives held a joint press conference which was primarily addressed by Gandhi, but he insisted that other leaders speak too. 
Stressing the need to discuss Pegasus in Parliament, Gandhi said: "This is not just me as a Congress leader saying this… every single Opposition leader will tell you this."
He then passed on the mic to other leaders like Shiv Sena's Sanjay Raut and Samajwadi Party's Ram Gopal Yadav to address the media, saying it's important that all party leaders speak.
But this isn't limited to just outside the Parliament. Inside the House too, Gandhi has been trying to reach out to other party's leaders. 
On Monday, he was spotted immersed in a conversation with Revolutionary Socialist Party's N.K. Premachandran even as there was ruckus in the House over the lack of discussion on Pegasus.
Premachandran told ThePrint that Gandhi's "forthright and active engagement" is welcome.
"He has been actively reaching out to ensure consensus on these issues, he is taking other Opposition leaders along in the discussions. He even proposed and led the cycle yatra… that is truly commendable," Premachandran told ThePrint.
Following the breakfast meeting Tuesday, Gandhi and other Opposition MPs rode a cycle to the Parliament.
---
Also read: Rahul Gandhi attacks PM Modi over Pegasus, says Israeli spyware tool to silence people
---
The missing parties
Opposition party leaders who attended the breakfast meet described the show of unity as "unprecedented".
"It's truly unprecedented, the fashion in which so many opposition parties have been brought together for a common cause," Communist Party of India (Marxist) leader Elamaram Kareem told ThePrint.
However, he added that so far the consensus has been on unity within the Parliament, and greater political unity outside of it will be a tougher task.
"Political unity is something to be decided by national leaders from all political parties. Parties have different views and ideologies. In such a case, the unity may be extended outside the Parliament, but it won't be easy," he said.
However, not all Opposition parties were present in this grand show of unity. Mayawati's Bahujan Samaj Party (BSP), Arvind Kejriwal's Aam Aadmi Party (AAP) and Asaduddin Owaisi's All India Majlis-e-Ittehad-ul-Muslimeen (AIMIM) were conspicuous by their absence.
Congress sources told ThePrint that invitations were extended to BSP and AAP but not to AIMIM.
"AAP and BSP might be trying to play their own game by maintaining some distance from Rahul so they don't come across as inferior to Congress. But AIMIM is never invited to our meetings, as our line has always been that they are BJP's B-team," a Congress functionary said on condition of anonymity.
'Opposition also much more responsive'
Analysts point out that it isn't so much that Rahul Gandhi's attitude has changed as much as the shift in the other Opposition parties' own response to his gestures amid the changing political landscape in the country.
"The overall perception about the Modi government has shifted to an extent after the West Bengal loss and the second Covid-19 wave. Many opposition leaders aren't as sure of his abilities to repeat 2014 or 2019 now," political analyst Rasheed Kidwai said.
"There is a realisation among them that perhaps banding together with Congress may actually help defeat Modi, and they might individually get a ministerial berth or two if there is a coalition government with Congress in 2024," he added.
Kidwai said Gandhi's politics of attacking Modi directly — whether during the Rafale or now with Pegasus — has remained consistent. "But the Opposition has now become much more responsive to his brand of politics," Kidwai said.
(Edited by Amit Upadhyaya)
---
Also read: Akhilesh Yadav begins 'cycle yatra' from Lucknow with eye on UP assembly polls
---