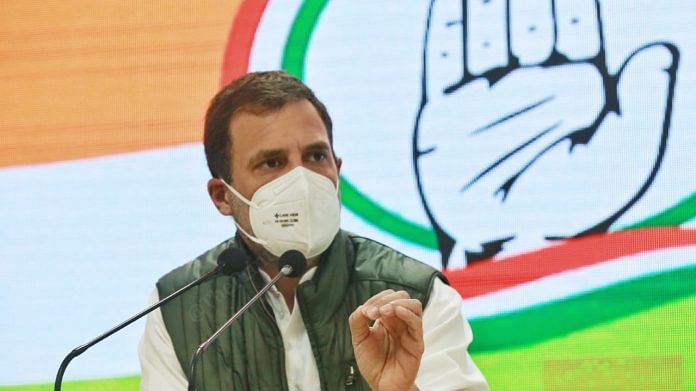 New Delhi: Congress leader Rahul Gandhi will host a breakfast meet of opposition leaders to discuss the Pegasus snooping scandal Tuesday morning, ThePrint has learnt.
According to party sources, the meet will be held at the Constitution Club in Delhi and the leaders are expected to discuss their strategy to ensure the Pegasus row is taken up in Parliament.
On most days, the current monsoon session of Parliament has been adjourned following disruptions caused by opposition parties over the lack of discussion on the Pegasus issue. This session started on 19 July.
Leaders from parties like the National Congress Party (NCP), Dravida Munnetra Kazhagam (DMK), Samajwadi Party, Shiv Sena, Communist Party of India (Marxist), among others, are expected to be a part of the Tuesday meeting, sources said.
The meeting will be in line with Gandhi's recent efforts to mobilise the opposition on the Pegasus row to ensure the issue is discussed in both Houses of Parliament.
As many as 14 opposition leaders met last week on the issue and also held a joint press conference, where Gandhi had said the Parliament is the place to discuss the matter.
"Today, India's entire opposition is standing here. Why did we have to come here? It's because our voice is being stifled in the Parliament. We have clearly been told that the government is not interested in discussing Pegasus in the Parliament," Gandhi had said.
Gandhi's name was among the many identified as alleged targets of a long 'snooping list'. According to an exposé by a global consortium of media agencies, including The Wire in India, politicians, world leaders, journalists, activists and civil servants were allegedly targeted using Pegasus, a sophisticated spyware owned by Israeli tech company NSO that claims to sell its product to vetted governments and their agencies.
---
Also read: Most voters may not care about Pegasus but data is individual sovereignty too
---
Opposition contemplating a 'mock Parliament'
The Congress is also contemplating organising a 'mock Parliament' with other opposition leaders outside the Parliament, sources from the party noted.
The 'mock Parliament' will discuss the Pegasus row as a show of protest over the lack of discussion in Parliament.
The sources added that while the details for the event haven't been finalised, party leaders will go ahead with it if Parliament continues to be adjourned without a discussion on Pegasus row.
Meanwhile, the BJP has dismissed the uproar caused by the row, labelling it a conspiracy against the government.
On 19 July, while reading out a statement in the Lok Sabha, Information and Technology Minister Ashwani had said that it was an "attempt to malign the Indian democracy and its well-established institutions".
(Edited by Rachel John)
---
Also read: Pegasus spyware temporarily blocked for some clients to check misuse, says NSO employee
---