Chitradurga/Ballari: Sudarshan Kiresur and his wife Sujatha reached Karnataka's Ballari from their village Honnali on Friday morning. By the time they landed at I-Roomz Hoysala Residency in search of a place to stay, they had lost count of the number of hotels they had been turned away from.
They know the reason. "Because of Rahul Gandhi", the elderly Sudarshan said with a grimace. He had ignored the 'No Rooms' sign at the entrance of the residency to try his luck.
The couple's plight is not an isolated instance. For many people, getting temporary accommodation has been a nightmare in the villages and towns of Chitradurga and Ballari districts of Karnataka, through which Congress leader and MP Rahul Gandhi's Bharat Jodo Yatra has passed through in the last few days.
The yatra entered its Karnataka leg on September 30 and will continue through the poll-bound state until 21 October.
Chitradurga and Ballari are no major business or tourism centres to see such high demand for accommodation.
Most hotels have been booked way in advance, some in bulk by the All India Congress Committee (AICC), others by groups of "state yatris" who are walking only the Karnataka leg and hence cannot be housed in the shipping containers that are travelling with the yatra. These serve as night shelters for the yatris who intend to complete the entire stretch from Kanyakumari to Kashmir.
The handful of rooms that remain are going at a premium, with hotels often charging a 100-200 per cent higher rate.
"I am charging Rs 3,500 per night for a non-AC single room. That is my price, take it or leave it. And I will not give an invoice," the manager at Pawan Hotel on Anantapur Road told ThePrint.
Normally, the rooms would go for Rs 1,400-1,500 per night, said a staffer at the hotel. "It is different now. Bharat Jodo Yatra is here. Rooms are booked across the city and in some neighbouring areas too," the staff member added.
Online booking websites like Trivago, MakeMyTrip and Goibibo, too, have run dry of rooms in Ballari through this week and the coming weekend. A "not available" message flashes every time check-in and check-out dates between October 14 and 16 are punched in.
Ballari is not the only place. As the yatra moves from one place to another, hotels are struggling to keep pace with the demand, forcing many Congress workers to traverse long distances by car every day to join the walk.
Sitting at the Konsagara camp for yatris on Thursday, Karnataka Pradesh Congress Committee general secretary Kavitha Reddy told ThePrint: "Hotels everywhere are booked to capacity. We are travelling 70 km every morning from our hotel in Hiriyur to join the yatris. Many others are travelling even longer distances."
"On Wednesday night, as the yatra rested for the night at Hirehalli, there were no rooms available in Challakere — the nearest town from that location — with even tiny lodges running full," she added.
Cyril Prabhu, vice-president of the Indian Youth Congress in Karnataka, along with several others, spent Wednesday night at the Anand Sagar lodge before joining the yatra about 60 km away at Konsagara village.
---
Also Read: Grappling with fever, blisters & 4.30am alarms, what's keeping Rahul's Bharat Yatris going
---
Crowds wait hours
On 17 October, when the Congress elects a new president for itself — only the fifth time it will be doing so in its 137-year history — Kadri Anjaneyulu will be one of the 9,500-odd Pradesh Congress Committee delegates who will actually be casting their ballots.
On Friday, though, he was part of a large crowd in Karnataka's Anantapur, pleading with police officers and Congress' security staff to be allowed inside the "Yatris-only" tent, citing his "delegate" status. Confronted by this reporter, he was sheepish.
"Not that it is that important to go in. I can wait here for my leader. My job is to join them when they start walking. Actually, I will get a 'Yatri card' only when the yatra enters Andhra Pradesh. It is now in Andhra but they will move back into Karnataka," he said.
A Congress security official told him: "Call your boss."
In a few minutes, Anjaneyulu had crossed a low wall and in a little while, ushered into the tent. He was among the lucky few who managed to do that.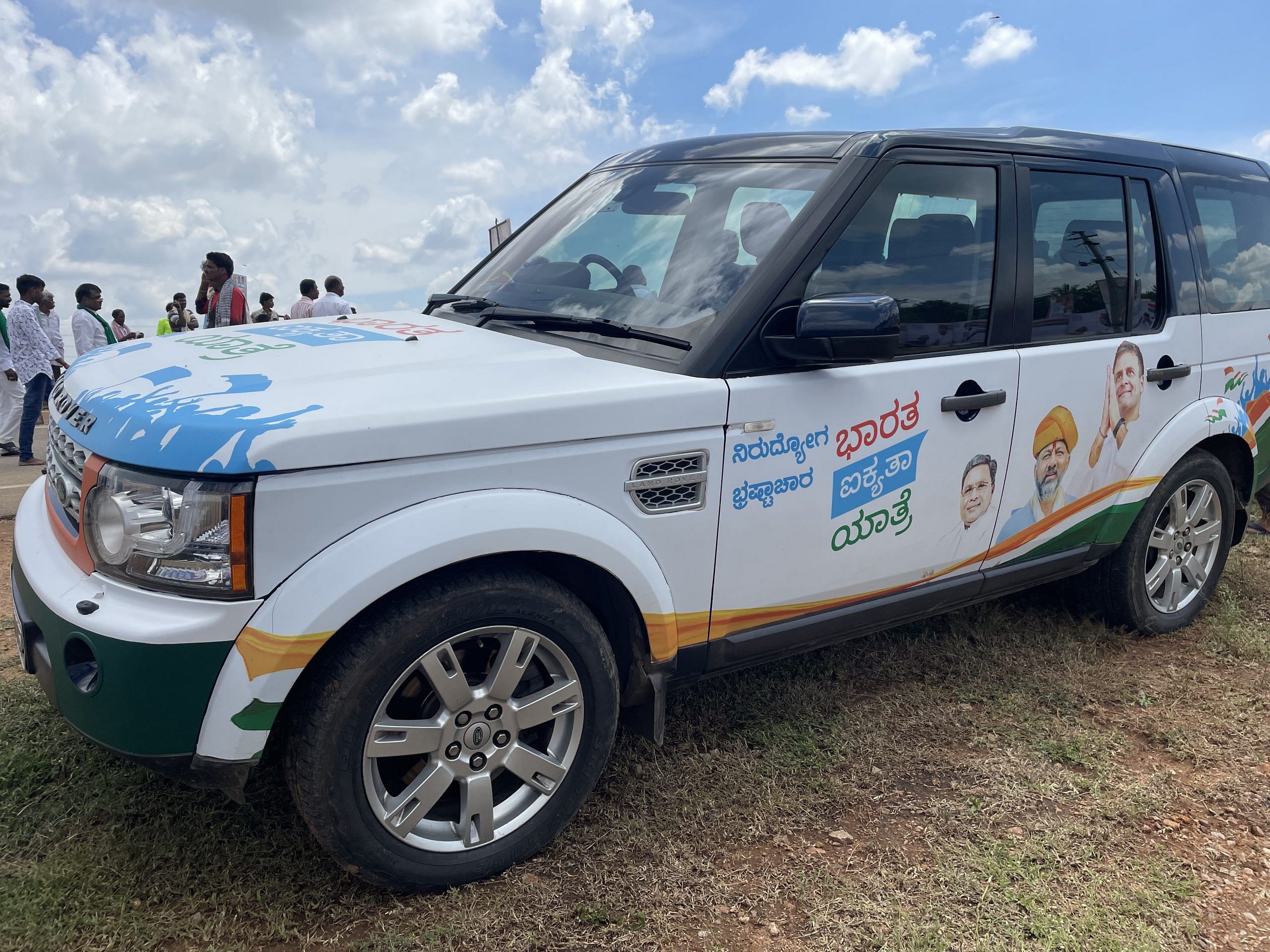 In the morning on Friday, as the yatra briefly traversed the border of Andhra Pradesh and Karnataka, large crowds gathered at Madanapalle, a small taluka in Andhra Pradesh.
The rasam, rice and papad meal available at the yatra's stop was a draw, but most had assembled for a glimpse of Rahul. Those that missed him going inside his tent waited patiently in the midday sun hoping that something might make him come out or by some quirk of fate, they might go in.
Neither happened and cops from both states had a hard time controlling the crowds that threatened to break the rope barriers every once in a while.
(Edited by Nida Fatima Siddiqui)
---
Also Read: Mountaineering, organ donation, a dog he lost — Rahul's 'apolitical' chats with Bharat Yatris
---