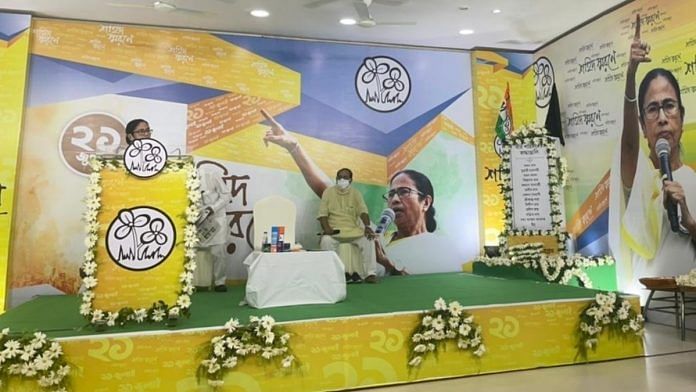 Kolkata: Wading into the Pegasus snooping controversy for the first time, West Bengal Chief Minister Mamata Banerjee Wednesday alleged that her phone has been "snooped on for years" with Pegasus and many other spywares.
Addressing a virtual rally from Kolkata to observe Trinamool's 'Martyrs Day', Banerjee said details of her meetings with nephew Abhishek, who is Trinamool Congress' national general secretary and an MP, and her poll strategist Prashant Kishor, were also tapped and recorded via spyware.
The names of Abhishek and Kishor featured in the list of potential Pegasus surveillance targets as revealed in a global journalistic investigation earlier this week.
Urging the Supreme Court to take suo motu cognisance in the Pegasus row, Banerjee said, "I have a humble request to the Supreme Court. Sir, some of yours were also snooped on. I would request you to take suo motu cognisance and order a high level court-monitored probe. In this situation, only judiciary can save us."
---
Also read: Siddaramaiah alleges Modi govt used Pegasus to topple Karnataka's Cong-JD(S) govt in 2019
---
What Banerjee claimed
Alleging that the BJP government has been snooping on her phone for years, the West Bengal CM called Pegasus a "ferocious and dangerous" tool "to destroy basic human rights".
"My phone has been snooped on for many years now. And snooping is like a chain event. Abhishek's phone was tapped, so my phone is also being snooped on because I keep talking to him. I spoke to my poll strategist. So if his phone is snooped on, mine also comes under the same spyware," she said.
"The phones have become recorders to them. They snoop and record everything. I cannot talk to (P.) Chidambaram ji or (Sharad) Pawar ji or Maharashtra CM or Delhi CM. Because I know they are hearing," she said.
"The party (BJP) does not even spare its own ministers, forget about the Opposition leaders. They (BJP leaders) do not trust anyone. They want to make India a surveillance state. This isn't a democracy but a 'detective-ocracy' (Ganatantra noy, Goyendatandra cholche)," she added.
Banerjee's speech was live-streamed across five states, including in Delhi. A giant screen was installed at the Constitution Club of India in the national capital, where senior Opposition leaders like NCP chief Sharad Pawar, and Congress' P. Chidambaram and Digvijaya Singh were present.
Addressing the Opposition leaders, Banerjee said, "I request the representatives of all the Opposition parties to convince their senior leaders and party chiefs. We should keep our differences aside now and form a front to fight this government. We should not waste any time, and we should start working from now. 2024 is not far. Nahi toh janta maaf nahi karegi (people will not forgive us)."
She urged Pawar to convene a meeting with all Opposition leaders. Banerjee will be travelling to Delhi on a three-day political tour next week and would meet all senior Opposition leaders.
Rule of spyware 
Mamata Banerjee alleged that the Narendra Modi government has imposed a rule of spyware in India.
"They snoop on people, they have crippled the three important pillars of democracy — Election Commission, judiciary and media. They spy on people's private lives and blackmail them to make them do what they want. I have plastered my phone," she said, while displaying the camera of her phone, which was covered with tapes.
"We have to plaster this government too, otherwise democracy will die," she added.
Calling for a long-standing and strong movement on this snooping controversy, Banerjee urged leaders to join hands and not let this go. 
"We cannot let this snooping scandal go. We have to follow this. Chidambaram ji, Pawar ji, did they leave you?" she asked rhetorically, saying that her party leaders were harassed by the agencies regularly.
Reacting to the BJP's allegations of post-poll violence in Bengal, she reiterated her stand: "There has been no post-poll violence, it was re-poll when the administration was under the Election Commission. The NHRC is led by the BJP members and they have submitted false reports."
(Edited by Amit Upadhyaya)
---
Also read: 'What terror are you fighting by spying on Rahul Gandhi?' — Congress lashes out over Pegasus list
---