Chennai: Over the years, friends and political peers have proclaimed that Tholkappiyan Thirumavalavan, chairman of the Viduthalai Chiruthaigal Katchi (VCK), or the Liberation Panthers Party, is "married to society."
"He would often say — I have married this society, I have married the people who are discriminated against. To bring them up and empower them is my life," said Tamil Nadu Congress leader S. Peter Alphonse said at an event last year. "We need leaders like Thiruma," he added.
For over three decades now, Thirumavalavan, an activist and scholar with a PhD, has been rallying against the ideology espoused by the Manusmriti (Laws of Manu). Earlier this month, he was seen distributing booklets with Tamil translations of the verses in Chennai's busy Koyambedu bus terminus.
While Dr. Ambedkar burnt the Manusmriti, the VCK wants people to be aware of its messages by reading it. The 32-page booklet published by the VCK has a foreword highlighting why the Manusmriti which they have noted to be both misogynistic and casteist is required reading. Party cadres are currently distributing copies across the state.
Speaking to ThePrint, Thirumavalavan said he felt a "moral fear" when he saw the Rashtriya Swayamsevak Sangh (RSS) "asserting itself openly" in Tamil Nadu and demanding to take out processions in 50 locations last month.
"I felt I needed to expose them, to bring out the truth about the RSS. OBC (Other Backward Class) youngsters, especially, should understand the real picture since there is a craze now to celebrate Hindu festivals like they do in the North or shout slogans like Jai Shri Ram and Bharat Mata Ki Jai," he said.
---
Also Read: 'Crucial' to TN's $1 tn dream, why airport project has had villagers protesting for 100 days
---
Political climb
Known today for his fiery speeches and with a strong Dalit support base in districts of southern Tamil Nadu, Thol. Thirumavalavan entered politics in the late 1980s. He took over the reins of the then Dalit Panthers Iyyakkam (DPI) in 1989 and renamed it VCK the following year.
The DPI was founded in 1982 by disaffected Dalits under the leadership of M. Malalchami in Madurai.
For nearly a decade, the VCK boycotted electoral politics as "unrepresentative" and "corrupt", but in 1999 it teamed up to fight polls with K. Moopanar who had walked out of the Congress to float his own party — the Tamil Maanila Congress (TMC). Though the TMC fared poorly, the VCK fared reasonably well in terms of votes polled.
Schedule Castes constitute 23.7 per cent of the population in the state and this Dalit-led Tamil party has emerged as an important political player ever since its first polls.
In the two decades since the party entered electoral politics, it has allied with both Dravidian parties — the Dravida Munnetra Kazhagam (DMK) and All India Anna Dravida Munnetra Kazhagam (AIADMK) — teamed up with the Pattali Makkal Katchi (PMK), and even indirectly joined forces with the Bharatiya Janata Party (BJP) in one election.
During this time, the number of seats it contested has varied from six to 25 seats. Its vote-share in the Tamil Nadu legislative assembly elections has, at various points, stood at 1.3 percent (2006), 1.5 percent (2011), 0.8 percent (2016), and 1 percent (2021).
In the 2019 Lok Sabha elections in which the DMK-led Social Progressive Alliance won in a landslide, the VCK was allocated two seats, both of which it won. The party's general secretary, writer D. Ravikumar contested on the DMK's party symbol and won by a difference of more than a lakh against the PMK's candidate. Thirumavalavan contested on an independent symbol and managed a victory by 3,000 votes against the AIADMK's candidate.
The party now has four MLAs in the state legislature, where VCK is in alliance with the DMK, and two MPs in Lok Sabha, both from Tamil Nadu.
The VCK has started to redefine the political landscape of Tamil Nadu, according to Karthikeyan Damodaran, research fellow, Centre for Modern Indian Studies in Germany's Georg-August-Universität Göttingen.
"No political party can ignore the Dalits as they used to do in the past. With their genesis in street politics and radical political protests, the VCK has come a long way to make democratic institutions work towards ensuring Dalit rights," he told ThePrint.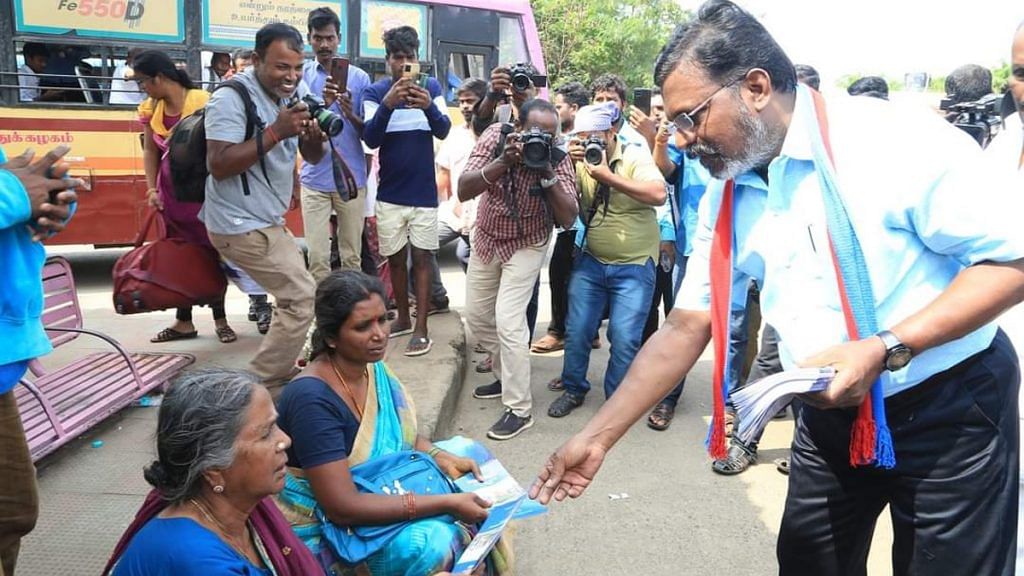 He added that electoral politics in Tamil Nadu is dominated by the "Dravidian duopoly" (AIADMK and DMK) and within this context for smaller parties to emerge as a political force is not an easy task.
Damodaran said that for the VCK, vote sharing and mutual transfer of votes with its allies has always been a tricky issue.
"Thirumavalavan had earlier maintained that there is no mutual transfer of votes even while working closely with alliance partners as caste interests supersede political interests," he said.
He explained that not only DMK but for party that leads the alliance with VCK as a major ally is going to benefit from the presence of Thirumavalavan in garnering the Dalit support.
"Despite Dravidian political dominance, the electoral landscape has always been a space of how effectively one can cobble together a strong alliance… it's where smaller parties like VCK and PMK gained a foothold," he explained.
Over the years, the VCK has been at the forefront of many protests that have affected the larger Tamil population such as the Cauvery river water issue, Mullaperiyar dam, OBC reservations, and NEET.
This week, the VCK indicated that it will file a curative petition against the Supreme Court's verdict upholding EWS reservation. "The Modi government which has not filled thousands of backlog vacancies for OBCs, SC and ST communities has been showing a special interest in the 10 per cent reservation for EWS," Thirumavalavan said in a statement.
"While the BJP says all Hindus are one, it is consistently working against the interests of OBCs, SCs and STs, and in favour of the privileged castes," he added.
---
Also Read: 'BJP will stoop to any level, DMK must move forward responsibly,' says CM Stalin, eyes 2024 polls
---
Aiming for India-wide reach
When asked how the VCK may or may not be different than Dalit parties in the North, Thirumavalavan said that the Dalit pushback to the RSS-BJP is diluted in that part of the country and there is a vacuum in understanding.
"But intellectuals within the Dalit communities in northern India understand Sanatana politics," he added.
"The anti-Manusmriti activities of the VCK motivates them [the intellectuals]," he said, adding that the VCK is attending and responding to more issues outside Tamil Nadu.
"The VCK is going north and also visiting Telangana, Andhra Pradesh, Maharashtra, Karnataka, especially regarding Dalit atrocities," he said. "Whenever I visit Delhi, the interactions are higher. People from many states come to discuss issues," he said.
The party has office-bearers in Kerala, Karnataka, Andhra Pradesh, and Telangana. This is apart from the influence it holds over Tamils in Mumbai and several other parts of Maharashtra.
In October, Thirumavalavan was present on the occasion when the Telangana Rashtra Samithi (TRS), which is in power in Telangana, passed a unanimous resolution to change the name of the party to Bharat Rashtra Samithi.
He was also present the following day when Telangana Chief Minister K. Chandrashekar Rao announced his plans to convene a Dalit conclave in Hyderabad.
Speaking to the Indian Express about the event, VCK leader Ravikumar had said that the party wanted to "honour" the Telangana government's initiatives since they "spend roughly 13 per cent of their budget on Dalit welfare, which is five times more than the national average". He also mentioned "game-changing" programmes like Dalit Bandhu, which "grants 10 per cent of government contracts to Dalits and offers Rs 10 lakh to Dalit businesses".
A month earlier, in September, Thirumavalavan shared the stage with Congress leader Rahul Gandhi at the inauguration of the Bharat Jodo Yatra in Kanyakumari.
Damodaran noted that the VCK despite its presentation in media and political circles as a Dalit party has definitely started to attract a much wider and multi-caste cadre base.
"VCK is the largest Dalit political party in the state, but the party and its leader do not wish to be restricted as such," Damodaran told ThePrint.
"Predominant among its base is the Muslim support and its growing popularity among the sections of numerically less dominant OBCs and MBCs (Most Backward Class)," he said.
In the 2021 Tamil Nadu Legislative Assembly Elections, the VCK had fielded six candidates out of which four won, including a Vanniyar (MBC), and a Muslim candidate.
"However, the party's large support base comes from among the Paraiyar section of the Dalit community," said Damodaran.
'Social media has broken barriers'
In the 23 years he has contested elections, Thirumavalavan said that the biggest change he has seen has come in the form of social media.
"Many social issues including untouchability, atrocities against Dalits, tribals, women, have all gone unaccounted for, never discussed in the media," he told ThePrint. "But after social media has developed, these barriers have broken and it brings these atrocities to light. It comes under debate and political parties are held accountable," he added.
The changes, he feels, also has important consequences on the Dalit community such as important posts being given to them out of "compulsion" by political parties.
"However, just as much as there is a democratic side to social media, it has also allowed the spread of fascism. There is a space to develop Hindu nationalism and attract youngsters through casteism which leads to communalism. It has become really easy for the RSS to split the Hindu people in the name of caste," he added.
(Edited by Theres Sudeep)
---
Also Read: Out in heavy rains for relief work, breaking temple caste barriers — Stalin's 1st year as CM
---