Hyderabad: On a fiercely rainy day in April 1996, 25-year-old Seethakka ran as fast as she could to escape police gunfire at Warangal's Nallabelly mandal. With her feet blistered and bleeding, she was losing hope, but she was a Naxalite commander and she had to lead her dalam (team) of 10 to safety. Somehow, she managed to leave the police behind, but it was the beginning of the end.
Twenty-six years on, on an overcast October day, four smiling policemen flanked 51-year-old Dr Danasari Anasuya, aka Seethakka, a two-time MLA. They were posing for a picture with her in front of Hyderabad's Osmania University campus, where she had just earned a PhD from the political science department.
It was a proud moment for the former Naxalite who left the insurgent group in 1997, trained in law, went on to join politics, and is currently a Congress leader and the sitting MLA from Telangana's Mulug constituency, a reserved Scheduled Tribe seat.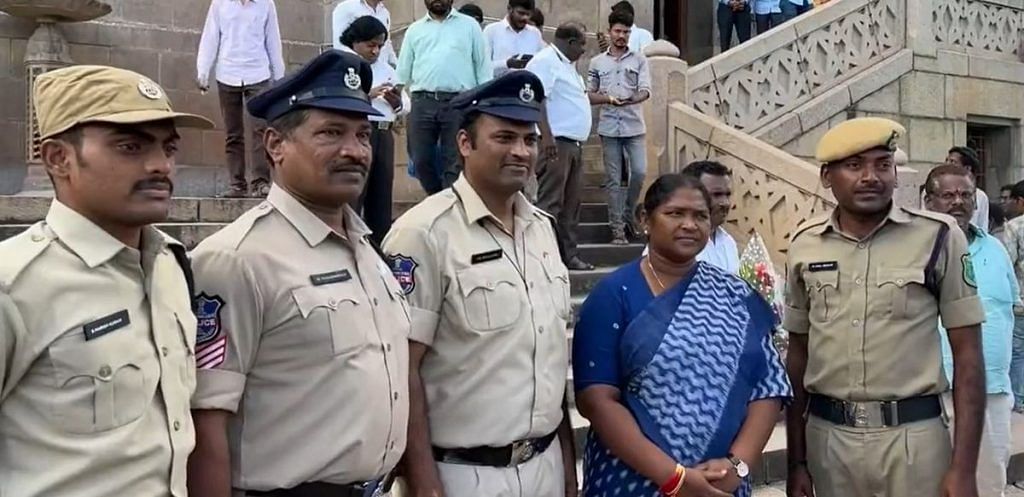 "I wanted to pursue a PhD degree since 2012, and I even sat an exam when I was already an MLA, but I had to prioritise my work duties first," Seethakka told ThePrint.
Her thesis is on a subject she is passionate about: the social exclusion and deprivation of the Gotti Koya tribe — to which she belongs — especially in Warangal and Khammam districts.
"I particularly chose the Gotti Koyas because I have been working with them for over a decade. They're displaced and unrecognised by the state government, do not access any government benefits, and barely have any life security. I plan to prepare a book with my own research and present it to the state government and even the President, if possible," she said.
Over the years, Seethakka's work with her constituency's marginalised tribal communities has ranged from giving them legal support to trekking over rough terrain to provide supplies during Covid. And it has built her a sizeable following.
For the Congress, which is struggling in Telangana, Seethakka is a rare source of confidence. Given her popularity, hopes are high that she will retain the seat when Telangana goes to the polls next year.
But Congress sources say her potential has still not been leveraged fully, even though she has gained more visibility within the party and is part of Rahul Gandhi's ongoing Bharat Jodo Yatra.
"Seethakka is currently limited to her constituency, but her growing fame should be utilised more by the state unit," a state Congress leader said on condition of anonymity.
As her life's trajectory shows, Seethakka certainly doesn't lack for drive or ambition, but among the many avatars that she has assumed over the years, her role as a former Naxalite is etched in her memory and continues to significantly shape her present.
---
Also read: '20-yr project': In Andhra where it has 0 seats, Congress hopes Bharat Jodo will be an 'opening'
---
From lawbreaker to lawmaker
Soon after she was awarded her doctorate, Seethakka took to Twitter and summed up her journey — from Naxalite to lawyer to MLA to earning a PhD in political science — in 60-odd words.
In my childhood I never thought i would be a Naxalite, when I am Naxalite I never thought I would be a lawyer, when I am lawyer I never thought I would be MLA, when I am MLA I never thought I will pursue my PhD.
?Now you can call me Dr Anusuya Seethakka PhD in political science. pic.twitter.com/v8a6qPERDC

— Danasari Anasuya (Seethakka) (@seethakkaMLA) October 11, 2022
Born to a tribal family in Jaggannapet village, Mulugu district, the young Anasuya was drawn to Naxalite ideology when she was still in school.
"The place where I hailed from was all about Naxalite ideology, and schools and colleges always had discussions on this. So, that's how I got attracted to it," she said.
Since the 1960s, economic exploitation, poverty, social marginalisation, and a fight for land rights, especially among tribal communities, had fed the flames of Naxalite insurgency in undivided Andhra Pradesh. The violence simmered down by 2010-2011, but not before many encounters and deaths took place.
By the time she was in class 10, Anasuya had joined the ranks of a Naxalite group and assumed the alias Seetha, which expanded to Seethakka (akka means elder sister in Telugu). She would sit her class 10 exam in jail, after being arrested for the first time in the late 1980s. She was pregnant at the time.
For more than a decade, Seethakka remained involved in the movement but she slowly grew disillusioned. Incidents such as the police chase described earlier strengthened her resolve to change course.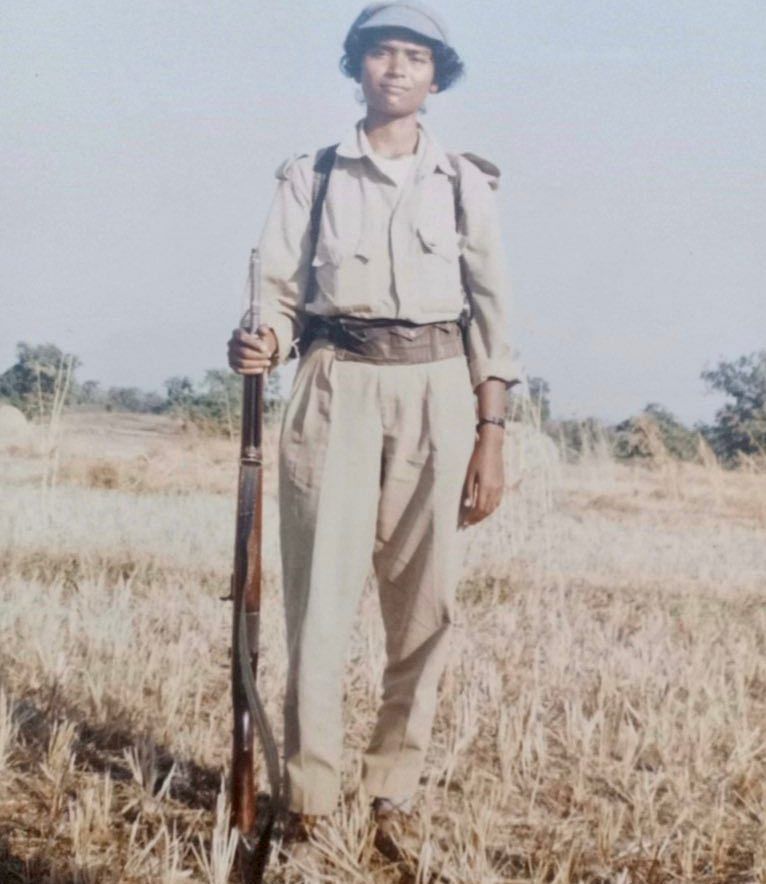 In 1997, she surrendered to the police under a state amnesty program. She was the mother of a nine-year-old at that time and her husband was still a Naxalite (he later died in an encounter), but despite the odds stacked against her, she decided to pursue law, with the aim of using her training to help tribal communities.
"Even as a lawyer, I would take up cases related to tribals while working with an NGO. My focus was the same," she said. But she wanted to do more.
"My fellow advocates encouraged me to get into politics. With better funds and power, I could do better service — that's what they believed and that's how I got into politics," she added.
Seethakka started her political career with the Chandrababu Naidu-led Telugu Desam Party (TDP) in 2004, unsuccessfully contesting the Mulug seat in the assembly election that year. In 2009, the TDP again gave her a ticket to contest the same seat, and this time, she emerged victorious.
However, she finished third in the 2014 election, and jumped ship to the Congress in 2017. Seethakka was again elected as MLA for Mulug in 2018 on a Congress ticket, despite a huge wave in favour of the Telangana Rashtra Samithi (TRS, now renamed Bharat Rashtra Samithi), which is currently in power in the state.
Covid 'fame'
When the Covid pandemic struck in 2020, the pan-India lockdown led to major supply disruptions, leaving tribal communities high and dry in the remote reaches of Mulugu district.
Seethakka's service to these vulnerable communities brought her nationwide attention as images and videos emerged of her trekking across hilly terrain and crossing streams to deliver daily essentials.
With a scarf tied to her head and saree tucked to her waist, Seethakka would set off every day to distant villages that had limited road access and transport. She would often walk for several kilometres with heavy bags on her shoulders, or ride on a bullock cart to reach tribal villages.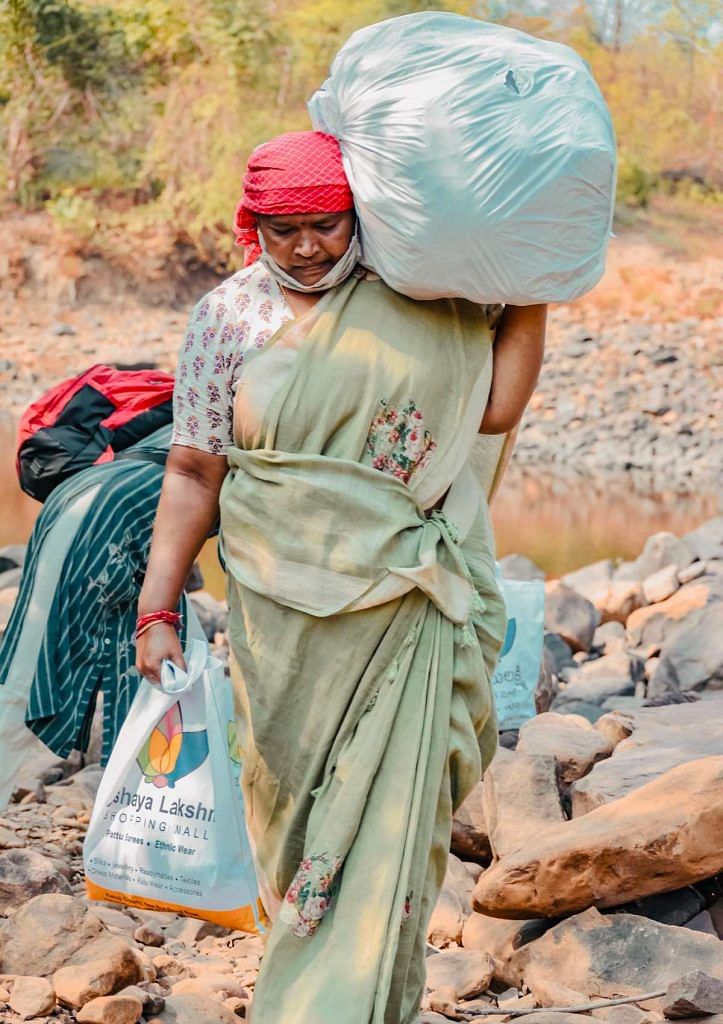 In one of her Twitter updates from the time, she wrote of how people in tribal villages would offer her food when she was part of the Naxalite movement, and now it was her turn to "pay them back".
In another tweet, she said that her perambulations reminded her of the "old days", except that she was now armed with rice and vegetables rather than guns.
Veteran Congress leader and Rajya Sabha MP Digvijaya Singh retweeted a video featuring Seethakka, calling her a "phenomenon".
She is a Phenomenon. Salute her. https://t.co/R4loYyOOJ2

— digvijaya singh (@digvijaya_28) May 4, 2020
When asked about her Covid work, Seethakka said she had always had a hands-on approach to serving tribal communities.
"People knew my work during lockdown after I started posting snippets of it, but I have been doing this all my life and will continue to do so," she said.
"Even the Congress high command appreciated me at that time and Rahul Gandhi, when he met me later, also said I was doing good work. Of course, that made me happy," she said.
While her Covid work meant putting her academic plans on hold, Seethakka has no regrets.
"I extended my PhD programme for two years during the lockdown. Initially, I thought that I could complete it while at home but I then realised that people in the villages did not even have enough food to eat. I realised the need of the hour was me being on the ground and helping my people and not locking myself up with books," she said.
When parts of Telangana were flooded in July, Seethakka once again did relief work herself.
Even today, she added, her schedule involves meeting locals and listening to their grievances at her residence in the morning, then spending a few hours at the party office in her constituency, and regularly touring villages.
A silver lining for Telangana Congress?
The Congress, which was once the principal opposition party in Telangana, has been struggling to maintain a foothold in the state. Currently, it has only five MLAs in the 119-member assembly, down from 21 in 2014.
The party's fortunes took a significant turn for the worse in 2019, when a dozen Congress MLAs out of 18 defected to the TRS, and another jumped ship to the BJP in 2021. Meanwhile, the BJP has been gathering strength in Telangana, and now has three MLAs after defeating the ruling TRS— which had bagged 88 seats in the 2018 polls— in two crucial bypolls over the past couple of years.
The BJP also performed well in the Greater Hyderabad Municipal polls, coming a close second to the TRS, while the Congress lagged way behind.
In this backdrop, Congress sources said popular leaders like Seethakka offer some glimmer of hope to the party.
They added that highlighting her achievements and "giving her a bigger role" in the state unit might help bolster the party's image.
For now, Seethakka has played a fairly prominent role in Rahul Gandhi's Bharat Jodo Yatra since it started in Kanyakumari, and has so far walked for two or three days in every covered state except Andhra Pradesh.
While she is currently deployed on duty for Telangana's Munugode bypoll, Seethakka plans to rejoin the yatra full time after the election on 3 November.
"My priority is always my party and my duty. But, for some reason if people do not want to elect me again, that does not mean I will stop my service. I will keep doing it as long as I can," she said.
(Edited by Asavari Singh)
---
Also read: TRS 2.0: KCR renames party Bharat Rashtra Samithi at 'auspicious time', aims to be 'desh ka neta'
---