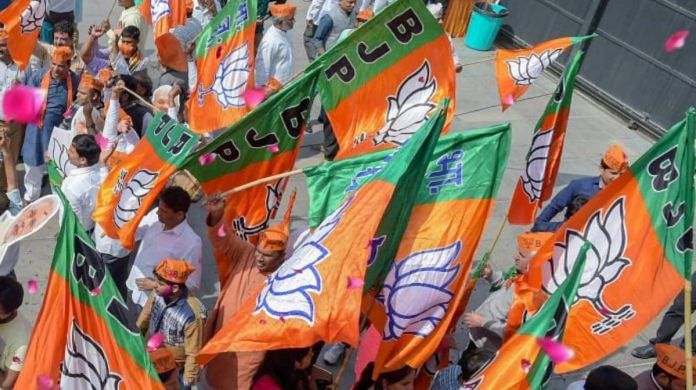 New Delhi: The entry of Eatala Rajendar from the Telangana Rashtra Samiti (TRS) and Jitin Prasada from the Congress in the Bharatiya Janata Party (BJP) this month came as an indicator of the latter's conviction in using defectors for the party's expansion and consolidation.
While Rajendar, sacked from K. Chandrasekhar Rao's cabinet last month following allegations of land grabbing, is expected to boost the BJP's expansion drive in Telangana, Prasada's entry is seen as an effort to woo Brahmins who have been critical of the Yogi Adityanath government in Uttar Pradesh.
This comes at a time when there is growing unease in the BJP about how this 'politics of defections' backfired in West Bengal assembly elections and is causing embarrassment to the party due to their 'reverse migration' back to the Trinamool Congress.
But the counter-argument proffered by BJP leaders is that bringing in defectors, who are established leaders, serves to weaken the opposition parties and also remains a tried-and-tested strategy to bring the BJP to power in states where it doesn't have much footprint.
But how do these political crossovers help the defectors? What are Rajendar and Prasada going to gain from switching their loyalty?
There are currently three BJP chief ministers from the Congress background — Himanta Biswa Sarma in Assam, Pema Khandu in Arunachal Pradesh and N. Biren Singh in Manipur.
But for every Sarma or Singh who went on to become a CM after quitting the Congress to join the BJP, there are many Jyotiraditya Scindias who must wait seemingly endlessly for a reward.
Scindia brought down the Kamal Nath government last year and got ministerial berths for many of his fellow Congress rebels in the Shivraj Singh Chouhan government. BJP also gave Scindia a Rajya Sabha berth. But it was nothing more than what he wasn't getting in the Congress.
Scindia wouldn't have imagined that the BJP would keep him waiting for a Cabinet berth at the Centre for so long but that hasn't deterred other Congress leaders from flirting with the BJP as they see no future in the opposition party, a Congress MP told ThePrint on the condition of anonymity.
"It is not unusual for people to jump to a ship which is sailing. If we look at the people who are leaving, in their perception, the party in which they have been working shows no future," said Sanjay Kumar, professor at Delhi-based think-tank Centre for the Study of Developing Societies (CSDS).
---
Also read: Bengal Governor Dhankhar postpones return to Kolkata, likely to meet Amit Shah again
---
Those who got something
Choudhury Birendra Singh, who quit the Congress after four decades to join the BJP ahead of Haryana assembly election in 2014, was rewarded with a cabinet berth at the Centre.
In the 2019 Lok Sabha election, he wanted a BJP ticket for his son. But for that, he had to forgo his cabinet berth, and even the Rajya Sabha seat a few months later.
Rao Inderjit Singh, a minister of state in the Manmohan Singh government's first term, joined the BJP ahead of the 2014 Lok Sabha election. While he has retained a ministerial berth in the Narendra Modi government, he remains a minister of state (independent charge) and is virtually sidelined in Haryana BJP.
Rita Bahuguna Joshi was a prominent Congress face in Uttar Pradesh before she joined the BJP in 2016. After the party came to power in 2017, she became a minister in the Yogi government. She was asked by the party to contest the 2019 general elections. She fought successfully, but has remained sidelined in the party.
Jagdambika Pal, the "one-day-CM" of UP, quit the Congress to join the BJP before the 2014 elections. He is known as a ministerial aspirant but has had to be content with a parliamentary committee chairmanship.
Former Biju Janata Dal (BJD) lawmaker Baijayant 'Jay' Panda joined the BJP in March 2019 ahead of the general elections. He had been suspended by the BJD for indulging in 'anti-party' activities, following which he resigned. The four-term MP, who used to be a close aide of CM Naveen Patnaik, was fielded from Kendrapara, but lost.
Panda was made the BJP vice-president and national spokesperson. He was retained in J.P. Nadda's team last year, and was also given the election responsibility of Assam and Delhi.
These are some of the fortunate defectors who could be called gainers — for howsoever little they got, and for whatever period.
Those who didn't
There is, however, a long list of defectors whose wait for rewards seem unending.
In 2017, former Karnataka CM and former external affairs minister S.M. Krishna joined the BJP, with then BJP president Amit Shah describing him as a "political asset". He went into political oblivion soon after.
Sanjay Sinh, who had close links with the Gandhi family, quit the Rajya Sabha and the Congress in 2019. He is also politically irrelevant as of today.
Former Uttarakhand CM and Rita Bahuguna's brother, Vijay Bahuguna quit the Congress to join the BJP in 2016. He has now lost his political standing in the state.
There are numerous other defectors from the Congress and other parties who find themselves on the sidelines in the BJP, desperately hoping to realise their ambitions that had made them political turncoats.
---
Also read: Vasundhara Raje stops attending Rajasthan BJP meetings and events as rift with party widens
---
History of defections to BJP
Defections to the BJP are not a new phenomenon under Narendra Modi-Amit Shah, but what has changed is the volume and quality of defectors.
"Pace of defection and defectors coming to BJP might be slightly less during Atal Bihari Vajpayee's time because the Congress was seen as a vibrant party then. If we look at the filter that may be applied by the party, it was much stronger during the Vajpayee era than probably now. The current filter is winnability, those who can help in destroying the Congress," said CSDS' Sanjay Kumar.
"But there was always a sense of public probity in taking defectors into the BJP during Vajpayee-Advani era. He never engineered defection in the state to snatch power from opponents through money bag politics," said a second BJP leader who didn't wish to be named.
In 2015, Amit Shah had welcomed former Odisha CM Giridhar Gamang to the party. He had helped vote out the Vajpayee government in 1999 by one vote.
The first time BJP allowed a number of defectors in the party was during the 2004 Lok Sabha elections when Pramod Mahajan was in charge of the campaign. However, a senior party leader is quick to explain that even then it was carried out on merit.
The then party president M. Venkaiah Naidu had inducted controversial western UP politician D.P. Yadav into the party despite a number of criminal cases against him and his son Vikas, a prime accused in the prominent Nitish Katara murder case.
"When PM Vajpayee later reached Lucknow, he was bombarded with questions on his claims of being a party with difference and then inducting people like D.P. Yadav. Vajpayee questioned why Yadav's credentials were not checked. Later on, his membership was withdrawn," said the BJP leader who didn't wish to be named.
When Nitin Gadkari was the BJP president during 2010-12, and Advani was still at helm of party affairs, Babu Singh Kushwaha, a tainted minister who was sacked by Mayawati and was facing charges of corruption, was inducted in the party.
"Advani ji raised questions on his joining. J.P. Nadda, who was a general secretary of the party, had briefed the media on the CBI raids that were carried out on Kushwaha as political vendetta of Congress. However, as Advani ji was unhappy about the induction, he was sacked from the party after joining. He was facing similar charges of corruption, as is the case with Mukul Roy, who had joined the party in 2017," said the second BJP leader. Roy recently moved back to the TMC.
According to senior BJP leaders, these two incidents reflect how the party was cautious while inducting defectors for vertical expansion during the Vajpayee-Advani era.
"The party expanded socially and numerically and came to the Centre with an alliance partner for the first time in 1996 for only 13 days but Vajpayee's thrust on clean politics kept away politicians with a tainted image. Those who joined BJP during this period were either those with professional experience or hardcore politicians," said a third leader.
---
Also read: How Yogi Adityanath, fresh from meeting Modi-Shah, plans to quell anger over Covid management
---
Those who joined during Vajpayee-Advani era
Sikander Bakht, one of few early defectors from the Congress, joined the Janata Party during the Emergency and fought the 1977 election. Later he became one of the founding members of the BJP, and remained with the party. He became a minister when Vajpayee came to power.
Yashwant Sinha was also among the few early defectors who switched sides from the Janata Party in early 1990s. He was finance minister during the Chandra Shekhar government. He joined the BJP later and became a Union minister during the Vajpayee era. His association ended with the party when he was sent to the margdarshak mandal.
Indira Gandhi aide Najma Heptulla, who was deputy chairperson of the Rajya Sabha for 17 years, quit the Congress to join the BJP in 2004. She got a cabinet berth in the Modi government in 2014 but was dropped after a little over two years. She is Manipur governor now.
R. Kumaramangalam, a prominent Congress leader, joined the BJP in 1997 and became a cabinet minister in the Vajpayee government.
C.P. Thakur, a physician who joined the Congress in 1984 after Rajiv Gandhi personally called him to join, later switched to the BJP in 1990. He won on a BJP ticket for the first time in the 1996 election. In 1999, he was inducted into the cabinet. His son Vivek Thakur is now a Rajya Sabha member.
Bhubneshwar Kalita, a BJP MP from Assam, was one of the Congress floor leaders in Rajya Sabha. He joined the BJP in support of Article 370 in 2019.
Speaking to ThePrint, he said, "My issue was different. I was in support of Article 370 so before joining the BJP, I resigned from the Rajya Sabha but others who are joining they have other reasons because Congress is a sinking ship and anybody who wants to do politics or stay relevant, he has no option. BJP is the only national party so others who find no future in other parties are joining the BJP."
A fourth senior BJP leader who was a minister in the Vajpayee cabinet said, "The first wave of induction of defectors started in 2004 when Pramod Mahajan started to find good candidates to increase the Lok Sabha tally and expand footprint in states. But it can't be compared with 2014 onwards mass joining, without any background check… tainted fame does not require any questioning now."
Difference due to party's upswing
Rahul Verma, a political scientist at the Centre for Policy Research, noted the "important development" that the BJP is now a nationally dominant party and many state-level parties are on a decline.
"During the Vajpayee-Advani era, those parties were on an ascendance. Today, not only Congress but even BSP in Uttar Pradesh is not in great shape. The BJP, on the other hand, seems to be on an upswing in the past few years and hence politicians perceive that contesting on a BJP ticket increases their probability of winning," he said.
"One marked difference that also explains the degree of defection between Vajpayee and Modi era is the fact that during the Vajpayee era it was largely a party of west India and Hindi-speaking states. Rarely did one see people from the south and east joining the BJP then, something which has become a normal scenario," Verma added.
Former Union minister and BJP leader Satyanarayan Jatiya said, "Earlier, we were a cadre-based party but when the party became mass-based, it's quite natural that everyone wants to join the BJP."
However, Verma said that the BJP will have to respond to outrage too in case of defections being unacceptable to the public.
"In BJP's case today, Kuldeep Singh Sengar, who was accused of sexual harassment, his wife was given a ticket to contest the zila panchayat election and it was later withdrawn. Parties have to and will respond to public outrage," Verma said.
---
Also read: Cabinet reshuffle likely in Gujarat as BJP looks to set house in order ahead of 2022 polls
---