New Delhi: Nine years since his death and three cancelled programmes in between, the statue of ex-Union minister Dilip Singh Judeo will finally see the light of day. A year ahead of elections in Chhattisgarh, Rashtriya Swayamsevak Sangh (RSS) chief Mohan Bhagwat unveils the statue of the man who was face of Gharwapsi (re-conversion) among tribals today in Jashpur.
While the Bharatiya Janata Party (BJP) and the RSS tries to renew Judeo's legacy to woo tribal population in the region, Prabal Pratap Singh said that his father did not get his due and that he should have been made the chief minister of Chhattisgarh.
He was "framed by the conversion-mafias "(Christian missionaries) and kept out of the chief minister race, Prabal claimed. The BJP state secretary and Akhil Bharatiya Gharwapasi pramukh (in charge of re-conversion in RSS) now follows his father's footsteps and re-convert tribals who had taken up Christianity.
Called as 'Rajaji', 'Kumarsaheb', 'Baba' and 'Mama' among the tribals in and around Jashpur district, Dilip Singh Judeo was a two-term MP from Bilaspur and a three-term Rajya Sabha MP. He was an union minister in Atal Bihari Vajpaee's cabinet in 2003.
Judeo, the king of erstwhile Jashpur princely state, gave the Gharwapsi process an interesting twist by making the act of the king washing the feet of the tribals a  mandatory part of the process.
"My father fought against all these well-funded foreign forces alone, and he had an unflinching support of  the tribals. He had to face huge resistance for doing the work. He was disowned by his own clan of Rajputs. He suffered a lot for doing this noble work and for protecting Hindus. He always said that protecting Hindus is more sacred than building temples," Prabal Singh Judev told the Print.
"Had he been the chief minister, the state would not have gone to Congress. The anti-conversion law was needed here. I respect [former chief minister] Raman Singh ji, and my father supported him a lot during his tenure. But I feel that he [Raman Singh] could have done a little more for the Hindus, [and] could have brought the anti-conversion laws. He didn't work among the tribals much," the BJP leader added.
---
Also Read: BJP slams Chhattisgarh Congress mayor for 'disrespecting Hindus' in Buddhist conversion event
---
Face of Gharwapsi 
Judeo's political relevance and the vacuum are being felt now as Chhattisgarh is again going back to the age of "'mindless conversion by the missionaries", said a senior RSS functionary.
"This is the time when we reignite the legacy of Judeo. He has been a lion in the area, and was never scared of anything. People should remember him and follow his footsteps in the region. Jashpur has one of the largest churches in Asia. That is the headquarters of conversion. This has to stop," the RSS functionary claimed. "Judeo Singh ji is treated as the leader among the tribals. When they greet each other they say, Jai Judev, and not Namaskar. This was the extent of his command."
Bhagwat's two-day visit to Jashpur and Ambikapur is significant in the backdrop of the political ground shifting in the Congress-ruled state.
The Sangh chief will unveil the statue made by Ram V. Sutra, who designed Sardar Patel's statue in Gujarat, on 14 November and will spend the day in Jashpur district. He will travel to Ambikapur on 15 November and attend a Patha Sanchalan (route march by RSS volunteers) by around 15,000 volunteers, said an RSS insider.
"The missionaries and other foreign forces, who want the Hindus to diminish, say that the tribals and Dalits are treated as outcasts. But my father, despite being a Raja and an upper caste Rajput, washed their feet to bring them back to the ancient Sanatan Dharma," Prabal Singh said.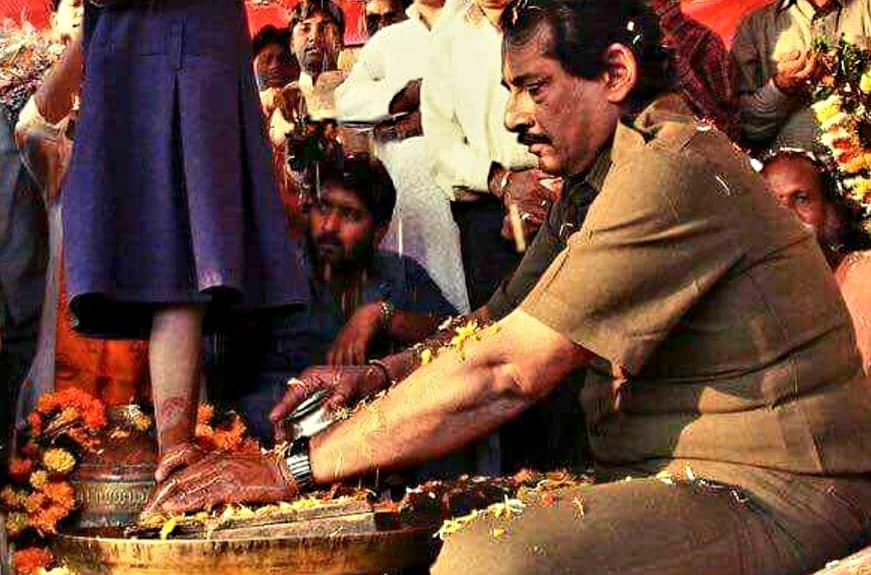 "Hinduism never disowns anyone and does not convert others. We just want our people back, because my father always said that people lose the national connection after converting and fail to recognise the national interest. There starts the division. This is why Pakistan and Bangladesh were created because of religious conversions. I am carrying on my father's unfinished work. I organised Gharwapsi of 15,000 tribals this week in Odisha to celebrate my father's work." he added.
Lineage and politics 
The erstwhile royal family of Jashpur has been a strong and undetachable part of the Sangh Parivar in Chhattisgarh. Judeo's father Raja Vijay Bhushan Singh Deo is known to have distributed land and supported the RSS to build its infrastructure. The Sangh's tribal wing Banavasi Kalyan Samity is closely connected to the erstwhile royal family.
Judeo himself was a member of several RSS wings. Even though he graduated from a missionary college, St. Xavier College, Ranchi,  Judeo was always critical about the missionaries converting the tribals to Christianity.
A law graduate, Judeo joined BJP later and became MP from Bilaspur in 1989 and 2009. He was made the minister of state for environment and forest in the Atal Bihari Vajpayee Cabinet in 2003.
His downfall began after a sting operation showed him accepting bribe in a hotel room for mining rights in Chhattisgarh. Judeo resigned in November 2003 just before the elections in Chhattisgarh, Delhi, Rajasthan, and Madhya Pradesh.
The Bilaspur MP died in 2013 after prolonged illness at a Gurugaon hospital.
"People close to him said that the moustache was an integral part of his personality. He told us that the moustache reflects his royal image and his lineage," said a senior BJP leader, who worked as his associate.
Often seen twirling his moustache when he was in his prime, the statue to be unveiled Monday fittingly shows the late leader in his famous pose. "That has always been his image here. He was very proud of his royal blood and his moustache," Judeo's associate asserted.
(Edited by Tony Rai)