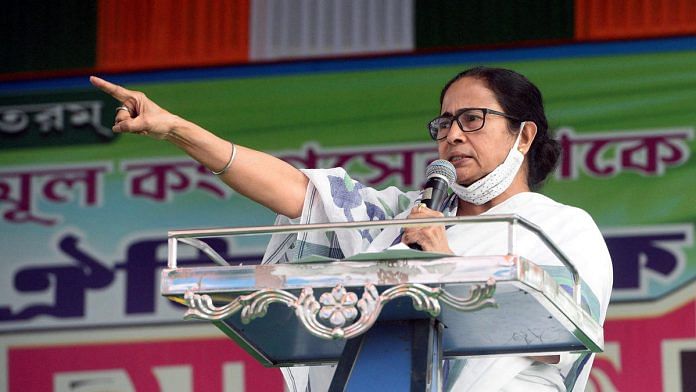 Kolkata: Months after a resounding victory in the West Bengal assembly election, Chief Minister and Trinamool Congress chief Mamata Banerjee is planning a national outreach programme on Martyrs' Day (21 July), as she sets her eyes on the 2024 Lok Sabha election.
As a part of the outreach programme, Banerjee's 21 July speech will be telecast on giant screens across West Bengal and five other states — Gujarat, Uttar Pradesh, Assam, Tripura and Delhi. Of these, apart from Delhi, the remaining are BJP-ruled states.
According to top sources in the Trinamool Congress (TMC), the party has arranged for podiums, giant screens and translators for the live telecast of the CM's address.
Derek O' Brien, TMC Rajya Sabha MP, said arrangements are also being made to telecast Banerjee's speech on a giant screen at the Constitution Club of India in Delhi.
Banerjee started the Martyrs' Day rally as an annual event in remembrance of the 13 people who were killed at a Youth Congress rally in 1993. She was then the leader of the Youth Congress.
TMC outreach programme vs BJP dharna
Trinamool MP Sougata Roy told ThePrint that the party decided to expand its national outreach programmes during its organisational meeting on 5 June in Kolkata.
"Many opposition leaders have been invited for the programme. We will be there for the speech. This is our flagship programme and it will go pan India this time. Leaders from several opposition units from states like Uttar Pradesh, Gujarat and Assam contacted us for the telecast of her speech. The arrangements are being done by the local units. This is the first step to spread our wings nationally," Roy said.
Kunal Ghosh, Trinamool's state general secretary, said the party has been working for over a month to make the programme successful. "Apart from Didi's speech, there will be a speech by our national general secretary, Abhishek Banerjee, too. And we will re-launch our mouthpiece Jaago Bangla," he added.
A senior Trinamool leader, who did not want to be named, said Banerjee will speak on "illegal surveillance" by the central government, fuel price rise and other "undemocratic and unconstitutional" policies of the Modi government.
"Didi will go on a four-five day trip to Delhi next week. She will meet senior opposition leaders. She is likely to meet Sonia Gandhi too. Apart from political meetings, Didi will also seek appointments from the PM and the president for one-on-one meetings," said the leader.
While the Trinamool, for the first time since its inception in 1998, has decided to take the Martyrs' Day programme to the BJP-ruled states, the saffron party's Bengal unit has planned a 'Martyrs' Day' programme to pay tribute to its workers killed during political violence in the state.
BJP will put up posters of its three dozen workers, who were allegedly killed during the post-poll violence this year, across state districts. The party is also planning to stage a dharna in Kolkata and Delhi, demanding justice for its "martyrs".
"BJP leaders will sit at a dharna at Gandhi Ghat to mourn the death of party's '38 martyrs' of post-poll violence," BJP leader Shamik Bhattacharya said.
---
Also read: 'Mamata stole wife', 'husband honey-trapped' — the very public love lives of Bengal politicians
---
Mamata 'hijacked' Congress' movement
The BJP accused Banerjee of "hijacking" the day that "belongs to Congress and its workers".
"The movement was spread by the Congress against the Left Front government. Mamata Banerjee was one of the leaders. But she hijacked the day and started observing it as Trinamool's Martyrs' Day. Meanwhile, her party continued with brutal killings. Since 2 May, at least 38 BJP workers were killed in post-poll violence by the Trinamool. They are our martyrs. We demand justice for them," said Shamik Bhattacharya, BJP's chief spokesperson in Bengal.
He added the party will stage a protest at its headquarters in Kolkata and the election office in south Kolkata's Hastings area. "We will put posters of our martyrs across the city and districts. We will also observe the Martyrs' Day across districts."
(Edited by Neha Mahajan)
---
Also read: 4 new Bengal faces in Team Modi reveal BJP's state strategy for 2024 polls
---