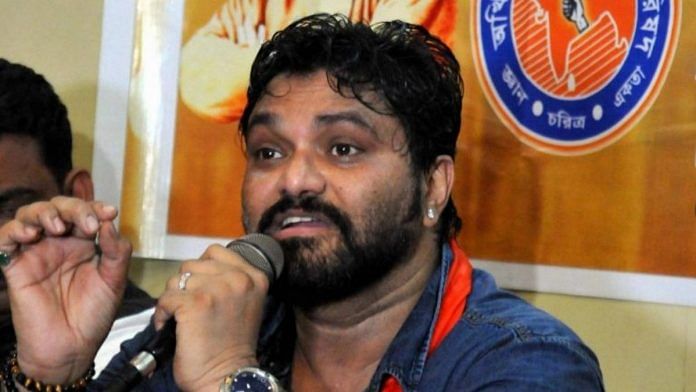 New Delhi: Former minister of state and BJP MP from Asansol Babul Supriyo announced his decision to "quit politics" in a Facebook post Saturday, weeks after he was dropped from the cabinet in a major reshuffle that took place on 7 July.
Supriyo, in an emotional post on Facebook, written in Bengali, bid "alvida" to politics. "I am leaving….farewell," he wrote. The leader had also written initially that he won't be joining any other party, either the TMC, Congress or CPI(M) and that he is "a one team player".
"I have heard everything that everybody said — father, (mother), wife, daughter, one or two close friends .. after hearing, understanding and thinking about everything, I am saying that I am not going to any other political party — TMC, Congress, CPI(M). Nowhere, I can confirm, nobody has called me also. I am a one Team player! Have always supported one team#MohunBagan. Have done only party BJP West Bengal. That's it!!," Surpiyo had written.
An hour later, however, Supriyo edited the post, to drop the part on not joining any other party, giving rise to speculation about his next move.
The singer-politician was dropped from his post as the Minister of State for Environment, Forest, and Climate Change earlier this months. In May, in the West Bengal Legislative Assembly election, he had lost the Tollygunge constituency by over 50,000 votes to Trinamool Congress' then PWD minister Arup Biswas.
ThePrint tried reaching West Bengal BJP Chief Dilip Ghosh over calls and text messages, but his phone was unreachable. A staff member in his office said, however, that Ghosh hadn't received any official correspondence about Supriyo leaving politics, till the time of publishing of this report.
"He (Supriyo) has gone and put a post on Facebook, but there is no official correspondence with the party about this. So then how can we take this seriously? There needs to be official communication," the staff member said.
ThePrint also contacted BJP National Spokesperson R.P. Singh for his reaction to Supriyo's move, but he said he was "not aware" of the development.
---
Also read: Mamata promoted cut money, now her party fleeces even onion & potato sellers: Babul Supriyo
---
Rise & fall
The Bollywood singer had entered politics in 2014, contesting from the Asansol Lok Sabha seat on a BJP ticket, which he won. He had retained his seat in 2019, but was chosen by his party to contest the crucial West Bengal assembly polls in 2021.
Supriyo was one among the twelve ministers who were dropped from PM Modi's cabinet on July 7 as part of a rejig, the first since this the BJP returned to power in 2019.
Soon after Supriyo tendered his resignation from the post of minister that day, he had put out a Facebook post  saying that he was made to resign. However, he subsequently put out a clarification saying that "Asked to resign may not have been the best way to frame it" and thanked the PM for giving him a chance too serve "my country".
Since then Supriyo has been putting out a series of cryptic posts on Facebook, the most recent of which came on Thursday, in which he had dropped a hint of his departure from politics.
"I did not come into politics to please everyone," he had written in the post.
ThePrint had earlier reported on 13 July that Supriyo's Facebook posts had earned the displeasure of Ghosh, who had highlighted the issues of "indiscipline" against Supriyo and state Bharatiya Janata Yuva Morcha (BJYM) president Saumitra Khan in his meeting with Nadda, just days after the cabinet reshuffle.
---
Also read: BJP minister Babul Supriyo trashes talk of Bollywood drug addiction, says it's grossly unfair
---
Bidding goodbye
In his Facebook post Saturday, Supriyo wrote that "one can do social work without being in politics" today, and that he has decided to leave politics after reflecting over the many questions in his mind on the issue.
"I was here for quite some time. I made some people happy, some angry. Somewhere I made you all happy with my work, somewhere I disappointed you. It's for you to evaluate my performance. I am saying that I am leaving (politics) after answering all the questions arising in my mind," he wrote.
The singer-politicians also thanked Home Minister Amit Shah and BJP president J.P. Nadda for inspiring him.
"Over the last few days I have gone to meet Amit Shah and Nadda ji with the determination to leave politics and I would be forever grateful to them that every time they inspired me in several ways and sent me back."
(Edited by Poulomi Banerjee)
---
Also read: Bengal BJP infighting grows, Dilip Ghosh complains about Babul Supriyo, Saumitra Khan to Nadda
---