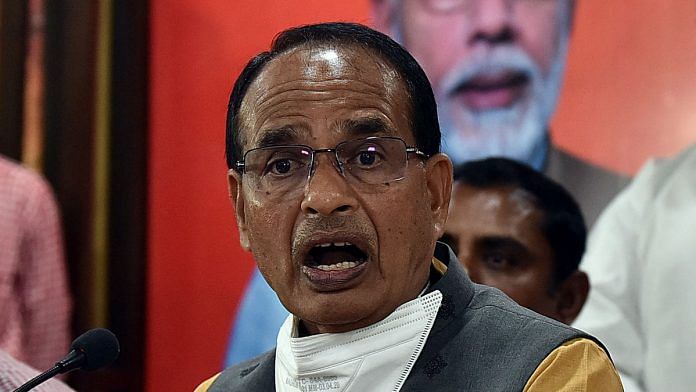 New Delhi: Months after scoring a victory in the keenly-contested bypolls on 19 assembly seats, Madhya Pradesh Chief Minister Shivraj Singh Chouhan is back to preparing for the next set of by-elections — one parliamentary constituency and three assembly segments. 
For this big test of his popularity and administration ahead of the 2023 assembly elections, Chouhan has deputed over 40 Bharatiya Janata Party (BJP) leaders for a sum total of four elections. 
The 40 include 12 ministers (out of 26 cabinet members), five MPs and over 25 organisational leaders such as general secretaries and vice-presidents, according to sources.
In the 2020 assembly bypolls, Chouhan had deputed 70 leaders for the 28 seats, of which the party won 19.
The latest round includes the Khandwa Lok Sabha seat, which has been vacated after the death of former state BJP president Nand Kumar Chouhan. 
The three assembly seats have been vacated after the demise of MLAs Jugal Kishore Bagri (Raigaon), Brijendra Singh Rathore (Prithvipur) and Kalawati Bhuria (Jobat). Of these three seats, two were held by the Congress and one by the BJP.
The dates for the bypolls are yet to be announced.
---
Also read: In review of Bengal poll loss, BJP to assess role of Trinamool 'rebels', reward loyalists
---
Party prep
In the Khandwa parliamentary constituency, there are eight assembly segments. The BJP has deputed one cabinet minister for each segment, along with a bunch of other organisational leaders.
Cabinet ministers Kamal Patel, Vijay Shah, Tulsi Silawat, Inder Singh Parmar, Mohan Yadav, Usha Thakur, Jagdish Devda, Arvind Bhadoria, Bisahu Lal Sahu, Brijendra Pratap Singh, Ramkhelawan Patel, Vishwas Sarang and Prem Singh Patel have been given the charge to handle the four bypolls.
Moreover, MPs Shankar Lalwani has been deputed for Pandhana assembly segment in Khandwa, Ganesh Singh for Marigaon assembly segment and Gajendra Patel for Jobat.
---
Also read: Pegasus row forges rare opposition unity. Led by Congress, parties demand Parliament debate
---
Aggressive model
Madhya Pradesh CM Shivraj Singh Chouhan's model of fighting bypolls is different from other chief ministers, insisted BJP sources.
In 2020, the CM didn't make one or two leaders in-charge of the bypoll campaign, but deputed almost the entire cabinet for it. This time too, nearly half of the cabinet is holding responsibility for the polls.
The senior cabinet members include Finance Minister Jagdish Devda, Farmers Welfare and Agriculture Development Minister Kamal Patel, and Water Resources Minister Tulsi Silawat, who is a loyalist of Union minister Jyotiraditya Scindia. 
Speaking to ThePrint, Indore BJP MP Shankar Lalwani, who is in charge of one assembly seat, said there are three tiers of duties for the bypolls.
"First layer is the minister. Then for every seat, there is an MP to fix gaps, and the third layer is from the organisation, who reviews everyday happenings and campaigns on these seats. The CM has started campaigning although the poll dates are not announced," said Lalwani. "This is how seriously we take elections."
Another BJP vice-president in the Madhya Pradesh unit said: "In Uttar Pradesh, BJP lost the local body polls as it didn't take the elections seriously. But Shivraj knows he is in power till he continues to win. A poll defeat here will not affect the stability of his government but a loss can initiate murmurs among rivals who are waiting for Shivraj's downfall."
BJP cautious after Damoh defeat, Khandwa a prestige poll
The party saw a defeat in Damoh bypolls in May, where BJP infighting played a role in the victory of Congress candidate Ajay Tandon and defeat of Rahul Lodhi, who had defected from the Congress. Former minister Jayant Malaiya and his son sabotaged BJP chances as the former didn't campaign for Lodhi.
Taking a cue from that loss, Shivraj Singh Chouhan is in no mood to take chances in Khandwa, where a former state unit chief was the sitting MP. Any defeat in Khandwa can send a wrong political message to the BJP high command.
Congress leader Kamal Nath, who has a chance here to dent the CM's clout before the assembly elections, has deputed 10 Congress MLAs per assembly segment to counter Shivraj's model.
(Edited by Amit Upadhyay)
---
Also read: Engineer to Karnataka CM — The rise of BSY loyalist & Lingayat leader Basavaraj Bommai
---