Mugathi, Andhra Pradesh: A resident of neighbouring Yemmiganur, Mallesh Babu (55) had been waiting patiently for over four hours Thursday outside the campsite in Mugathi village in Andhra Pradesh's Kurnool district. This is where you can catch a glimpse of Rahul Gandhi when he takes a brief break from his mega walkathon Bharat Jodo Yatra, he was told.
Mallesh had seen the Congress MP from Wayanad several times on television but wanted to see him in person. Asked if he knew why Gandhi was leading this cross-country walkathon, Mallesh had no answer, nor could he name the 2019 Congress candidate from his constituency.
However, Mallesh was not the only admirer waiting outside the camps set up by the Congress in Kurnool villages that Gandhi is touring.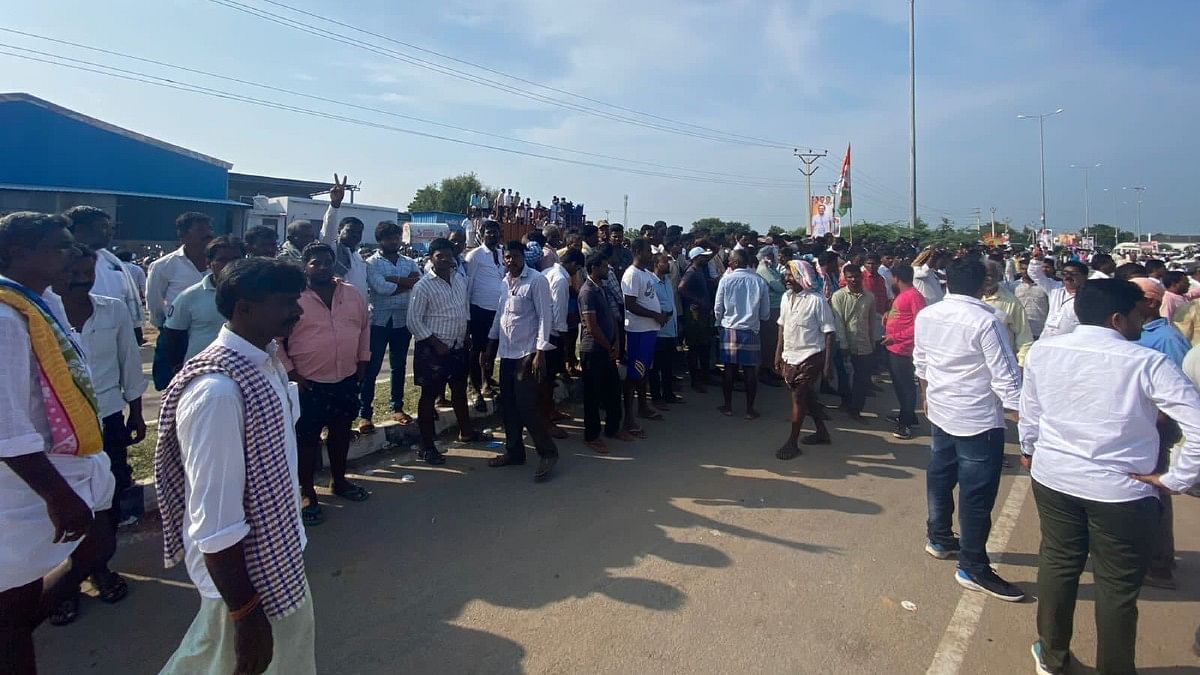 One of the biggest challenges the Congress faces in Andhra is a lack of recognisable faces in its state unit. 
The party, however, hopes Bharat Jodo Yatra will be an 'opening' in a state where it stands decimated. Congress general secretary in-charge of communications, Jairam Ramesh, said revival of the Congress in Andhra is a long-term project and one that is bound to be very challenging.
"We have really been decimated in Andhra Pradesh and the anger over bifurcation (creation of Telangana) is still there. We had an electoral debacle in 2014 and 2019…. The revival of Congress is not going to happen in one or two years, it is a long-term process," he told ThePrint.
It is a "20-year project," he said, adding, "Bharat Jodo Yatra is like an opening for us in the state. We've come back and are also back in political, media and civil society narrative. It is up to us how we take it forward."
---
Also Read: How Congress became irrelevant in Andhra Pradesh in a span of just 7 years
---
'Andhra Pradesh is different'
Voters in Andhra Pradesh did not elect a single Congress representative to either the state assembly or Parliament in 2019. The party's state unit is plagued with issues such as internal leadership tussles, poor coordination among leaders, absence of leaders on the ground, and a dearth of recognisable faces.
"We have been interacting with people at tea shops, vegetable vendors, and hawkers as we walk, and one of the most frequent feedbacks we received was how people do not know who the local Congress candidate was," said a state Congress leader who did not wish to be named.
Adding that it is "not just about having a well-recognised face", he told ThePrint: "It is also about how frequently that person is in touch with voters and we realised that in some areas, it is literally nil. Same has been told to Rahul Gandhi ji as part of our feedback."
The 'Bharat yatris' who have been travelling alongside Rahul Gandhi said that the turnout was relatively better in Kerala, Tamil Nadu and Karnataka.
Given the Congress' electoral fortunes in Andhra, the party cadre had low expectations about how many locals would turn up for the yatra. But the turnout, they say, was way better than what they had expected.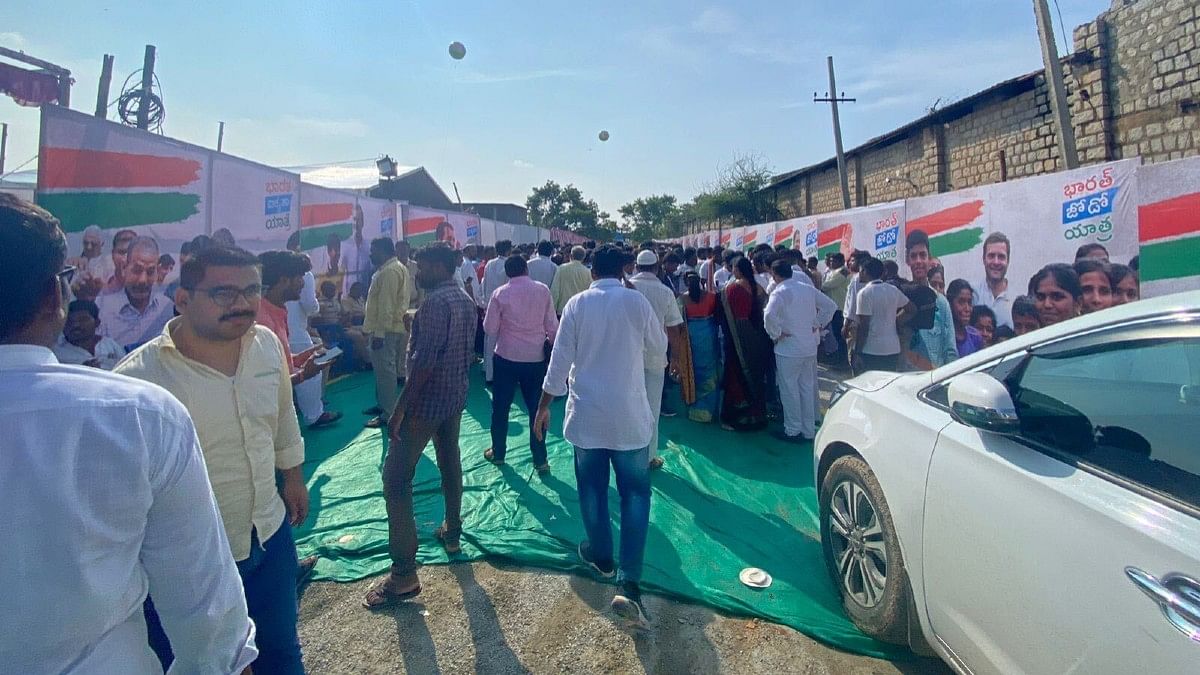 According to Andhra Congress leaders who did not wish to be named, the cadre mobilised at least a hundred people from each district. The youth wing was asked to mobilise over a thousand and Mahila Congress another hundred for the yatra. Announcements were made 10 days in advance across the entire route of Rahul Gandhi's walkathon in the state.
"For the yatra in Tamil Nadu and Kerala, where we have a healthy vote share, there was a good response. But Andhra Pradesh is different. Our vote share is less than 2 per cent here and yet, we have had a pleasantly decent response, exceeding our expectations," said Ramesh.
He, however, added, "I understand we have just toured in one district in Rayalaseema in the state and if we go to coastal areas, we might face the anger that bifurcation has led to… We have a long way to go."
Bifurcation, Amaravati sole capital
From winning 33 of the state's 42 Lok Sabha seats in 2009 — 25 seats in Andhra and 17 in Telangana were counted together in 2009 and 2014 — to zero seats in 2019, the Congress has suffered a drastic descent in Andhra.
Its inability to counter anger spurred by the bifurcation and migration of its leaders to Chief Minister Y.S. Jagan Mohan Reddy-led Yuvajana Sramika Rythu Congress Party (YSRCP) and other parties are among the many reasons for the Congress' waning popularity in Andhra.
That the party's image took a severe beating post the bifurcation is evident by the fact that not even one of its candidates in Andhra was elected in the 2014 general and assembly polls held simultaneously.
From 36.55 per cent in the 2009 assembly polls, the Congress's vote share in Andhra Pradesh dropped to 11.71 per cent in 2014. In 2019, the party failed to secure a single assembly seat, polling a mere 1.17 per cent of the total votes, even lower than the 1.28 per cent polled by NOTA. 
In the 2019 Lok Sabha elections, it managed to poll a meagre 1.3 per cent of the total votes in Andhra against 1.5 per cent polled by NOTA.
To address the issue of bifurcation, Rahul Gandhi assured Special Category Status to the state in accordance with The Andhra Pradesh Reorganisation Act the day after Bharat Jodo entered the state. This has been a longstanding demand from voters in Andhra post-bifurcation. 
He also lashed out at CM Jagan's proposal of three state capitals, while endorsing that Amaravati should be the sole capital of Andhra.
"When Gandhi was touring in Kerala and Karnataka, Congress picked up some momentum in AP too. The Reddy community, which dominates the vote bank in Rayalaseema region, of which Kurnool is a part, felt Congress may have the potential to emerge as an alternative to the BJP at national level. It's unclear if Congress did not realise what was the ground pulse, so they failed to capitalise on it," said political analyst Purushotham Reddy.
Adding that Rahul Gandhi should have interacted more with local groups during his stay in Rayalaseema, Reddy told ThePrint: "People of Rayalaseema region always felt they were left out, they wanted a high court here, wanted part of capital here, and Gandhi coming here and announcing Amaravati as sole capital might not have gone down well with them."
He also pointed out the absence of former chief minister N. Kiran Kumar Reddy (last CM of undivided Andhra) from the yatra. 
However, sources in Andhra Congress said the veteran Congressman had to stay away from the yatra due to an extended family member's death, adding that he also refrained from voting during Congress presidential polls
For now, the Congress' revival strategy in Andhra involves promoting younger leaders within the state unit and rebuilding its organisation, one brick at a time. But the road to revival here is long, arduous and ridden with formidable political adversaries.
(Edited by Amrtansh Arora)
---
Also Read: Cornering YSRCP, alliance in Telangana — what's in it for TDP, BJP if Naidu returns to NDA fold
---