New Delhi: Sputnik V, the election mayhem in West Bengal, and ABP's Rubika Liyaquat lashing out on the absence of Covid-19 appropriate behaviour — there was plenty going on Monday night at prime time.
At CNN News18, anchor Zakka Jacob discussed the new vaccine — the Russian Sputnik V — which has now received the nod for emergency use in India. "We are vaccinating 25-30 lakh people a day and on good days it goes up to 40 lakh. How much will this new vaccine push up the daily number?''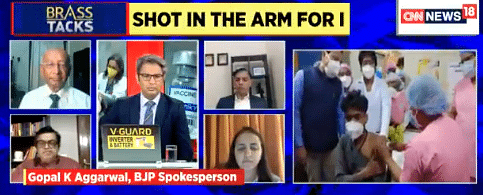 "And do you see the rate of vaccination getting to a point where the number of people getting infected will not matter?" Jacob asked his panel of experts.
Dr. Nanda Kumar Jairam, CEO, Chairman and GMD at Columbia Asia Hospitals, had a word of caution: "One must understand immunity only develops many weeks after the second dose… so if you are talking about the current wave peak we are not going to be able to affect the current wave or reduce the number of people getting infected this time by vaccinations."
Samajawadi Party's Ghanshyam Tiwari hit out at Prime Minister Narendra Modi and Home Minister Amit Shah for continuing with their election rallies "This is the central government of India — no one does a press conference, no one informs the nation on the logic on the way they are implementing vaccines. And when the time comes they will blame certain states."
Jacob pointed to the double standards on campaigning, as the SP, in Uttar Pradesh, was electioneering in local polls. Tiwari hit back and asked the anchor why he picked on the opposition instead of on the ruling party.
BJP spokesperson Gopal K. Aggarwal said, "Vaccine is not the solution to the whole problem. It is part of the solution but ultimately it is the social Covid-19 appropriate behaviour… states such as Maharashtra, Rajasthan, Chhattisgarh, Jharkhand and Delhi they have ignored the basic tenets of Covid fight."
Rubika Liyaquat on ABP News started her prime time show by stating that 904 people have died from Covid-19 in a span of 24 hours, with over 1.6 lakh fresh cases.
"Remember, one year ago, coronavirus cases rose like this, the atmosphere was filled with fear and a lockdown was imposed. But now neither is there a lockdown nor are there masks on faces," the anchor complained.
"Just because vaccines arrived, we are behaving like we have attained the 'sanjeevani' herb. We have been reckless and we have seen the results — whether it is election rallies or the Kumbh Mela," Liyaquat said.
"We have invited Covid-19 for a dawat. We are screaming — 'Come Corona, hit us," raged Liyaquat.
"Why don't all politicians decide among themselves that instead of election rallies on ground, we will conduct virtual rallies," suggested the anchor.
"If lockdown can be imposed overnight, then why can't preparations for Kumbh be stopped?" she asked.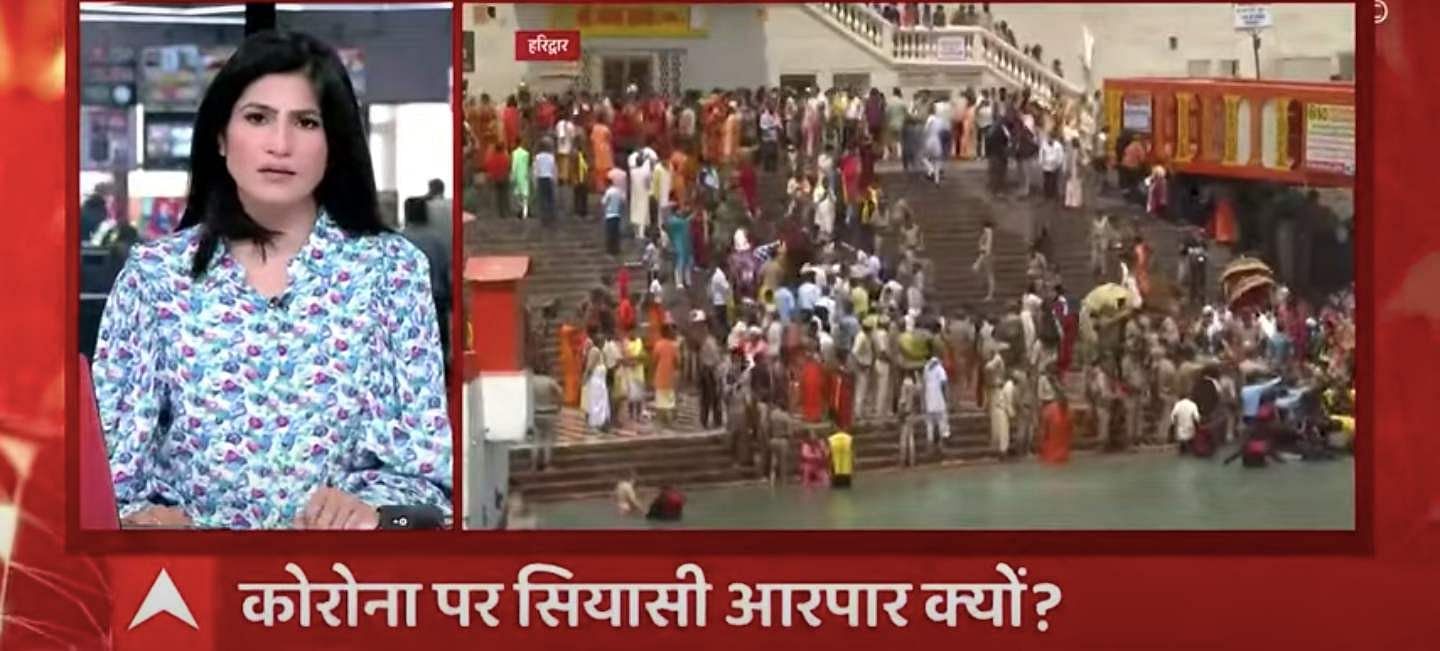 On Times Now, anchor Padmaja Joshi debated the Election Commission and the West Bengal polls. When panelist Manojit Mandal called Joshi "shameless" after she tried to connect the violence in Cooch Behar to a speech by West Bengal Chief Minister Mamata Banerjee, Joshi said, "For someone who gets offended at the slightest of words, I have to say Professor Mandal you are very offensive and disrespectful of other people." She then lowered his audio.
Advocate Touseef Khan said, "Dilip Ghosh being a Bengal BJP chief, is threatening — (he says) whoever opposes BJP, the incident of Sitalkuchi will be repeated. But no action has been taken."
BJP spokesperson Shatorupa referred to the EC's one-day poll ban on Banerjee: "She (Mamata Banerjee) should take rest for next 24 hours. But she is back to her favourite role — to sit on dharna." Banerjee has announced she will protest the EC's decision with a dharna.
Aaj Tak had a chat with Banerjee's poll strategist Prashant Kishor over the audio tape controversy.
"Bengal coverage starts with a commotion every morning but audio of some commotions run for a long time," observed anchor Anjana Om Kashyap.
"An audio tape was leaked in which Kishor has been heard talking about Modi and his popularity to some journalists," Kashyap said.
"So tell us, is there some affection left for Modi deep down in your heart?  Are you agreeing that his popularity will influence Bengal polls," the anchor asked Kishor.
"There is no audio leak, to the best of my understanding. It was discussed on an open platform. Tomorrow, like this, someone can say that they have leaked audio tape of this interview with you. The app Clubhouse — is an open platform, it doesn't need leaking," Kishor said.
"Also if you have to leak the tape, why leak only bits and parts?" he asked.
---
Also read: Covid-19 surge worries news channels & Zee accuses Congress of playing 'vaccine politics'
---