New Delhi: Much was on the agenda for prime time debates Tuesday, from the Tamil Nadu and West Bengal polls to the new Covid-19 wave sweeping through the country.
NewsX's Vineet Malhotra discussed Prime Minister Narendra Modi's remarks that the DMK (Dravida Munnetra Kazhagam) and Congress will insult many more women in Tamil Nadu if they come to power. He was referring to controversial remarks made by DMK deputy general secretary A. Raja. Citing late AIADMK (All India Anna Dravida Munnetra Kazhagam) supremo Jayalalithaa who once recounted being assaulted by DMK MLAs, political analyst Dr Syed Asad Abbas said women in Tamil Nadu need more protection.
He added: "Leaving four districts in Tamil Nadu, the women outnumber male voters…Women's empowerment speeches made by respective leaders have been made to draw in all those votes…"
BJP spokesperson Sudesh Verma was full of compliments: "Women must have felt safer when Madam Jayalalithaa was in power."
Political commentator Rajalakshmi Joshi observed: "A lot of DMK leaders are quite rattled by whatever is happening on the BJP front…"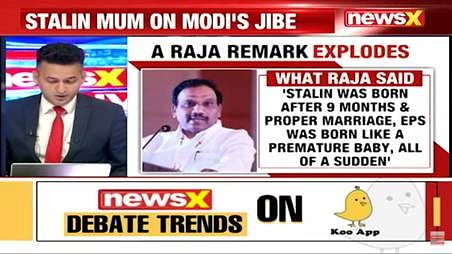 Mirror Now's Tanvi Shukla discussed the Covid-19 situation in India as the county recorded 56,211 new infections in the last 24 hours Tuesday. "If we don't take steps now, we are going to be in trouble," she warned.
With a majority of new infections from Maharashtra, state cabinet minister Nawab Malik promised that the state has "adequate" number of hospital beds, ventilators and oxygen cylinders.
He worryingly remarked, "But the way numbers are increasing…"
Dr Sanjay Pujari, member, national Covid task force, said, "We are seeing a shift in the age pattern in Covid infections. The proportion of younger people is increasing." He added that severe illnesses remain among elderly and those with comorbidities.
Suggesting negligence among the youth, Dr Naresh Trehan, chairman, Medanta, added, "The youth fails to realise that although Covid does not affect them severely, they are infecting their elderly household."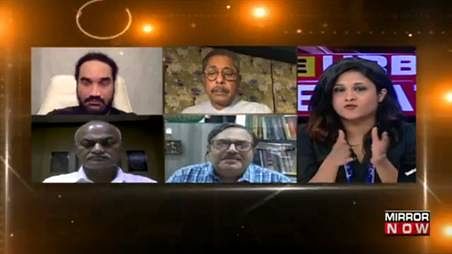 Times Now's Navika Kumar couldn't resist the Bengal itch. She asked if Trinamool Congress supremo and West Bengal Chief Minister Mamata Banerjee was playing the "Hindu card", after the latter declared she is from Shandilya gotra during a rally Tuesday.
"Do you think she [Banerjee] has made Nandigram a high-risk battle?" Kumar asked.
Political commentator Sandip Ghose said, "Over the course of two weeks since filing her nomination, she has brought herself down to an ordinary candidate who is fighting against Suvendu Adhikari."
Author Anand Ranganathan joked, "If you remember two weeks ago on your show, I predicted that it might be [Asaduddin] Owaisi who will disclose his gotra. Turns out it is Didi."
Commenting on Banerjee's "Hindu credentials", Kumar said, "Nothing is original… She's following the bait put out by the BJP. Is that a losing strategy for the TMC?"
TMC spokesperson Riju Dutta countered: "BJP is the only party in this country which has no mass movement to their name apart from the demolition of a 500-year-old mosque."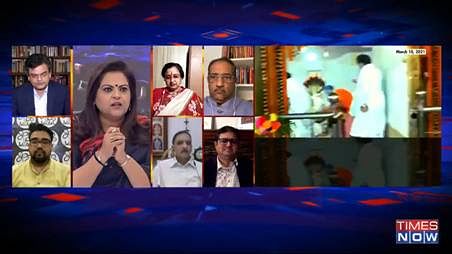 NDTV India's Nidhi Kulpati asked whether Banerjee being an outsider in Nandigram would impact her electoral chances.
TMC leader Manjeet Mandal replied, "Mamata Banerjee has always been very closely associated with Nandigram and only BJP, which doesn't have any narrative, can call a chief minister an outsider in her own state."
Asked whether PM Modi is considered an outsider, BJP leader Keya Ghosh said, "Mamata Banerjee was the one who started 'divisive politics' and brought in leaders like Prashant Kishor and Hemant Soren."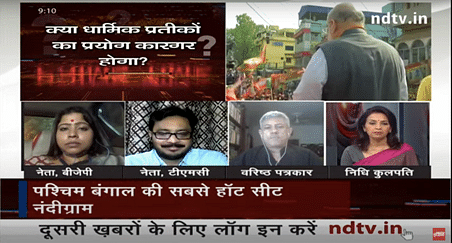 ABP News' Romana Isar Khan held a debate on a mob that attacked police at a gurdwara in Maharashtra Monday.
Shiromani Akali Dal leader Manjinder Singh Sirsa said, "What the mob did was wrong and shouldn't have done. But the government should have also allowed people to celebrate Hola Mohalla as it permitted people to gather at other religious events."
Asked why the state government's orders weren't obeyed, Shiv Sena leader Sanjay Gupta said, "Hindus didn't get to celebrate Holi here but they didn't go on to hold a procession against our regulation".