New Delhi: Prime time news Wednesday was largely concerned with the steep surge in coronavirus cases across the country.
Times Now's Navika Kumar described the 'grave situation' faced by India currently while India Today's Rajdeep Sardesai asked students about the CBSE's latest decision to cancel Class 10 exams and postpone Class 12 papers.
First to Times Now where anchor Navika Kumar began on a note of suspense: "What I am going to tell you, tonight, is extremely serious. It's not something that you don't know about."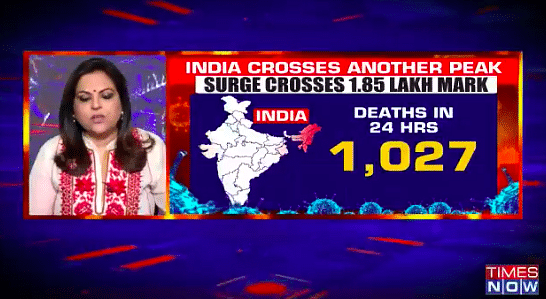 She revealed: "The grave situation that this country is facing — we have lost a colleague, a relative and know of several friends at hospitals facing Covid."
Kumar admitted "we have been caught completely off guard". "Religious gatherings have been allowed, political rallies are continuing with complete abandon and it's business as usual in many parts of the country."
She urged her viewers to "pause and think" since India is "terrifyingly close" to the 2-lakh- per-day infection mark.
"Today, 13 lakh plus active cases are around in India and a thousand deaths have taken place over the last 24 hours. These numbers are not just shocking but are something that need to wake us up — not just hospital beds, not just ICUs, but life-saving drugs like remdesivir are in short supply," said Kumar.
India Today's Rajdeep Sardesai tackled the government's latest decision on school examinations. "Centre today went ahead and cancelled the Class 10 exam for 2021 and has also postponed Class 12 exams. This is amid growing concerns that the students could get tangled in the growing Covid surge."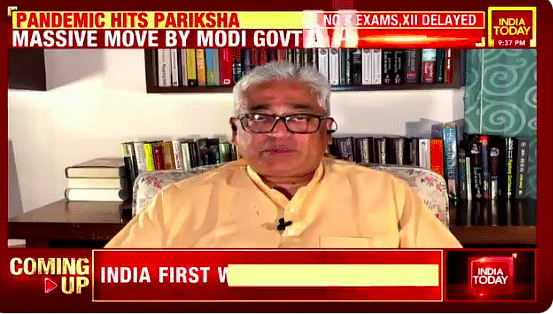 The decisions are likely to be reviewed on the 1 June. Sardesai wondered: "So what happens to the future of students in Class 10 and 12 after this decision?"
He asked a student: "Are you relieved today that the Class 10 exams have been cancelled or are you still tense about what the future holds?"
Asmi Aggarwal, a Class 10 student, said, "…am relieved, honestly. But that relief has to do something with the fact that I don't have to study any more. The government must have taken a decision after much deliberation and making sure that everyone's needs are put into place."
On Zee News, anchor Sudhir Chaudhary asked if there was a "tsunami of infections in Delhi". He warned that in the first wave, last year, mostly older people were testing positive for Covid-19. However, the virus is not sparing the young this time.
He pointed to the 'new record' in Delhi, which had over 17,000 new infections in the last 24 hours. Chaudhary went on to say that like Mumbai and Maharashtra, Delhi also might implement some strict measures.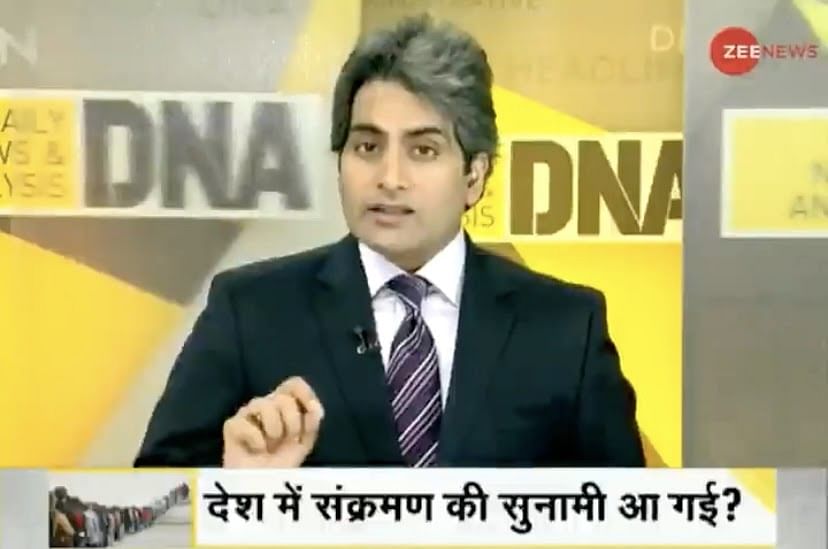 He then turned to viewers and said: "I'm sure you must be scared right now. I'm sure you must be dejected and surrounded by darkness on all sides. I'm sure you also must be tired of the past one year and would be frightened. But I'm telling you that you might survive the coronavirus but you need to overcome the 'darr ka virus' (virus of fear)."
NDTV India also focussed on the pandemic getting so serious that the exams had to be postponed.
"A decision has been made on the board exams which is a good decision, but what about the Kumbh Mela taking place in Haridwar? Where lakhs of people are gathering in the middle of this pandemic?" Sushil Bahuguna, the anchor, asked.
Speaking about the 'Shahi Snan', where sadhus were taking a dip in the Ganga, Bahuguna asked: "How can social distancing even take place there?"
He also warned that if caution was not shown at the Kumbh mela then the scenario could get even more dangerous.