New Delhi: It was raining politics on prime time debates across channels — mostly about the Nandigram assembly seat that is at the centre of BJP-TMC political battle in West Bengal.
Navika Kumar on Times Now discussed the communal angle to Bengal politics, while Anjana Om Kashyap on Aaj Tak questioned the timing of West Bengal Chief Minister Mamata Banerjee's letter to opposition leaders.
On Mirror Now, anchor Tanvi Shukla was more concerned with the pandemic raging through the country. She looked at Maharashtra's Covid-19 trends in 'The Urban Debate' and asked if the Maha Vikas Aghadi government was too busy dealing with the Param Bir Singh-Sachin Waze controversy that it had failed to contain the fresh Covid wave.
To this, the Nationalist Congress Party leader Mahesh Bharat Tapase said, "The government is trying to do the best it can to enforce restrictions but people are not self-regulating and behaving responsibly against Covid-19."
Hitting back at the government for lack of regulation, Ravi Duggal, public health expert, responded, "There is no effort in improving the public health infrastructure. We know that masks and sanitisation are important, but the government allowed Holi and Maha Kumbh to happen, which shows the absence of regulation in a city."
Navika Kumar at Times Now brought up the communal angle to West Bengal politics after Prime Minister Narendra Modi branded Mamata Banerjee as a "seasonal Hindu".
When asked if Islam was a threat to the Hindu religion, academic Anand Ranganathan said even writer-poet Rabindranath Tagore believed Islam posed a threat to other religions.
Quoting Tagore from the book Original Works of Tagore Volume 24, Ranganathan said, "There are two religions on earth which have distinct enmity against all other religions — these two are Christianity and Islam. They are not satisfied with observing their own religions but are determined to destroy all other religions."
Rubbishing his claim, Prof. Manojit Mandal asked which public speech or essay was he referring to and said it was his imagination that "invented" the book.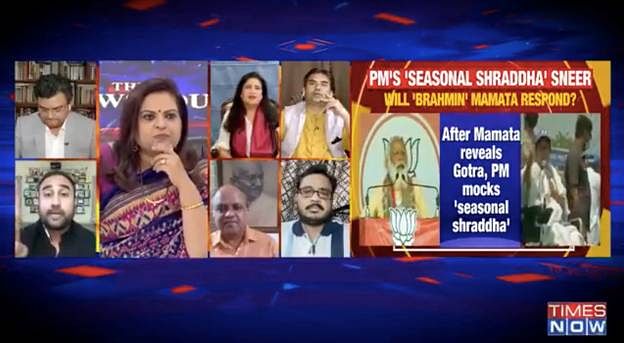 On Aaj Tak, anchor Anjana Om Kashyap dealt with Mamata Banerjee's allegations of "poll rigging" in Nandigram against the BJP. Nandigram went to the polls, Thursday.
"Mamata has accused Home Minister Amit Shah, said that the central agencies function on his instructions. She has also questioned the Election Commission's silence," the anchor said.
"Mamata has appealed to stop Modi," Kashyap said.
The anchor then listed the allegations the Trinamool Congress supremo leveled against BJP in her letter to the opposition parties.
"She even called up Governor Jagdeep Dhankhar from a poll booth in Nandigram," Kashyap said.
"The letter has reached everyone — from Uddhav Thackeray to Arvind Kejriwal — just a day before Nandigram polls. But is all of this for Nandigram or to save democracy?" Kashyap asked.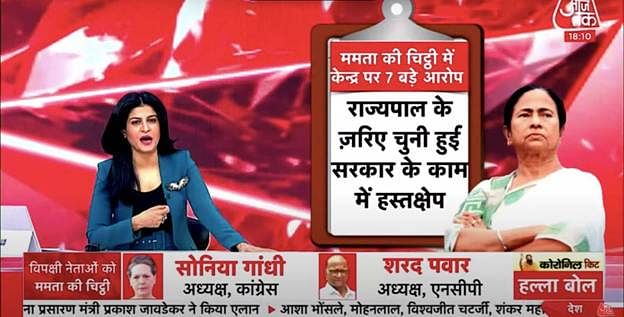 Zee News centred its debate around PM Modi's comments on Mamata Banerjee during a rally in West Bengal in which he took a jibe at the CM and asked if she was planning to contest from another seat.
"Will Mamata Banerjee file a nomination from another seat as well", asked anchor Aman Chopra.
TMC spokesperson Jui Biswas said the party is 100 per cent confident that Mamata Banerjee would win from Nandigram, so there is no question of her contesting from another seat.
"BJP is trying to play mind games, but it will not succeed as Banerjee will emerge victorious," she added.
BJP spokesperson Bappa Chatterjee said the TMC has no real issues and they are only banking on their appeasement of a particular religion. "No elections in Bengal under TMC's rule have been peaceful — 140 BJP workers have been killed in political violence in the state," he claimed.