New Delhi: Prime time news Monday may not have been as colourful as the Holi celebrations held across Hindu news channels during the day but there were some interesting debates and interviews.
NDTV 24×7's Vishnu Som spoke to Myanmar's erstwhile envoy to the United Nations about the humanitarian crisis in the country and Rahul Shivshankar interviewed Chief of Defence Staff Bipin Rawat on Times Now.
Shivshankar asked: "We're talking about strategic dimension to Atmanirbhar Bharat. How close are we to becoming a force which is self-reliant and perhaps indigenised to a point that our dependency on expensive imports will be over?"
General Rawat delivered a history lesson: "If you look back at our nation, when we got Independence, we did have a good defence industry. However, over the years, we relied exclusively on the capabilities of our DPSUs, ordnance factories and the sole inventor of research and development was the DRDO."
He added: "Now times are changing — we have seen the manner in which the automobile industry revolutionised the way we are moving around in swanky cars. Look at the way in which the IT industry revolutionized — who brought in this revolutionization?"
Rawat then answered his own question: "It all happened with the private sector."
At NDTV 24×7, anchor Vishnu Som spoke to Kyaw Moe Tun, Myanmar's Permanent Representative to the UN, who was disowned by the ruling military junta after he denounced it as illegal at the United Nations. However, Kyaw Moe Tun continues to be at the UN.
"The world is looking very, very closely at Myanmar and the genocide in that country. More than 100 people were killed over the weekend by the military. The humanitarian situation is becoming far more critical," said Som.
He then asked Kyaw Moe Tun: "There are reports coming in that various state governments, like the government in Manipur have issued orders to district administration officials saying that food and shelter camps shouldn't be provided to refugees from your country. Is this something that worries you given what we're seeing in your country?"
Tun replied: "Of course, we are really concerned about this horrible situation… We would really like to seek protection, from the international community."
He added: "Whoever can protect life of innocent civilians in Myanmar, in whatever way international community can (help) — providing shelter, food, humanitarian assistance… imposing targeted sanctions on the leaders of the military — these sort of things we would like to receive as support from the community."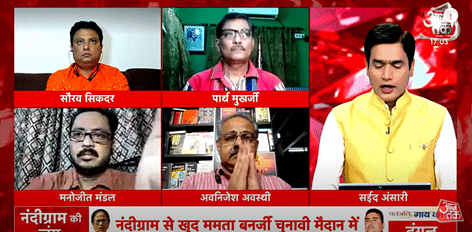 On Aaj Tak, anchor Sayeed Ansari discussed the West Bengal election in light of the death of a BJP worker's mother, which led to a political slugfest between ruling Trinamool Congress (TMC) and the Bharatiya Janata Party (BJP). The BJP has alleged the woman had been attacked by workers of TMC, an allegation the latter denies.
BJP spokesperson Saurabh Sikdar said it was shameful that the elections were underway in many states, but such incidents of political violence only happen in West Bengal. "Let people use their voting rights and let them decide who they want to see in power,'' he declared, dramatically.
Manojit Mandal of the TMC was "disappointed" that the death of an 85-year-old woman had been turned into an "electoral issue". "TMC is not connected to this in any way. Home Minister Amit Shah himself tweets about it, BJP terms it a political murder — are there no real issues left to fight the election on?"
Meanwhile, Zee News discussed the reported meeting between Home Minister Amit Shah and Sharad Pawar, National Congress Party (NCP) chief, on which Shah has refused to comment. Anchor Vishal Kalra wondered whether amid the West Bengal election, the real political game was being played in Maharashtra?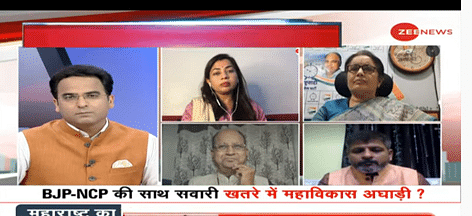 "Is the Maha Vikas Aghadi in problem?" Kalra asked. Shiv Sena's Sanjay Raut had also written against Maharashtra Home Minister Anil Deshmukh of the NCP in his weekly column in party mouthpiece Saamana, and indirectly asked Sharad Pawar to sack him.
BJP's Shweta Shalini pointed out that it was evident that the NCP-Congress-Shiv Sena government was not going to stay. "BJP doesn't need to make the government fall, a chair with three legs cannot stay stable."
Shiv Sena's Kishore Tiwari said no such meeting has taken place between Shah and Pawar and denied the possibility of BJP and NCP getting together. "It is the BJP which is creating trouble for NCP's home minister in the Sachin Waze case. In such a situation, BJP should not talk about the chair with three legs…" he added.
NCP's Vidya Chavan agreed: there is no possibility of the Maharashtra government falling, she said. "There are no differences between NCP and Shiv Sena and what Raut writes in his editorial is his personal opinion — it will not influence the government."