New Delhi: Maharashtra Home Minister Anil Deshmukh's resignation in the backdrop of a CBI investigation against him dominated headlines across channels Monday night, but lockdowns across several parts of India in the face of the rising number of Covid-19 cases also found some space.
NDTV 24×7 chose to look at Deshmukh's resignation in light of the Mumbai High Court asking the CBI for a 'preliminary inquiry' into corruption charges leveled against him by former Mumbai police commissioner Param Bir Singh.
"There is no morality involved here. Nothing much has changed between the Maharashtra government appointing an inquiry and the same request (being) made by the high court —Deshmukh was sitting in judgement of his own inquiry," commented P.K. Jain, former Mumbai police chief.
Journalist Saba Naqvi argued, "If the allies of Maha Vikas Aghadi stay together, all of this will be a part of the noise, thunder and fury that we keep witnessing in politics."
Political analyst P.K.D. Nambiar believed otherwise: "It is not the BJP who filed a complaint against Anil Deshmukh. It was his own subordinate. The chief minister did not hear Param Bir Singh so he went to court."
On News X, host Vineet Malhotra also focused on Deshmukh's resignation.
When asked whether he could have resigned earlier before the court called for a CBI inquiry, political commentator Sumit Peer said, "The fact that Deshmukh resigned after the court ordered the investigation clearly showed that he had no other option."
BJP spokesperson Shaina NC had a question for the Maharashtra government: "A Mumbai police commissioner was coaxed and forced to be a part of this extortion racket. This is a corruption charge. Why was a CBI intervention required for a home minister to resign?"
On Mirror Now, anchor Tanvi Shukla discussed how a 'partial' Covid-19 lockdown will impact the country's economy and why the government should ramp up vaccination.
When asked why the government is halting the vaccination of frontline workers instead of opening up vaccination to all, Dr V. Ravi, former professor and head of virology department, NIMHANS Bengaluru, said, "It is easier said than done — the entire global supply is not enough to immunise India."
He added, "Opening up vaccination to all will result in only the privileged and the economically viable people getting the vaccine. The government, instead, may engage in ring immunization."
On whether the Maharashtra government's decision to impose a partial lockdown in the state can impact the state's economy, Viren R. Shah, president of the Federation of Retail Traders Welfare Association, said, "We were never consulted regarding partial lockdown. The government has told the small shops to shut down for one month and promote e-commerce business. Maharashtra's lockdown is death for retail industry".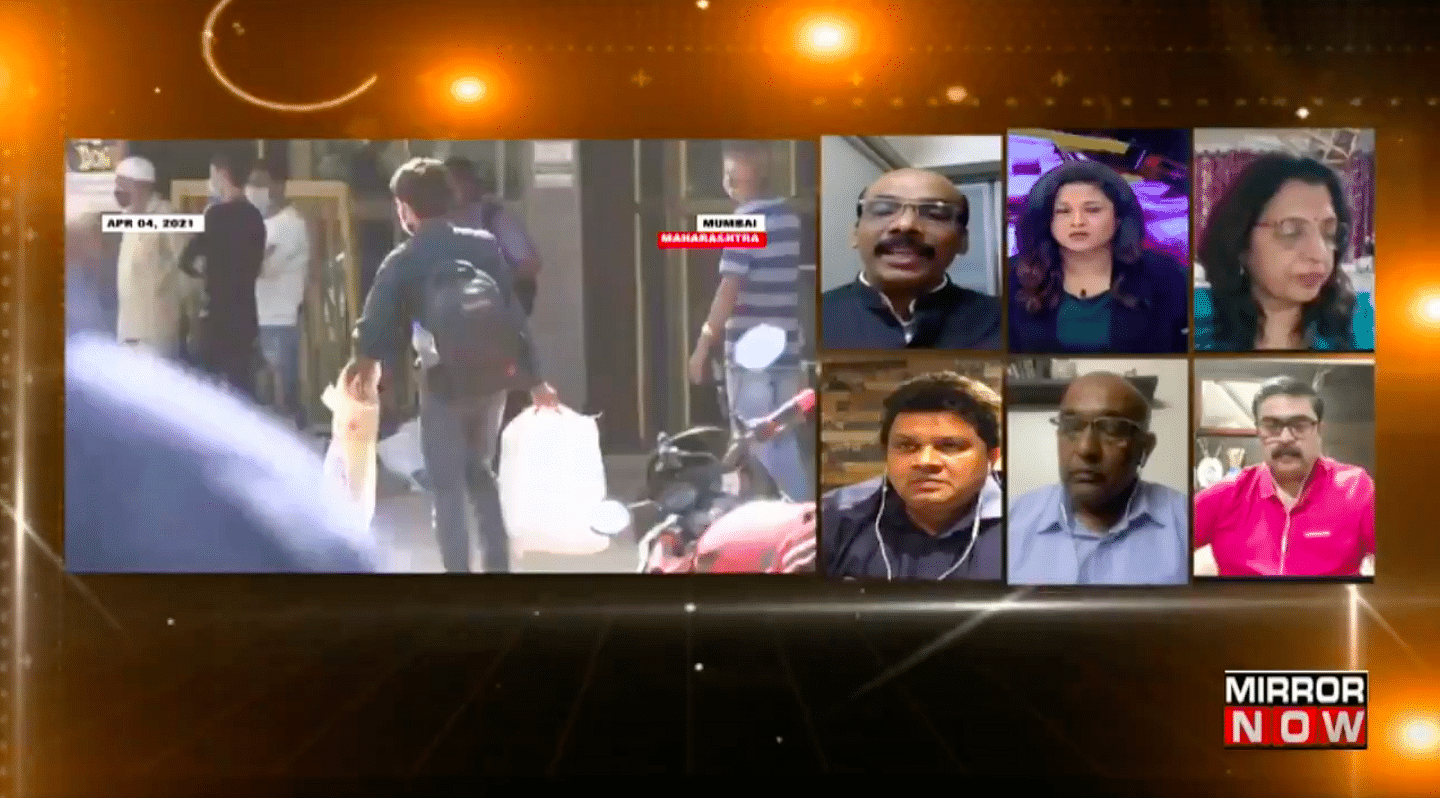 On ABP, anchor Shobhna Yadav also looked at the Deshmukh resignation. She said, "Corruption allegations made by former Mumbai police commissioner Param Bir Singh were critical in calling for a CBI probe by the Bombay High Court."
Explaining its impact on the politics of Maharashtra, she said, "While the BJP is celebrating Deshmukh's resignation as a victory with J. P. Nadda slamming the Maha Vikas Aghadi (coalition) saying unholy alliances will lead to an unholy situation, it is the Congress which will have to face a difficult situation as neither is it able to attack nor protect itself from this mess."
Rohit Sardana on Aaj Tak wanted to know, "Are Uddhav's trouble over?"
"There has been a political impact of former Mumbai police commissioner Param Bir Singh's letter … After being transferred, Singh levelled sensational allegations against Deshmukh, that the former state home minister had directed the police to collect Rs 100 crore every month," the anchor said.
"The Uddhav Thackeray government is now the target of the BJP. BJP has questioned Uddhav's morality," he added.
"You have defended Anil Deshmukh so many times, even here … but couldn't save him?" the anchor asked Shiv Sena's Sanjay Gupta.
"Anil Deshmukh has respected the court's order and taken this decision himself. Why this chaos? Let CBI probe. He has resigned on moral grounds. Who resigned when Khalistanis unfurled their flag at Red Fort? Who resigned over Pulwama attack? When their government faces criticism and makes mistakes, they don't resign but here if someone resigns, they make a lot of noise," Gupta replied.
"It would have been morality only if the resignation had come right after Param Bir's letter. It took 15 days for the moral awakening here," commented Sardana.
---
Also read: Anil Deshmukh resigns as HC orders CBI probe, is 2nd Maharashtra minister to quit in 14 months
---