New Delhi: From Delhi's new night curfew to curb the surge in Covid-19 cases to West Bengal and Tamil Nadu polls — prime time debates Tuesday offered plenty of choices.
CNN-News18's Zakka Jacob expressed concern about the national capital registering over 5,000 coronavirus cases Tuesday.
"Whether you like it or not, corona is back in business," Jacob said.
Asked about the "rationale" behind Delhi's 10 pm-5 am curfew, the ruling Aam Aadmi Party's MLA Raghav Chadha said, "This was on the advice of certain doctors who are on the central government's panel … the Chief Minister of Delhi has deferred to the wisdom of these doctors and experts."
Bharatiya Janata Party spokesperson Charu Pragya asked about businesses likely to be affected by the night curfew, adding that people are still "frolicking" in markets and parks during day time.
Restaurateur A.D. Singh agreed: "Statistically the spread of the disease… is much less within our establishments than at markets, trains, buses and crowded places."
Aaj Tak's Anjana Om Kashyap also worried about the Covid-19 surge, "Amid the rising number of coronavirus cases in the country, Delhi is back in focus again. In the last three to four days, Delhi is recording more than 3,000 cases of coronavirus. Today, more than 5,000 cases were reported."
She commented that the situation was very similar to how it was during the first wave of infections.
She lauded the Delhi government's move to impose a night curfew, "… the government has taken a strict step by imposing a night curfew…."
Aaj Tak's correspondent Pankaj Jain pointed out, "The Delhi government, that had been trying to avoid lockdown, has now quickly imposed night curfew. This has given indication that the coronavirus situation in Delhi is rather grave."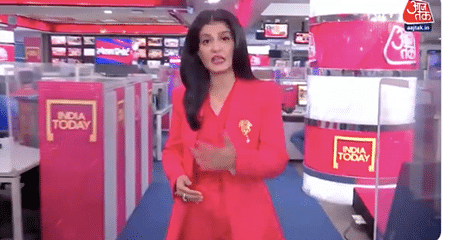 On Mirror Now, Tanvi Shukla discussed the Indian Medical Association's request to PM Modi to allow Covid-19 vaccination for people above 18 years.
"What prompted the IMA to make this request to the Prime Minister?" she asked IMA national president J.A. Jayalal.
"We have noted that it [second wave of Covid-19] is surging in a very fast way and the only tool available in our hands today… is vaccination and going for herd immunity," explained Jayalal.
AAP spokesperson Reena Gupta added, "First of all, we took too long to open it up for 45 plus. The CM of Delhi has been requesting for weeks now to allow them to open it [vaccination] to lower age groups. The central government was so distracted with elections and campaigning…"
National Congress Party spokesperson Clyde Crasto said, "We can't keep doing vaccine diplomacy and politicisation… we are not a tiny country…we are falling short [of vaccines]."
---
Also read: Are Indians social distancing, following mask protocol as cases surge? This survey finds out
---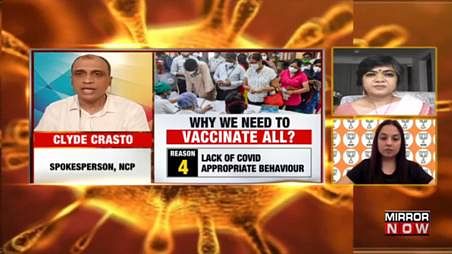 Meanwhile, ABP News kept its focus on the West Bengal assembly polls.
Romana Isar Khan asked in a mixture of Hindi and Bengali, "Kya Bengal chunaav mein ab Hindu-Muslim ka khela hobe?"  (Will Bengal elections also witness Hindu-Muslim gimmicks?)
"The upcoming election in West Bengal, even after its third phase, has returned to Hindu-Muslim — Mamata Banerjee appealed to Muslims for votes, a move which was attacked by Prime Minister Modi," Khan revealed.
"Mamata Banerjee has been running a government since the last 10 years. But instead of appealing to voters on the basis of her work, she is concerned about whether Muslim votes in Bengal don't get distributed," she added.
Khan thought Banerjee was doing this because she was fearful that All India Majlis-e-Ittehad-ul-Muslimeen (AIMIM) and the Secular Front will "disrupt her game".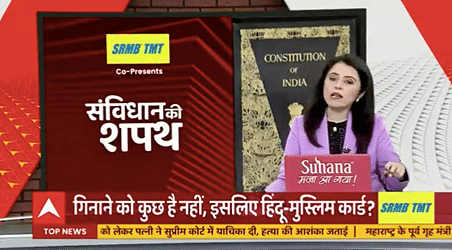 India Today's Rajdeep Sardesai discussed the Tamil Nadu assembly polls and asked, "Is the 10 year anti-incumbency too big for the AIADMK to overcome?"
"Remember, no government has survived a 10-year period in office in Tamil Nadu since the late and great MGR [M. G. Ramachandran]," he added.
Sanjay Kumar, director of Centre for the Study of Developing Societies (CSDS) said, "Going by the past electoral history of the state… it will be very difficult for AIADMK to beat 10 years of anti-incumbency. Though, I must say, I do not get a strong sense of anti-incumbency on the ground."
Psephologist Yashwant Deshmukh thought that even if "Jayalalithaa was alive today, she would have found it extremely difficult to cover the anti-incumbency sentiment."
Sardesai asked, "Are you saying the smaller parties, the Kamal Haasans, who many think may take away the DMK vote or AIADMK's … are they playing a role or not?"
Deshmukh said it was possible, adding that the smaller parties are likely to get 3-4 per cent votes.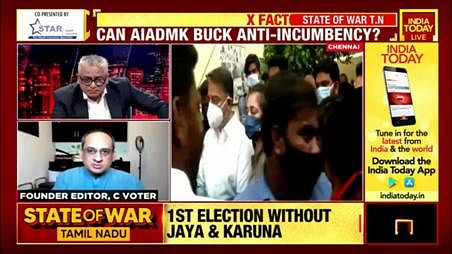 ---
Also read: 'Did Modi send you' to 'Are you really South Indian' — questions on the road to Kanyakumari
---