New Delhi: Finally, the coronavirus has managed to trump domestic political issues on prime time debates with Sunday being devoted to the worrying pandemic situation in India.
"In terms of sheer numbers, Covid 2021 is now far worse than Covid 2020," warned anchor Rishabh Gulati on NewsX.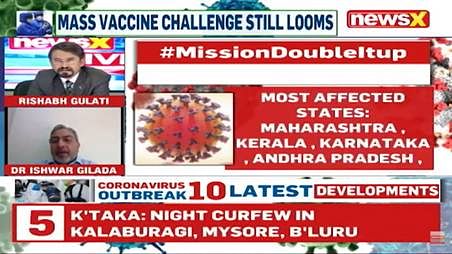 On Sunday, the country recorded a daily high of 1,52,879 new infections. There were also 839 daily new deaths, the highest since 18 October, 2020.
"Lockdown does not protect us. Lockdown prevents the movement, but what protects us are masks, distancing, sanitisers and to some extent, the vaccine," commented cardiologist Dr. Mohsin Wali.
Addressing M.C. Mishra, former director All India Institute of Medical Sciences, Gulati asked, "Don't we need to double our vaccine production? How difficult should it be?"
"Suddenly scaling up would not be easy… Even if we do, 20 million [vaccines] a day, it's not going to halt this spike [in cases], unless people cooperate. Unless people are disciplined."
Gulati asked: "What can we possibly do in the next month or so?"
Health expert Dr Ishwar Gilada said ramping up vaccine supply will be difficult with just "one player" — Serum Institute. He suggested India look at other options like drugmaker Dr Reddy's Sputnik V vaccine.
ABP News focussed on how the Indian government plans to vaccinate people above the age of 12 by July-August, This was disclosed by Dr N.K. Arora, a member of the government's vaccination task force.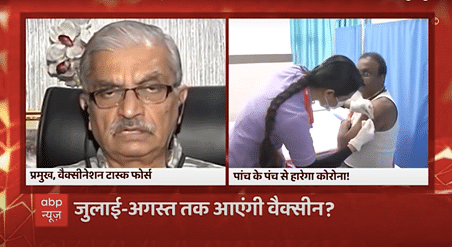 When asked how India will vaccinate 30 crore citizens by August, Dr Arora said, "India has stopped exporting vaccines to other countries in the last four weeks. In addition to the two available — Bharat Biotech's Covaxin and Serum Institute of India's Covishield vaccine — India is likely to receive three more vaccines, including Sputnik, Johnson & Johnson vaccine and Zydus Cadila vaccine, in the coming weeks," he said.
On Mirror Now, Afrida Rahman Ali wondered whether a lockdown was necessary to break the chain of transmission.
Dr. Suneela Garg, Professor at Maulana Azad Medical College, said, "If at all we need to look at a lockdown, we need to think of economic perspective as well."
Ali then asked, "Can it [vaccination] help break the transmission chain?"
Dr N.K. Arora, who was also on this show, replied, "The vaccine does not prevent transmission… and that is one of the limitations of any vaccine available globally."
He said, "So today the objective is to reduce the burden on our hospitals and health systems and untimely fatalities."
Dr Ashok Seth, cardiologist and Chairman Fortis Escorts Heart Institute, added: "I think the only solution for Maharashtra is a temporary lockdown to increase its health infrastructure." .
NDTV 24×7′s Vishnu Som also wondered if India can ramp up its vaccine manufacturing pace as several states flag a vaccine shortage.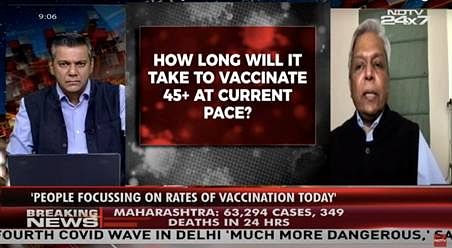 When asked how many more months will it take India to vaccinate the present target group — those above 45 years — at the current pace of vaccination, Dr K.VijayRaghavan, Principal Scientific Adviser to the government, said, "It would be a mistake to look at (the) vaccination rate today and linearly extrapolate it into the future to cover a defined set of people. Vaccinations rates are going up for a variety of reasons. More places to vaccinate are being opened up and supply level production are going up because new vaccines are entering the market."
When asked whether India should come up with a concept similar to the United States' "Operations Warp Speed" to ramp up vaccine manufacturing during this critical stage, Dr Vijay Raghavan replied, " Scale and size of US manufacturing are very different. India adapted to its robust vaccine industry and scaled up its production, which is reasonably feasible for the country."
Zee News's Sachin Arora decided to bring in a political angle — how the Congress is, allegedly, playing 'vaccine politics' as opposed to Prime Minister Narendra Modi's attempt to increase vaccination in India.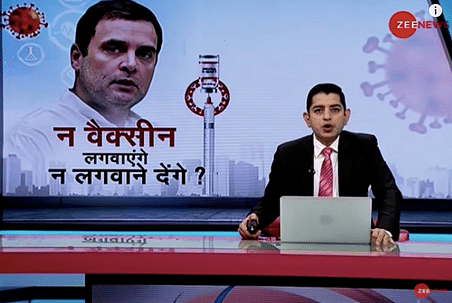 He claimed that while PM Modi is repeatedly requesting citizens to get themselves vaccinated, Congress, led by Rahul Gandhi, is neither getting vaccinated nor allowing others to get vaccinated.
He said while Modi was encouraging people to get together to defeat Covid-19, Rahul Gandhi attacked the Modi government for its failure to curb the Covid-19 spread and its inability to address other important issues like farmers demands and protecting MSMEs.
Arora also referred to Union Minister Hardeep Singh Puri's attack on the Congress. Puri had earlier tweeted, "They doubted India's Covid response. They doubted India's Covid numbers. They doubted the efficacy of India's vaccines. They doubted India's ability to produce vaccines. In India's war against Covid-19, Congress, as usual, has not been able to decide which side it is on".