New Delhi: After such a long time, prime time news Thursday actually concentrated on the rising cases of coronavirus, but politics can never be far behind — even on that.
Meanwhile, CNN News18's Anand Narasimhan gave viewers a history lesson on a Varanasi court order regarding the Kashi temple and whether it could "correct history".
First, the coronavirus: On India Today, anchor Rahul Kanwal alleged that there was a 'huge face-off' between opposition ruled states and the central government over Covid-19 vaccine shortages.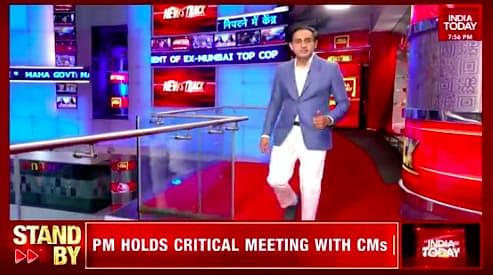 Kanwal said, "States like Maharashtra, Delhi, Punjab are crying foul and saying that they are running out of vaccines and supplies and they need them now."
He asserted that Maharashtra Chief Minister Uddhav Thackeray claimed vaccine supplies were "precariously low" in the one state where Covid-19 cases were surging. He said Thackeray has alleged a conspiracy by the Centre.
"Is there a genuine shortage of vaccination supplies in our country or are these opposition-ruled states merely doing politics?" Kanwal wondered and left viewers wondering too.
CNN News18's Anand Narasimhan was more interested in a case that has been pending in the court for more than 30 years: "The plea was filed in 1991. Is it perhaps time to correct a historic wrong? Or is it going to set a huge domino rolling of politics again?"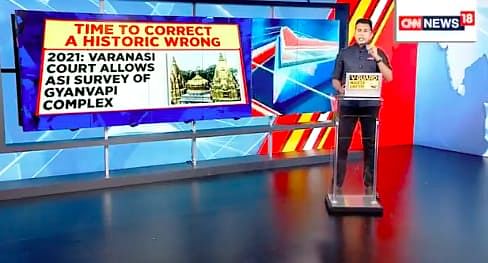 Narasimhan was referring to the historic Kashi Vishwanath temple in Varanasi. He said it was built in 1585. "Over 100 years, the temple was repeatedly desecrated by Muslim invaders… In 1680, the temple was demolished on the orders of Aurangzeb… In 1780, a new temple was built next to the mosque. The main sanctum on the back part of it was chopped off and that's where the mosque was built," claimed the anchor in his history lesson.
In 2018, Hindus demanded that the Archeological Society of India (ASI) establish whether this structure was built over an existing Hindu temple. Now, a Varanasi court has allowed an ASI survey of the complex. "Will Varanasi Court order correct history?" Narasimhan asked.
---
Also read: This is how RSS plans to expand base in rural UP with Ram Temple & farmers in focus
---
Political blame game over vaccines
On ABP News, anchor Romana Isar Khan also discussed if politics were being played over the vaccination drive, by the Centre or the opposition-ruled states.
Congress spokesperson Ajoy Kumar claimed that all the states which did not have a BJP government — be it Maharashtra or Bengal — are suffering due to BJP's biased attitude. Maharashtra cabinet minister Nawab Malik claimed that Uttar Pradesh was given 48 lakh vaccines and Gujarat 40 lakh, while Maharashtra got only 7.5 lakh Covid-19 vaccines.
BJP spokesperson Syed Zafar Islam denied the allegations and said Maharashtra has been given the maximum number of vaccines. "Maharashtra was given 1 crore 14 lakh vaccines, and has used around 90 lakh till now. But the kind of allegations the Maharashtra government is facing in the Sachin Waze case, it clearly shows that vaccines are not priority for them," he added.
On India TV anchor Pankaj Bhargava also discussed the role of politics in vaccine distribution. Congress leader Alka Lamba raised the issue of Prime Minister Narendra Modi and Home Minister Amit Shah's crowded rallies during the current election campaign amid a surge in Covid-19 cases.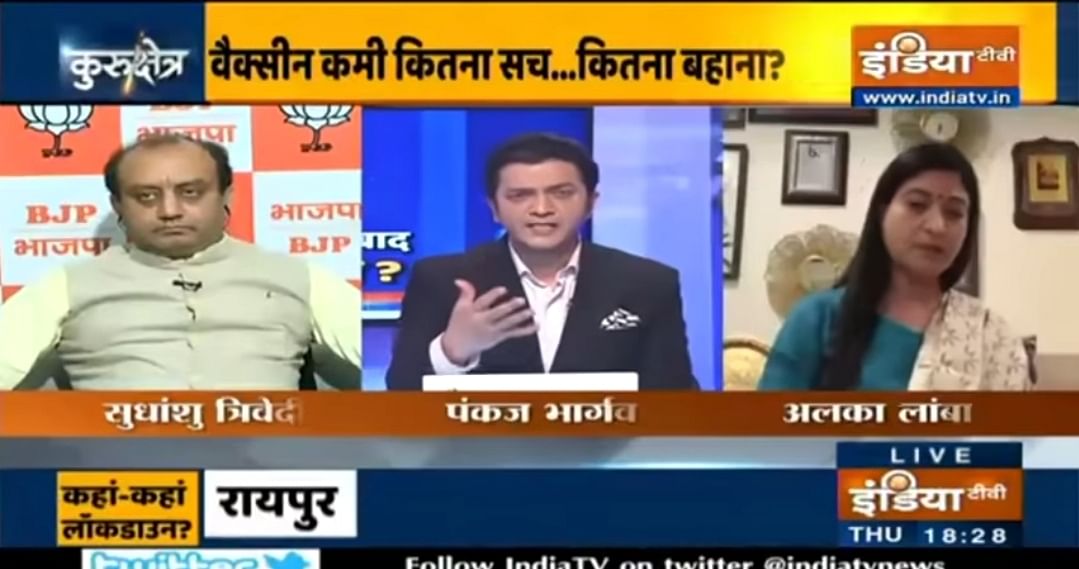 To this, BJP spokesperson Sudhanshu Trivedi said the people who were raising the issue of crowded rallies were the ones who had kept quiet on the crowds of farmers gathered at Delhi's border, which could be a potential super-spreader.
Trivedi added that vaccines are sufficient, the footfall in hospitals for vaccination was low. He claimed that 5 lakh vaccines had been wasted in Maharashtra.
---
Also read: Why India sees a return of Covid-19 surge and faces a vaccine crisis
---