New Delhi: Prime time debates Sunday saw a language divide — while English news channels discussed the Maoist attack in Chhattisgarh and the increasingly worrying Covid-19 situation in India, Hindi channels focused on the West Bengal election.
NDTV 24×7's Sarah Jacob wondered whether the country was doing enough to tackle the Covid-19 surge.
She asked former chief election commissioner Om Prakash Rawat if politicians holding huge election rallies and the Election Commission failing to enforce Covid-19 appropriate behaviour were to blame for the surge.
Rawat replied, "Polling process as such is not adding to the corona cases. For example, the Bihar election did not lead to a spike in Covid-19 cases. (Nor) did elections in Sri Lanka and South Korea."
On the newly-announced weekend night curfews in Maharashtra, Shiv Sena leader Sanjay Gupta said, "Imposing lockdowns is inevitable. It will again remind the people of the criticality of the coronavirus and force them to understand the need to maintain social distancing and to wear masks."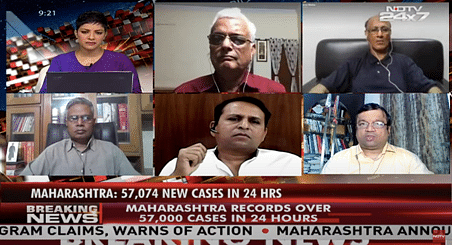 India Today focused on the Chhattisgarh Maoist attack.
When Congress spokesperson Aadil Singh Boparai asked why the paramilitary forces did not take adequate steps despite enough evidence of high Maoist presence in the state, BJP spokesperson Guru Prakash Paswan hit back saying: "This is how the Congress party wants to make it political. This is a state intelligence failure and the chief minister is busy campaigning for the Assam election." Chhattisgarh Chief Minister Bhupesh Baghel was in Assam and flew back Sunday.
Anchor Gaurav Sawant asked former police officer Yashovardhan Azad what immediate measures could be taken to avoid such attacks. Azad replied, "The chief ministers of Odisha, Madhya Pradesh and Jharkhand should meet regularly and see what are the needs and requirements of the security forces."
He added, "While there is no lack of intelligence, there may be something wrong with the tactics and strategies."
Chhattisgarh was also on the agenda with Times Now's Swati Joshi. She called the political aftermath the most "unfortunate part" of the entire incident.
BJP and Congress have been engaged in a blame game over the incident with some leaders from the former criticising the Chhattisgarh CM for being in Assam when the incident occurred.
Defence expert R.S.N. Singh had a different take on "big naxal actions", which he said have previously also taken place during election time. He cited the deaths of Congress leaders like V.C. Shukla and Mahendra Karma at Darbha Gati in a Maoist attack ahead of elections in 2013.
BJP's Sanju Verma however, sought to politicise the issue. "I want to ask Bhupesh Baghel, why is it that since he took over as chief minister, the conviction rate of naxalites has fallen from 66 per cent to barely 32 per cent now?"
Political analyst Tehseen Poonawalla was swift with his retort: "Every time there is an election … where the BJP is losing, there is a terror attack." He cited the Pulwama attack, the Galwan Valley incident and the Pathankot attack as examples.
The channel also broadcast an interview with a policeman who had been injured in the attack. "It was a well-planned ambush from their side," he said from his hospital bed.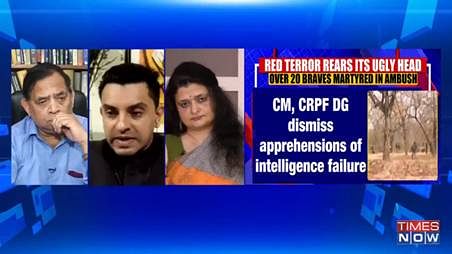 The Election Commission responded to West Bengal Chief Minister Mamata Banerjee's letter citing concerns over alleged discrepancies during voting at a polling booth in Nandigram on 1 April and dismissed them. Zee News asked if Mamata Banerjee's lies had been exposed.
In his party's defence, TMC spokesperson Manav Jaiswal said, "It is unfortunate that the Election Commission is saying that TMC has misguided the voters. Is promoting the use of your voting right misguidance?" he asked.
BJP's Ritesh Tiwari said that this is the same Election Commission under whose guidance the Mamta Banerjee government won more seats in the 2016 elections than the 2011 elections. Even at that time, the Modi government was in power, he commented.
On News 18 India, anchor Amish Devgan analysed the trends in the West Bengal election.
He asked BJP's Sambit Patra about the 'outsider' versus 'insider' issue, to which Patra asserted that BJP is an all-India party and leaders coming from other states to campaign in Bengal should not be an issue. Mamata Banerjee had criticised politicians coming from Gujarat and Uttar Pradesh to campaign in Bengal — a reference to Prime Minister Narendra Modi, Home Minister Amit Shah and UP Chief Minister Yogi Adityanath campaigning in the state.
TMC's Tauseef Khan turned her attention elsewhere — the representation of women, Muslim and Dalits in BJP's ticket distribution strategy. "Action speaks louder than words. How many tickets have they given to the marginalised to fulfill Sabka Sath Sabka Vikas?" he asked.
---
Also read: UPA to NDA, India still confused on how to fight Naxal insurgency. Maoists know that
---