Sports teaches you to lose with dignity. When you lose a game, you don't storm out of the court, you don't abuse, you don't lose your head. There is a decorum that has to be maintained. You understand that as much as it is you who lost the match, you are also an ambassador for your team and your country. What you do reflects back on them. The world is watching every step of yours. You better mean what you say; there is no explaining once the words are out. You exhibit grace in losing. 
When you lose, the physical pain multiplies with the emotional pain. Somehow, when you win, the physical pain is still bearable, it doesn't break you. Losing had become very academic for me. You break down the areas of improvement and get to work. 
My indulgence in meditation and The Art of Living did me good. I would play without attachment and without straining to think too much. The game would sort of flow, as if through a place of instinct, inner knowing, the subconscious. I would simply slip into a zone of no thought; a harmonic flow of instinct when I would play the game. It's a place where your practice takes over and the game flows. The person who is not prepared, he is the one who is thinking the most. If you carry the baggage of winning and losing, you will be mentally draining yourself with all the thinking.
---
Also read: Where are India's badminton coaches? We need more names than Padukone and Gopichand
---
If you were to visualise the court, the stands, the people in the audience, the billions of people tuned in worldwide to watch the game, your opponent, the reaction of your supporters, your family and your country—that thought will exhaust you mentally and you will carry that baggage and pressure in your game. 
To zero out your thoughts, to just focus your practice without stressing on the results, is liberating. To see your arena in isolation where only you are the orchestrator of the match to follow brings focus. It is a place of calm, where you don't care who is watching and what their expectations are, you are putting your best play to create the best game of your life. You focus on good food, rest and practice. That is the only point of your focus and you enter the court with that confidence and spirit of play. You take care of the finite to perfection; the infinite will take care of itself. 
I was prepared to win at the All England but I didn't cling on to that outcome. The 2000 Olympics had taught me well. I was detached. I had done everything I could have done and so I decided to relax and enjoy the game. It worked for me. 
Also, with the All England, I knew I was nearing the end of my career and I wanted to play a game to remember. I wanted to retire on my own terms and so this victory was important. I knew I wanted to be a coach so I could be close to badminton and I wanted to make that transition on a high point in my career. I needed this victory and I needed to let go of that attachment. I had surrendered myself to the game at the All England, but I played in full confidence of my journey and the player that I had become. 
Pullela Gopichand is a former Indian badminton player and presently the Chief National Coach for the Indian Badminton team. Priya Kumar is an Indian writer, motivational speaker and firewalk instructor with over 26 years of corporate training experience.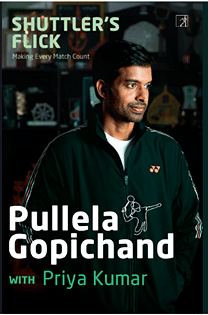 This excerpt from 'Shuttler's Flick: Making Every Match Count', by Pullela Gopichand with Priya Kumar, has been published with permission from Simon & Schuster India.