Netaji will be with us today. A car will come for us, and we will proudly go to meet our incredible leader. Whenever Papa returns home, he sees Tulu and steadies himself. Whether it be at an airport or a railway station, Tulu jumps up and wraps herself around him. The same thing happens today. We meet Papa and some others at the gallery of Imperial Hotel. Tulu jumps up and down like a deer, shouting, 'Papa, Papa.' Papa staggers and controls himself. He looks left and right before saying: 'Oof, Tulu, you'll make me fall. You've become so tall, yet you still dangle from me.'
The rest of us say 'Jai Hind!' Ma is behind us. She is staring at Papa with her large, doe-like eyes. Tulu says: 'Papa, I, too, want to join the Rani of Jhansi Regiment with Asha.' 'Even Asha is not going right now,' responds Papa. 'The next time I go, then we'll see.' Tulu immediately becomes happy, and I become discouraged. Anyway… Netaji has given Papa an order: 'Sahay, go home today and be with your children. But tomorrow, be here at 8 a.m. on the dot.' Papa assents, standing at attention and saluting. Netaji says to Ma in Bengali: 'Tor kachche kono chool'er tel thaakle, pathiye deesh.' If you have any hair oil, send it across. Spontaneously Ma, too, stands at attention and says: 'Yes.'
The four of us exit the hotel and head to Tokyo Station. On the train, Ma speaks to Papa in furious Bengali. Japanese travellers stare at them, their eyes filled with respect. Someone looks at Papa and whispers in Japanese, 'He's an officer of the Indogun,' and someone else says, 'He is a minister of Chandora-san.' In Japan, people refer to Netaji as Chandora-san and the INA as Indogun. They recognize that these are lions and lionesses who have sworn to free India. We reach home and eat our dinner. Papa begins singing nationalistic songs and asks us to sing along. But to sing in front of him leaves us quivering. While Papa sometimes loses the melody, he has a very keen sense of rhythm. After singing several songs, we receive permission to sleep. When Papa is home, it feels like we no longer have a worry in the world.
---
Also read: Freezing soldiers, daring cheetahs—how pilots saved the day at Siachen's Amar & Sonam in 1987
---
Monday, 1 November 1943
Today Netaji will meet Japanese Prime Minister General Tojo at the Greater East Asia Conference (Dai Toa Kaigi). Papa leaves early in the morning. With him, he takes a small bottle of Jabakusum Hair Oil, which Ma had ordered from Calcutta before the war, and another small glass bottle of eau de cologne for Netaji.
Saturday, 6 November 1943
Today and tomorrow, the Greater East Asia Conference is taking place in front of the Japanese parliament, the National Diet Building. An impressive stage has been set up in front of the steps of the building with large chairs festooned in red, yellow and golden colours. Prime ministers of all friendly nations have arrived. Japan's General Tojo, Thailand's Prince Wan Waithayakon, Burma's Ba Maw, and so on.10 Representing India is Netaji. India is here as an observer. Netaji says that he doesn't have the ability to make India join the co-prosperity sphere. He says: 'So far as India is concerned, our fate is indissolubly linked up with the fate of Nippon and her allies in this war. If our allies were to go down, there will be no hope for India to be free for at least a hundred years. But we know that this time, providence, fate and luck are on our side, and I want to assure Your Excellency and Excellencies that we, the Indian people, having waited all our life for an international crisis of this sort, are determined to make the fullest use of this opportunity for achieving the final emancipation of our country. For India, there is no other path but the path of uncompromising struggle against
---
Also read: Bengal politics is not casteless or Bhadralok-free. But it's still not a deciding factor
---
British imperialism. Even if it were possible for other nations to think of compromising with England, for the Indian people, at least, it is out of the question. Compromising with Britain means to compromise with slavery, and we are determined not to compromise with slavery any more. 'I, therefore, want to assure Your Excellencies that come what may, no matter how long and hard the struggle may be, no matter what the suffering and the sacrifice involved may prove to be, we are determined to fight to the bitter end, being fully confident of our final victory.' Japan's PM General Tojo declares Japan will hand over the Andaman and Nicobar Islands, currently under Japanese occupation, to the Azad Hind Government. Netaji has renamed the two islands 'Shaheed' (martyr) and 'Swaraj' (self-rule). The welcome Netaji and his followers receive from the Japanese government is unparalleled—no other foreign VIP receives a similar welcome. They call Netaji the god of war. He is taken to all important sites in the country, like the Military College, the Airforce Training College, the weapons armoury, and so on. Japanese Emperor Hirohito and his family also extend respectful hospitality to Netaji. When Papa returns home, he tells us all these stories. The activities in southern Asia are very interesting. We sit together, hear the stories and then sing songs. But for how long?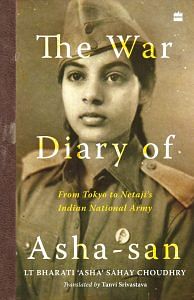 This excerpt from 'The War Diary of Asha-san' by Lt Bharati Asha Sahay Choudhry has been published with permission from Harper Collins India.