We lawyers know how to handle the personal politics of our brethren and judges outside the courtroom, but when conservatism becomes misogyny or outright patriarchy while laying down the law, it is a problem, just as mindlessly anti-male arguments also harm the cause of women's progress towards equality. That examples of male chauvinism abound, and there are limitations and discomfort with an open exchange between men and women even amongst the legal fraternity, is apparent. Below are instances of male chauvinism, along with disagreements amongst women on the issue of female empowerment. The following story makes apparent the discomfort of the legal fraternity in dealing with women as equals.
The Delhi High Court got its first woman judge, Justice Leila Seth in 1991. Because of its traditional context of sexual ownership, many lawyers could not bring themselves to address her as 'milady'. Judges too did not understand it entirely. A barrister friend of mine addressed the judge as milady. 'She is not your lady', glowered the robust Punjabi brother judge sitting with her on the bench. 'She is as much my lady as milord is my lord,' my friend responded with admirable élan. On the other hand, at the time of writing this, there is a judge in the Supreme Court who does not like to be called 'milady' because it is she who chooses to limit its meaning to the sexual context.  A newspaper reported a judge of the Supreme Court evoking much courtroom laughter when he said to a group of women lawyers complaining of gender discrimination in appointments to the higher judiciary, 'No…no…no…don't say that. We are always looking for women judges',implying that their search had revealed no competent female candidates.
---
Also read: Stalkers, creepy 1 am emails, flowers – What two women judges in small towns battled
---
Women, having grown up in a male-centric world, can have difficulty in disassociating themselves or their daughters from the traditional patriarchal matrix. For example, a lady judge made the required disclosure of her assets and liabilities on the Supreme Court website. Under the column headed: 'Any other liabilities' she mentioned 'two daughters to be married'. Two weeks after the newspapers picked up the story, she argued that an innocuous statement of accounts could not be held to reflect her views on gender: 'my daughters', she said, 'are my biggest asset'. But her passive or subconscious acceptance of patriarchal norms exemplifies why the requirement that Mahila Courts must have female judges has not proven to be as effective as expected.
Such examples extend into other quasi- and paralegal fields as well. Two women presidents of state commissions for women have observed on different occasions that women should dress modestly to avoid being raped. A president of the National Commission for Women observed that women should enjoy being called sexy. When these biases come into the courtroom, they directly affect the way the law is interpreted. There have been cases where lawyers have pleaded for their male clients that the wives spoke for too long and too frequently on their cell phones. I was puzzled by this till I read a report that a Punjab State Commission (headed by a woman) had ordered that married women should not use mobile phones.
A panchayat in Suraj village, in Gujarat, also banned unmarried women from using cell phones. In another example, a lower-middle-class woman in a courtroom was telling her story of domestic violence and that now she was ready to fight back. The lady magistrate said, 'You talk too much. If this is the way you are in court, you must be driving him crazy at home.' I saw the woman's brave face collapse and her courage evaporate as the courtroom laughed and her husband struck a pose of mock humility—eyes down, head bowed and hands folded—but his sideways smile at the audience was triumphant and complicit with them in berating her.
---
Also read: Defining 'ideal rape victim', judging 'dissolute ladies' — why courts get called out for sexism
---
Lawyers and judges expose their views about women and if I wanted to be kind I could say they do this without meaning to, but then I would be lying. During a heated argument in court between my woman lawyer opponent and myself, a male judge looked exhausted and said, 'It's very difficult to see two women fighting.' I thought, are men fighting and attacking each other in a courtroom or in Parliament a bearable sight? I said instead, 'Perhaps because our voices are lighter, we could sound shrill! However my lord is surely not troubled?' and I forced myself to smile charmingly.
Many years ago I filed a suit for declaration that my client (a woman) did, in fact, marry the defendant and now sought a financial entitlement from him as damages for denying the marriage. The man responded to say that she was only an escort and an ardas in the gurudwara did not constitute a legal and valid marriage. The Delhi High Court judge told the husband that if he called her an escort, he must pay for her services. This mindless fatuous chauvinism made me slide low into my chair with sheer embarrassment for the judge who clearly meant well. Having said which, the remark did help drive an eventual settlement in a rough justice sort of way though I settled for far less than I had asked for. Apart from cost efficiency for my client, I could not even begin to guess at the figure my client's 'services' would have been priced at by the court.
One would expect empathy on gender issues from the refined corridors of the Supreme Court but controversial exceptions have come from there too. One male judge referred to a woman living with a man outside the state of matrimony as a 'keep' if she was financially dependent upon him.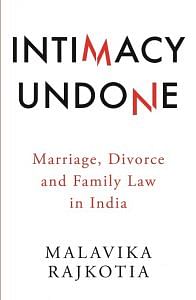 This excerpt from Malavika Rajkotia's 'Intimacy Undone: Marriage, Divorce and Family Law in India' has been published with permission from Speaking Tiger Books