The prodigious meals at the British settlements, prepared by Indian, Portuguese, and British cooks, were similar to those eaten by the Mughals and their local representatives, and featured rice pulaos and biryanis, dumpukht, chicken, khichri, and chutneys, accompanied by shiraz wine from Persia, English beer or arrack…. Forks were still relatively uncommon in England, so for some dishes, the English scooped food into their mouths with pieces of bread—just as the Indians did.'
Then came the massive structural change in Eurasian society in India through the nineteenth century, thanks to the steamship, the Suez Canal, and a new overland route via Egypt. As travelling to India became faster, less dangerous, and more affordable, more and more British women came to India—a few to join their husbands, but most in search of one. This proved to be the turning point for Eurasian cuisine, as they brought with them their family palates, airs and graces, and misplaced egos. Exploring an alien culture or cuisine was way beyond the little cocoons of their narrow minds. Another reason for them looking down on it not was because they had digestion problems, since it was too spicy. So, they went out of their way to propagate the more fashionable French cuisine and food cooked in wine.
Curries soon went off the menu at dinner parties. They were replaced by a host of bland British dishes, including boiled chicken. My gut feel is that their India-loving husbands found this a little difficult to swallow, but there was nothing they could do about it. It wasn't long before domestic handbooks with menus and recipes hit the market and were devoured by these novice homemakers. They were written by expat women, seasoned in the art of living in India, and experienced HR heads in the department of ayahs and bochis. There were very few recipes for Indian dishes, and if there were, they were often referred to in derogatory terms.
---
Also read: When it comes to British rule, rich, powerful Indians were complicit every step of the way
---
In homes where the lady of the house was an Anglo-Indian or completely Indian, things were quite different. That's where the fusion was taking place, giving due respect to all sections of evolving Anglo-Indian taste buds. Obviously in the more ordinary homes, the spread was far less elaborate, and one can safely assume that on these dining tables there was a greater Indian presence of rice, dal, chapatti, bhajis, and simple curries.
As the years rolled on, even British wives realized that it was too hot to handle, and they would have to roast in the cauldron of a tropical home, also called the kitchen. She cleverly and quietly retreated to the comfort of the living room or the club. The khansama (the head cook) had won the battle with the white memsaab happily waving a white flag. In the kitchen once again, the khansama was king, just like it was before memsaab showed up. The evidence was there for all to see: samosas and pakoras started popping their delectable heads out at afternoon teas between cucumber sandwiches and slices of plain cake, and the whiff of spices slid its way out of the Anglo-Indian kitchen effortlessly and more noticeably—just a wee bit more.
While the Anglo-Indian in different parts of India has many similarities and recognizable characteristics, there are noticeable differences when it comes to three things: accent, turn-of-phrase, and food. You see, we have this amazing ability to blend in with the crowd and yet be noticed in one. While holding on possessively to our own way of life, the state we lived in and the people we lived with, influenced us and our taste buds. The local flavour in our food has been significant. You can taste it!
An Anglo-Indian fish curry is quite 'coconuty' in the south, not so in West Bengal. Chapattis made by Anglo-Indians in North India are always more authentic than those living elsewhere. In Kerala, the cooking medium is usually coconut oil, while it is mustard oil in West Bengal. The dal in an AI homein Tamil Nadu tastes more like rasam than its more yellow tamarind-less halfsister in other parts of the country. You will enjoy a good Bengali aloo posto at our place in Kolkata as much as you would appam-and-stew in Derrick and Julia Fernandez's home in Vypeen, Kerala; but not vice versa.
---
Also read: Plea filed before Delhi HC against removal of Anglo Indian representation from legislature
---
What has really helped us to cook everything is the fact that we eat everything—any meat, any organ, and for many of us, anything!
Head of the catering institute at Dr M. G. R. University, Mark Crocker of Chennai, widely regarded as the numero uno of Anglo-Indian cuisine, gives a fascinating reason for the sensitivity of his diverse taste buds: 'You see, Dad was on the railways, so we used to travel a lot. Though I was a very young chap then, I remember the flavour of the food in the "running room" (the old name for the pantry-car on a train—maybe because the cooks kept changing, hopping on and off, and the kitchen kept running). It kept changing as we crossed over from one state to another and the cooks kept changing. Till today I can tell you where in India a chef comes from only by the flavour of his food.'
It is this fusion of British, Portuguese, other European, South Indian, North Indian, other Indian, small town, big city, simple-everyday, lavish, dry dishes, gravy, any meat, any fish, with spice, no spice, some spice, a-little-but-always some vegetable on the table…that has finally created a unique and distinctive cuisine which has, says Collingham, 'incorporated dishes from all over the subcontinent…leading some to call it the first pan-Indian cuisine.' And, if I may add, an ever-evolving cuisine, always on the move, keeping pace with the changing times, places, and people. Michael Daniels, a school administrator from Patna and a big-time foodie, sums it up in Harris's film: 'Back then, the Anglo-Indian got into the kitchen and with the local khansama, they created a completely different and unique cuisine.'
As the average size of an Anglo-Indian family has come crashing down, the khansama has become extinct and the cook is very much on the endangered list. Today, it's the best chef in the family who is in control and she, or he churns the dekchi with passion and panache, guided by old recipes that were part of the family heirloom and never shared with anyone who didn't share your blood.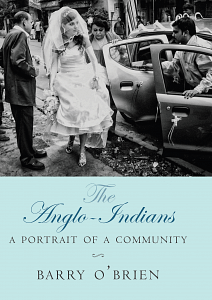 This excerpt from 'The Anglo-Indians' by Barry O'Brien has been published with permission from Alep Book Company.