The high praise that Hugh Rose bestowed on Lakshmibai's pedigree and her impact was echoed by Kaye in his history of what he dubbed the 'Sepoy War'. Kaye wrote, 'Evil things were said of her; for it is a custom among us — odisse quem laeseris — to take a Native ruler's kingdom and then to revile the deposed ruler or his would-be-successor. It was alleged that the Ranee was a mere child under the influence of others, and that she was much given to intemperance. That she was not a mere child was demonstrated by her conversation; and her intemperance seems to be a myth.' The volume of Kaye's history that contained these observations was published in 1876.
It would not be wrong to conclude from what Kaye wrote that in the immediate aftermath of the uprising, there were canards floating around about Lakshmibai. Kaye did not spell out the nature of her alleged intemperance: the word can be an indicator of many sins, from a volatile temper to a fondness for liquor to sexual promiscuity. Kaye dismissed the allegation in the softest possible terms—'seems to be a myth', not is a myth. It need hardly be emphasized that intemperance, in Victorian times, was a euphemism for promiscuity.
This depiction of Lakshmibai as an intemperate person— possibly in the sexual sense—can be traced back to the way her appearance was described by John Lang, the first white person to see her. Lang wrote:
"She was a woman of about middle size—rather stout but not too stout. Her face must have been very handsome when she was younger, and even now it had many charms— though according to my idea of beauty, it was too round. The expression was also very good, and very intelligent. The eyes were particularly fine, and the nose very delicately shaped. She was not very fair, though she was far from black. She had no ornaments, strange to say, upon her person, except for a pair of gold ear-rings. Her dress was a plain white muslin, so fine in texture, and drawn about her in such a way, and so tightly, that the outline of her figure was plainly discernible—and a remarkably fine figure she had."
---
Also Read: Kangana Ranaut's Manikarnika is your guide to becoming a good Bharatiya
---
The male gaze is stark in the passage. This, when combined with racial hatred, removed the veil of euphemism. Forrest, in 1912, described Lakshmibai as an 'ardent, daring, licentious woman'. A rebel woman had to be shorn of all morality: she had to be reduced to a whore.
Sen pointed out that the adjectives that Forrest used were borrowed from the report of Macpherson, the political agent of Gwalior, written in 1858. Sen tried to justify those words by saying that his report was meant 'only for official eyes.' Forrest, according to Sen, ignored the observations of Malcolm that Lakshmibai had a very high character and was loved and respected by everyone in Jhansi. Forrest repeated the conviction shared by contemporary British officials that Lakshmibai was responsible for the massacre in Jhansi—an act, according to Forrest, 'as revolting and deliberate' as the massacre in Kanpur. Lakshmibai was guilty without evidence and this sanctioned the spread of any kind of calumny about her character. Vengeance, even more than fifty years after the event, triumphed over fact.
Given this bloodstain on Lakshmibai's hands, one of the first tasks that Indian historians took upon themselves was to absolve her of the murder of the white population in Jhansi. The Marathi writer-scholar D.B. Parasnis, who published in 1894 an account of Lakshmibai's life and career in Marathi— the first by any Indian—claimed that Lakshmibai's adopted son, Damodar Rao, had shown him a letter written to him by the British officer Martin, stating that Lakshmibai had been falsely charged and was, in fact, completely innocent.
Parasnis's project, as Sumit Guha suggests, is indicative of the emergence of a historical consciousness in Maharashtra. That consciousness also had a radical salience to it—the removal of the stigma and slander that British historians and their followers had smeared on the figure of Lakshmibai. Parasnis's attempt was to write an Indian history of Lakshmibai and it was powered by the need to correct the misrepresentations she had been subjected to by British writers. The correction of the misrepresentations would be the first step towards establishing the truth and an assertion to represent one's own history. It was nothing short of a declaration of a national consciousness that was not yet fully aware of its own radical potential.
That power did not take long to manifest itself. It came in 1909, within two years of the fiftieth anniversary of the uprising, in Marathi, from the pen of a Marathi man, not yet thirty. V.D. Savarkar in 1907 was in London, enrolled to become a barrister-at-law at Gray's Inn. He wanted to be part of a movement that would successfully overthrow British rule in India. Savarkar decided to write about the revolt of 1857 after he read Kaye's book on the subject. From this exploration was born The Indian War of Independence of 1857—a book that has become a milestone in the literature on the uprising.
---
Also Read: Kangana Ranaut in Manikarnika is the perfect Bharat Mata for Modi's India
---
The premises of the arguments of the book were presented during a commemoration of the revolt on its fiftieth anniversary. Under Savarkar's leadership the young men who lived at India House in London organized a function on 11 May 1907. The invitation read: 'Under the auspices of the Free India League it is decided to commemorate the golden jubilee of the patriotic rising of 1857. The meeting is to be held on Saturday 11th of May, the day of the declaration of Independence.' Savarkar delivered a rousing speech titled 'O! Martyrs!' In the words of his biographer, Savarkar said 1857 'was a rehearsal of sorts for a permanent war in India that would not rest till it witnessed a complete overthrow of the Empire.'
Savarkar reiterated many of these sentiments in the introduction to his book. Almost echoing Chattopadhyay, he wrote, 'The nation that has no consciousness of its past has no future. Equally true it is that a nation must develop its capacity not only of claiming a past but also of knowing how to use it for the furtherance of its future. The nation ought to be the master and not the slave of its own history.' Savarkar had no doubt in his mind about the trajectory of his interpretation: 'Out of the heap of ashes [in his mind] appeared forth sparks of a fiery inspiration.' The 'mutiny of 1857', as the British called it, had shining within it a 'War of Independence'. The warriors in that war were all martyrs and among them was Lakshmibai.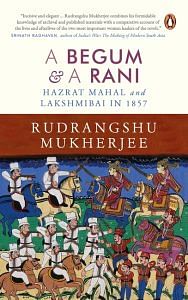 This excerpt from 'A Begum & A Rani: Hazrat Mahal and Lakshmibai in 1857' by Rudrangshu Mukherjee has been published with permission from Penguin Random House India.