A pioneer of the Jangarh Kalam, Jangarh Singh Shyam was an artist from eastern Madhya Pradesh and is credited as the originator of the Pardhan style of painting.
Jangarh belonged to the Pardhan community of Patangarh, in the Dindori district of Madhya Pradesh. His artistic trajectory began when he encountered a team put together by Jagdish Swaminathan in 1980–81 as part of the documentation and collection drive for the folk and adivasi art wing of the Roopankar Museum at Bharat Bhavan, Bhopal. While Jangarh was already well-known in his community for his artistic skill, this encounter and subsequent interactions with Swaminathan paved the way for his frequent travels to Bhopal, where he participated in artist camps. During these visits, he reinterpreted his community's myths using the rituals, symbols, domestic clay-relief work and musical traditions of the community. He was also introduced to new painting materials such as poster colours, acrylic paints and paper, as well as printmaking techniques at Bharat Bhavan.
At Bharat Bhavan, Jangarh created a highly experimental visual language of pictorial expression informed by Modernist sensibilities and which differed from other folk and tribal forms in the contemporary art space. Between 1983–84, Jangarh worked at Bharat Bhavan's graphics studio, where he began creating unique multichromatic prints. These prints featured repeated impressions and variations in tone and texture that were achieved by scratching, scraping and splashing. The works were shown at the 1990 Bharat Bhavan International Print Biennial.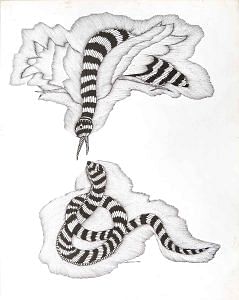 ---
Also read:
---
While most of Jangarh's early compositions were interpretive and representative, the process of displacing the single, iconic images of Pardhan deities to paper and canvas, and later, gallery and museum, led to his work becoming more narrative, as evident in works such as Pandawani Kathas (c. 1985), which depict mythological stories such as those of Sravana, Shiva and Parvati and Draupadi and the Pandavas, using devices such as cartographic compositions, figure placements within colour-blocked areas and aerial perspectives to successfully create multiple episodic narratives within a single frame.
Jangarh's visual compositions of Pardhan gods were initially restricted to lone deities in the centre of his canvas, where they are shown holding spikes, tridents and scourges, squatting on a seat of nails and surrounded by flags, tridents and oil-lamps. The deities of local Pardhan shrines, such as Baba Dev, Phulwari Devi, Narayan Dev, Hanuman and Budha Dev, were depicted in their malevolent or benign forms. The contours of the deities are thought to have been inspired by the bana, a sacred musical instrument of the Pardhan bards in which the god Bara Dev is believed to reside. While the Pardhan gods were conventionally represented in geometric forms, Jangarh envisioned them as semi-anthropomorphic. He also used richly coloured dots in his work, inspired by the dotted flowers of the parsa (flame of the forest) tree as well as the dotted chintz costumes worn by the masters of religious ceremonies. The myth-making artistic traditions of Bhil artists, with whom he interacted at Bharat Bhavan, provided another point of reference.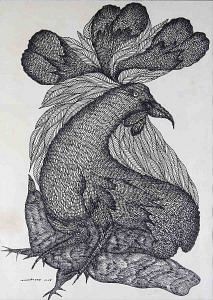 In the 1990s, Jangarh produced an array of black ink drawings with graded tonalities using only a Rotring pen. He also produced bulk serigraphic prints of these drawings to meet the demand for them at the National Crafts Museum & Hastkala Academy and the Surajkund Mela, New Delhi.
Jangarh's paintings were first shown at Art Heritage, New Delhi, from 1990–91. In 1996, he was commissioned to paint murals at the Legislative Assembly, Vidhan Bhavan, Madhya Pradesh, which led to the consolidation of the Pardhan idiom of painting with its synthesis of modern visuals alongside vernacular motifs. Jangarh was assisted in painting the 604-metre space by Ashish Swami, a Shantiniketan-trained associate, and a team of newly initiated Pardhan artists from his community. The mural was divided into three horizontal bands in colours representative of the sky, forest and earth, each of which were populated by gods, plant and animal forms as well as elements of modernity, such as aeroplanes. On completion of the project, Jangarh distributed his fee among his co-artists, many of whom then went on to establish their own artistic practices in the Pardhan style.
He exhibited widely, including in Bhopal, Delhi, Tokyo, New York and Paris, notably the Magiciens de la Terre at Centre Pompidou (1989) and the Other Masters exhibition at the Crafts Museum, New Delhi (1998). He was awarded the Shikhar Samman in 1986 by the Government of Madhya Pradesh for his artistic innovations.
In 2001, Jangarh died by suicide in Tokamachi, Japan, while on residency to create paintings for the Mithila Museum.
---
Also read: Mauryan ringstones have been found from Punjab to Bihar. But what were they for?
---
Jangarh Kalam
Conceived after the practice of the artist Jangarh Singh Shyam, Jangarh Kalam is a style or school of art. Following the successful career of Shyam, a number of people from the Pardhan community came to be addressed as members of the "Jangarh Kalam". The term is used by the artists themselves as well as by writers, curators, and galleries.
Jangarh Kalam has been a matter of minor confusion and debate, considering the Pardhan style was already identified as a category. Though it stems from the career of Jangarh Singh Shyam, Jangarh Kalam is more affiliated to the cultural tradition established by his art than to his artistic style. According to scholars, the adoption of the title was a practical decision by the artists, both men and women, who moved to cities to find work through their art. Unlike many traditions of painting, where movement is captured as frozen, or still, the work of Jangarh Kalam artists suggests motion and flow in vegetation, animals, deities or human figures.
Cultural theorists identify Jangarh Kalam as a 'third' field of artistic production that goes beyond the binaries of metropolitan/rural, modern/traditional, and even postmodern /modern. The school has grown to incorporate and express many narratives of the Pardhan community, and has influenced the work of artists including Bhajju Shyam, Mayank Singh Shyam, Ram Singh Urveti, Narmadaprasad Tekam, Anand Singh Shyam, Dilip Shyam, Kala Bai Shyam, Subhash Vyam, Durgabai Vyam, Venkat Raman Singh Shyam, Raju Shyam, Ramesh Shyam, Shambhu Singh Shyam and Sukhram Prasad.
This excerpt is taken from MAP Academy's 'Encyclopedia of Art' with permission.
The MAP Academy is a non-profit, online platform — consisting of an Encyclopedia, Courses and a Blog — which encourages knowledge building and engagement with the visual arts of the region.