The experiences and choices of women IAS officers are in some ways distinct from those of the men. If asked why they wished to make a career in the civil service, women of my generation might give the same answers as the men; as for beauty contests, there are the standard acceptable replies (public service) and the standard unspoken ones (job security, pay, perks, prestige; a higher dowry is a reason that applies to male officers alone, since being in the IAS was often a deterrent in the marriage stakes for women!).
For my part, the decision to prepare for the IAS was taken in high school when I began to sense the shades of social constraints falling across my future. I longed to participate in exciting things happening in my country and society, but my history books were full of only male protagonists. I also fretted against the constant reminder of relatives that a mere girl like me could only get married and submit herself to the future of some man somewhere. I learned that the very few women who were then in the IAS were not allowed to marry. Entering the civil service would give me a good excuse to avoid the compulsion of marriage. I could also become a participant in public affairs, not remain an observer on the sidelines in a teaching capacity, the only other career open then to women like me. And these incentives motivated me to work hard for the civil service examination. Perhaps other women entrants sensed the same things. Certainly, we learned that a woman who got into the IAS would seldom be pressured by family and friends to resign and become a fellow traveller (cook and homemaker) to a man or stay at home to bring up children and adopt other unpaid nurturing roles.
All around us, we also knew highly intelligent women, whose families had actively prevented them from competing in the civil service examination, so that they could fulfil their roles as submissive married women, always moving a step behind spouses and other male relatives. I had succeeded partly because many brilliant women could not compete in the examination because of family pressures. The need for a woman to play second fiddle to a man was brought home to me rather brutally, when a close relative who had qualified for the civil service interview was told by a prospective groom that he could agree to their marriage only if she withdrew from the examination. (As it turned out, she didn't!) To add insult to injury, in the training academy, women civil servants are treated by their colleagues as husband-hunters, seeking spouses among their own kind, because no one would marry them now that they were in the IAS. For, in the public mind, IAS male spouses were as desirable as IAS female spouses were undesirable.
---
Also read: These IAS officers are scripting stories of change across India & making lives better
---
Once part of the administration, women officers continue to face constraints imposed by spouses, families and society. Field postings with 24×7 responsibility are essential to lay the foundations of a sound career as a civil servant. In general, women were allowed to pursue careers only if they did not neglect spouses and children, which meant that they had to attend offices only between 9 a.m. and 5 p.m. Transposed to the IAS environment, this meant that women officers could be posted only in the metropolis, not work in or even travel to rural areas without spouses or other suitable male escorts and return home at a decent hour to attend to household duties. Effectively, they had to have lifestyles as close as possible to what they might have had as lecturers or officegoers. Such thinking is so ingrained in the popular mind that a chief electoral officer of Karnataka, while appointing senior civil servants as election observers in various constituencies of the state, put every woman officer on his list in a district adjoining Bengaluru, so they could all be within touching distance of home and family! He was astounded when I told him that I would prefer to observe the election at a spot distant from the capital, where I could always meet representatives of political parties who might want to complain about election malpractices.
Gender bias was also rampant in postings and career development. Although higher civil services were in theory open to women since Independence, the first women officers who joined the government (Chonira Belliappa Muthamma to the foreign service in 1948 and Anna George to the administrative service in 1951) were inducted with reluctance and with the caveat that they must leave if they ever married. At that time, patriarchal and misogynistic ideas about the unsuitability of women at higher official levels were widely prevalent among colleagues, bosses and members of the public. But these women remained role models, inspiring some more to reach for the stars.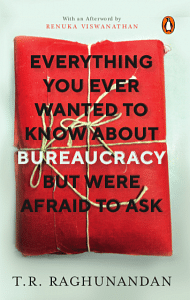 This excerpt from Everything You Ever Wanted To Know About Bureaucracy But Were Afraid To Ask by T.R. Raghunandan has been published with permission from Penguin Random House India.