In 1940 Madhav Sadashiv Golwalkar, a zoology professor from a village near Nagpur, took over the reins of the Rashtriya Swayamsevak Sangh, known simply as the Sangh, a Far Right quasi-militant group devoted to the creation of a Hindu nation. Hinduism is hard to distill into a binary, since, as a religious practice, it is fluid, encompassing a bewildering plurality of gods, castes, traditions, and philosophies. In Golwalkar's mind, it was these inherent complexities and contradictions that made the Hindu community vulnerable to centuries of foreign domination. Only a Hindu society consolidated into a single force, he believed, could reverse India's decline from its glorious past.
Golwalkar, dour faced, with a chest-length beard and hard, black eyes, found the model he was looking for in the Third Reich, which was about to invade neighboring Poland, setting off the Second World War. "Germany has also shown how well-nigh impossible it is for races and cultures, having differences going to the root, to be assimilated into one united whole," he wrote in his 1939 book We or Our Nationhood Defined. "A good lesson for us in Hindusthan to learn and profit by."
In India, the races and cultures with differences going to the root were Hindus and Muslims. As Golwalkar wrote in a later book, Bunch of Thoughts (1966), "whatever we believe in, the Muslim is wholly hostile to it. If we worship in the temple, he would desecrate it. If we carry on bhajans [devotional songs] and rath yatras [religious processions], that would irritate him. If we worship the cow, he would like to eat it. If we glorify the woman as a symbol of sacred motherhood, he would like to molest her." The Hindutva ideology, a form of Hindu nationalism propagated by the Sangh, required Muslims to accept a Hindu cultural identity.
When Golwalkar took charge of the Sangh in 1940, the call for independence from British rule, led by Mohandas Karamchand Gandhi, was sweeping the country. Gandhi began his morning lectures quoting Hindu scriptures from the Bhagavad Gita, alongside passages from the Bible and the Quran, and talked about a new nation where every religion would enjoy equal respect. The Sangh's leadership, irked by Gandhi for "giving no thought to protecting Hindu culture and Hindu dharma," insisted that Hindu society was under siege, not from British occupation but from India's own Muslims and Christians.
By the time the leader of the political group All India Muslim League, Mohammed Ali Jinnah, had popularized the demand for a separate Muslim homeland called Pakistan, Golwalkar had expanded his mission of building a Hindu nation in India beyond the borders of Nagpur, creating a network of allied organizations under the umbrella of the Sangh Parivar, a family of Hindu nationalists.
---
Also read: The art of conjuring realities – How the BJP gets Hindus to believe 'love jihad' story
---
With the Sangh's patronage, millions of men in khaki shorts and white shirts received paramilitary training to prepare for a revival of Hindu glory. In 1947 a British lawyer named Cyril Radcliffe arrived in colonial India with the task of drawing a border across the Punjab and Bengal Provinces to divide the subcontinent into Muslim-majority Pakistan and Hindu-majority India. With Britain in tatters after World War II, Radcliffe had just five weeks to complete the job of decolonization while nursing a bout of dysentery. It was also his first
time setting foot in India. After the new borders were announced, roughly fourteen mil-
lion people suddenly found themselves on the wrong side, setting off cyclones of communal violence that killed one million and uprooted twelve million others. Radcliffe burned his papers, rejected his fee, and sailed back to Britain.7 The Radcliffe Line, as the border be-
tween two enemy states came to be known, turned into a heaving wound of hostility between Hindus and Muslims.
A month later, in September 1947, Gandhi confronted Golwalkar about the Sangh's role in inciting communal violence. He argued that independent India was a secular democracy that belonged equally to Hindus and Muslims. Even as Golwalkar assured Gandhi that the Sangh was a peaceful organization and did not stand for the killing of Muslims, Gandhi remained unconvinced. "I have heard it said that the Sangh is at the root of all this mischief," Gandhi said in a speech in November. "Hinduism cannot be saved by orgies of murder." On the evening of January 30, 1948, Nathuram Godse, a former cadre of the Sangh, walked into a prayer meeting and pumped three bullets point-blank into Gan-
dhi's chest.
A decade later, in another part of western India, an eight-year-old boy named Narendra Modi, who sold tea at the Vadnagar railway station, attended his first lecture at the Sangh's local office. He took a vow of celibacy to dedicate his life to the organization, rising
through its ranks—first as junior cadet, then as regional organizer, and eventually as a prime ministerial candidate of the Bharatiya Janata Party, the political wing of the Sangh acquiesced to its Hindutva ideology.
In present-day Nagpur, Golwalkar's spirit presided over every messy intricacy of daily life. When Arif passed through Reshimbagh, the thriving Hindu neighborhood where Monika grew up, his body stiffened with fear that someone would grab his collar and begin thrashing him. It was here, where housewives in puff-sleeved nighties haggled cheerfully at vegetable carts, that a Hindu-Muslim riot had reaped its first harvest of lives a half century earlier. Since then, the same violence had visited again and again. It was there, three lanes over from Monika's house, that Golwalkar's last rites were performed, in 1973. In that sprawling compound, an annual summer camp continued to prepare thousands for a Hindu reawakening. The Sangh's cadres stomped like soldiers, arranged in neat columns and trailing a marching band, like a state cavalcade. Nagpur's map was blotches of saffron and green, with the city organized into Hindu and Muslim pockets; into Reshimbaghs of Monikas and Hasanbaghs of Arifs.
That evening, when Monika offered Arif his Muslim identity as an explanation for her rejection, the happy kingdom of delusions he had built for himself shattered like a dropped mirror. "History is witness that Hindus and Muslims cannot be together," Arif told his old friend Khaled on the phone. "If we are snakes, they are mongooses."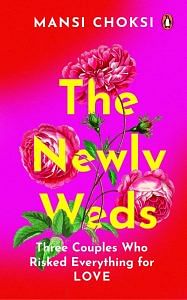 This excerpt from The Newly Weds by Mansi Choki has been published with permission from Penguin Random House India.