Gopichand recalls an incident in 1991 that not only shaped his career but also formed the backbone of his coaching philosophy. Then an up and coming junior, he had got a chance to attend the national camp under Chinese coach Xiao Ming in Delhi for a short period thanks to his then coach S.M. Arif.
Gopichand was one of the most hardworking badminton players in Hyderabad but the camp was sort of a reality check for him. 'When I went there, I was put in the girls' squad with two other male shutters as I was one of the weakest. I remember Madhu didi (Madhumita Bisht) would wait for me as I would be the last in running,' he recalls.
'I came back to Hyderabad and started running, which was my weak point. I would start running at 5 and train for about half an hour to forty-five minutes and then go and change and be ready for regular training at 6 a.m at the LBS Stadium,' he adds.
He soon impressed Ming with his performance in the matches against the touring Malaysian team as a local entry in Hyderabad and joined the national camp for more rigorous training in Patiala and Bengaluru. Gopichand has always insisted that he benefitted a lot from the national camps during his formative period as joining the camp meant constant supply of shuttles, quality sparring and an overall improvement in skills and fitness levels.
The other Chinese coach who had a major influence on Gopichand was Sun Yu, with whom he worked during the three years he played in the Bundesliga in Germany. There, he was introduced to heavy weight training which was frowned upon in India because coaches felt that it could slow down the player and affect hand speed.
But Gopichand bought into the idea seamlessly and felt that it was the key to beating the top East Asian and European shuttlers. 'When I played in Germany, I felt that we could beat the top guys if we were fitter.
'We had extremely talented players like Chetan (Anand), Anup (Sridhar), Aravind (Bhat), Ajay (Jayaram), Vijaydeep (Singh) and others. Chetan and Anup could have been in the top 5 had they worked on their fitness in the formative years.
'The Chinese were fast and furious. But I always dominated them because I had the belief that even if I was 70-80 per cent close to their fitness, I could beat them with my deception. 'In fact, they changed their coaching philosophy after my All England win,' he adds, explaining how they also began matching the need for deception without compromising on speed and strength.
Even though Gopichand opted out of the Bundesliga after 1997 to concentrate on the international circuit, he wanted to continue training in the same way. Unable to do that at the Prakash Padukone Academy for some reason and unhappy with the way things were shaping up in his mind, he one day decided to shift his base to the SAI complex in Kengeri to have the freedom to experiment with his own training methods and train under Gangula Prasad.
Former India international Hufrish Nariman who would regularly attend national camps as a coach during that period admits that Gopichand's weight training then resembled the training of a weightlifter.
Gopichand introduced most of those weight training aspects in the schedule of his young trainees early in their career. During the initial years, he would himself monitor the training sessions of the players and was later helped in creating a detailed training programme by Dinaz Vervatwala and the South African Heath Matthews, who was hired by the Mittal Champions Trust which supported Saina back then.
They were willing to experiment with newer techniques like kickboxing and held a sparring session for Saina with Olympian boxer Akhil Kumar to improve her movement and help her with fat loss. Basically, they pushed the young brigade till breaking point. 'The body adapts. I had seen that in my case,' he adds. Within a few years, the juniors had started making a mark in the senior circuit. Saina was obviously challenging for titles by the time she was fifteen, but even the likes of Guru Sai Dutt and Kashyap had started to punch above their weight and the experienced campaigners were beginning to feel the heat.
Things came to such a point in 2006 that after losing to sixteen-year-old Guru, Indian international J.B.S. Vidyadhar wrote to the BAI alleging that the youngster should be checked for doping violation as he had been taking some special supplements. Nothing came out of the allegations and Guru went on to win the 2008 Junior World Championship and 2014 Commonwealth Games bronze medals, reached a career high ranking of 19 in November 2013 before a spate of ankle injuries put a brake on his badminton career. But the incident showed how much the youngsters had started to rile the established stars thanks to their superior fitness and strength training.
---
Also read: Saina Nehwal fell out with coach Gopi when her Olympic win got him students like PV Sindhu
---
But more than the training and coaching, it was Gopichand's complete involvement in his wards' life that was the gamechanger. He became a friend, mentor and guide to the players and exerted complete control on their lives even beyond the training period in the initial days.
'To me, being a coach meant getting involved in everything. I have seen coaches who would say I have trained you within this 44×20 feet structure. Now you are on your own.
'In a sense, there was no systematic approach there with someone controlling training, sleep and so on. My approach was seen as dictatorial. But it had to be done that way,' he adds.
I remember an incident at the Bombay Gymkhana in 2009. Saina had just won the Indonesia Super Series and climbed to world no. 6. She was the cynosure of all eyes in Mumbai as she was given an honorary membership for a year by the club and also handed a cash prize of Rs 2.5 lakhs by a group of badminton lovers—Badminton 45.
It was a late evening function and Saina was soaking in all the adulation, mixing with the big names of Mumbai's social circles and basically enjoying the evening when Gopichand gestured to her from a distance, glanced at his clock and then carried on with his conversation with the guests. In a few minutes, Saina wrapped up her conversation and left the hall as it was close to 10.30 p.m., her regular sleeping time, and the coach wasn't willing to compromise on that.
The rules at the academy back in Hyderabad were much more stringent. The mobile phones of all the trainees would be taken away in the morning once the session started and were only given to them late in the evening for a few hours before sleeping time. No player could leave the academy without written permission from Gopichand or a gate pass signed by his mother. At that time some of them used to jokingly call the academy a five-star jail.
In the run-up to the 2016 Rio Olympics and just before the 2019 World Championship, which Sindhu eventually won after faltering twice in the final, she was not allowed to use her mobile phone for a couple of months before the tournament. Though it was a mutual decision with Sindhu knowing the pros and cons, surprise checks were never ruled out.
Nowadays, giving personalised attention and keeping track of the training, rest and other parameters of these players is getting difficult with almost a dozen of them making it to the top tier of world badminton. Gopichand is therefore working with a few IT experts and even doctors to develop an app or a wearable gadget that would help him monitor the mindfulness of the players remotely.
---
Also read: 'I Retire', says badminton champ PV Sindhu on Twitter, but there's more to her message
---
Back in 2008, on the sidelines of the World Junior Championship in Pune, I could not resist asking him the extent of his control on Saina after watching him operate in a tournament environment so closely for the first time. 'I even need to know the number of times she has gone to the loo,' he had responded then. Ask him about being called a control freak by many of his detractors, Gopichand says, 'I believe I should be. If I had an option, it would be even stricter. Perfection is not what I want, but what I aspire for. But it is progress that I want and I have to make certain compromises. But in an ideal world, I believe that total control should be with a coach.
Gopichand's statement—'If you want to produce champions, there is no place for democracy'—which I had reported many years back had attracted strong reactions from senior coaches across the country who felt that India wasn't China and this was not the way things should be done.
But Gopichand was clearly impressed by the Chinese system and had a simple explanation for this approach. 'Many-a-time players don't look beyond the present and what they want immediately but as a coach one has to think long term and take a call on what's right and what's wrong,' he had said then.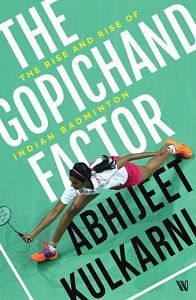 This excerpt from The Gopichand Factor: The Rise and Rise of Indian Badminton has been published with special permission from Westland Books.