The CEO
Since the early churns of economic transition in the 1980s and the imagination of a new Indian techno-modernity associated with the tenure of Rajiv Gandhi (1984–90), the professional-managerial CEO figure has been valorized as an effective political agent and leader whose work ethic is diametrically opposed to the inefficient and corrupt ways of elected officials. Several individuals have taken up important leadership roles in government and policy worlds over the years on the basis of CEO identity-claims. The CEO figure is a favoured media trope that attracts considerable and positive coverage in commercial news media.
The CEO is a literal outsider to the world of politics: someone who has established a reputation and a career by other means. Their considerable professional experience and success both establish their distance from political worlds and equip them with the right skills for national leadership. Idealized qualities associated with the CEO outsider archetype include managerial command-and-control abilities, a proven track record in running a successful corporate enterprise (preferably a leading 'hi-tech' or knowledge-economy firm with a global presence), a reputation for making bold and risky decisions, technological and technocratic expertise and the moral probity that stems from the considerable economic success that these individuals invariably enjoy. As the sociologist Max Weber noted a century ago, political honesty and immunity to the temptations of political pelf and graft are usually the dividends of 'plutocracy'. Only the independently wealthy can afford to 'live for politics'; all others must 'live off politics'. 
Examples of CEO outsiders include Satyan 'Sam' Pitroda and Nandan Nilekani. Pitroda, a non-resident Indian, returned to India from the US in the late 1980s and joined Rajiv Gandhi's government as a technology advisor. He has been widely hailed as one of the main enablers of India's 'leapfrogged' modernity via the 'IT revolution'. About two decades later, Nandan Nilekani, the co-founder of the global IT corporation Infosys, would play a similar governmental role that transferred his professional and technological expertise into policymaking and administrative arenas. Nilekani was given a cabinet-rank status as the chairman of the Unique Identification Authority of India, a governmental agency that aimed to enrol the Indian population in a universal biometric identification programme. Nilekani, like Pitroda, was hailed as a public authority figure with a manifest and substantial 'technomoral' difference from conventional political representatives, i.e., someone whose life and globally recognized professional success exemplified both technological skill and ethical integrity. 
Some politicians without any actual experience in corporate management have also been hailed as CEO leaders because they purportedly embody these qualities, for example, Andhra Pradesh Chief Minister Chandrababu Naidu, Gujarat Chief Minister Narendra Modi and the Chief Election Commissioner of India in the 1990s, T. N. Seshan.
---
Also read: Sonia Gandhi still doesn't get that meaning of power has changed in India
---
The Showman
The film star politician is a familiar figure in national and regional political arenas. Since Independence, several popular movie actors such as M. G. Ramachandran and Jayalalithaa in Tamil Nadu and N. T. Rama Rao in Andhra Pradesh have contested and won elections and risen to positions of high political office. 
The showman stands out for their performative and charismatic qualities. They are well-known celebrities, mostly from the commercial film industry, and command a massive fan following. Like the CEO, the showman's long record of professional success establishes their political independence and their public purpose. They do not need to enter politics for fame or fortune. Rather, their entry into politics entails the altruistic sacrifice of fame and fortune to serve the people. The showman's visible popularity among the masses is another sign of their democratic potency. The voluntary commercial transaction that each purchase of a film ticket represents is an expression of popular consent and will formation. 
For all outsider archetypes, but especially for that of the showman- outsider, the performative and public character of their political agency is of prime importance. As Rohan Kalyan has recently observed in his discussion of the incumbent Prime Minister Narendra Modi's political style, the showman-outsider inhabits and creates an 'eventocracy'. The actions of the showman are invariably big and dramatic, and even banal policy announcements are transformed into theatrical events and spectacles that are announced with grand flourishes. This in turn means that the showman is a singular and extraordinary figure. Their charisma, aura and superhuman abilities set them apart not just from their nemesis of the corrupt politician, but from the people themselves. Similar to the CEO archetype, the appeal of the showman and the terms of their redemptive political agency is framed in terms of leadership rather than identification: the showman-outsider commands the devotion and obedience of the people, and their promise of representation and popular redemption is expressed in hierarchical, one-way terms.
---
Also read: Project Kejriwal in Gujarat is just new packaging of Modi's 'achhe din'
---
The Innocent
Over the past decade, narratives about a politically innocent subject who acts to redeem and save Indian democracy have prominently featured in national media and public discourse. Almost always a young, middle-class, urban and urbane or cosmopolitan individual, the innocence/naïveté of these protagonists is their defining feature. They are individuals who do not have any prior experience with organized politics and public or policy work and also lack specialized knowledge or interest in political issues as such. Despite their political innocence and ignorance and in fact because of it, the narrative goes, they are ignited to public action when they encounter egregious incidents of wrongdoing and injustice. The political innocent suddenly becomes a visionary and daring public activist, a tireless 'crusader' for the 'ordinary citizen' and the 'common man'. 
Like the other outsider figures of the CEO and the showman, the innocent is also figured as a subject who has no connection to political worlds, and it is precisely this exteriority and distance that enables them to become a powerful and meaningful agent of political change. However, in an important difference from the other outsider figures, the innocent outsider does not have a wealth of professional experience and knowledge nor a unique performance skill at hand. Instead, their agency is shaped by the mediatized play of emotions and instincts: They are enraged and outraged and literally moved to act by a shocking media revelation. Immediacy, spontaneity and mediatized visibility are the defining features of their agency. 
The figure of the innocent outsider is closely associated with the surge of middle-class activism and media activism in the new millennium. For instance, the multiple media-mobilized 'Justice for…' campaigns of the mid-2000s that demanded justice for victims of crimes involving politically connected perpetrators, the Youth For Equality movement of 2006 that agitated against the extension of caste-based reservations in professional educational institutions and the widespread street protests across many Indian cities that erupted in the aftermath of the infamous Delhi gang rape case of 2012 all extensively relied upon such innocent outsider narratives to legitimize their actions as truly representative of the real people. 
The demographic composition of the campaigns, as predominantly young, urban and middle-class, shored up these claims of political exteriority. A few years later, the India Against Corruption Movement and the new political party that emerged out of it, the Aam Aadmi or Common Man's Party (AAP), also foregrounded the youthful innocence of their membership. Along with the impressive technocratic and professional profiles of its leaders and volunteers, its youth profile also distinguished the AAP from the ageing cohorts of other political parties. The party highlighted this demographic difference in its (ultimately successful) attempt to convince voters that it presented a meaningful political alternative to establishment political parties.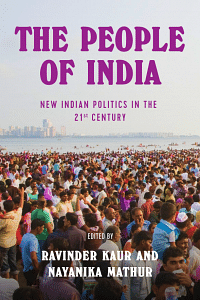 This excerpt from The People of India: New Indian Politics in the 21st Century, edited by Ravinder Kaur and Nayanika Mathur, has been published with permission from Penguin Random House India.