Braving the harsh, tropical summer heat of Madras (now Chennai) in 1910, British national Thomas John Theobald Noble was on a quest. A recording expert for the Pathé Frères recording company in France, Theobald Noble had been advised to look for "native" artists in the alleys of Thambu Chetty Street, where most of Madras's devadasi singers lived. He was led to a house whose interior was constructed of marble and the faint glimmer of a blue-shaded light cast a fascinating and seductive spell on him. The lavish house cost its owner Rs 1,80,000 — a royal sum in those days — and was donated to its inhabitant, the celebrated Carnatic vocalist, Salem Godavari.
Like her friend Gauhar Jaan, the subcontinent's first commercially recorded artist of Hindustani music, Salem Godavari was among the pioneering musicians who recorded in the Carnatic music genre. During its first recording expedition to India in 1902, London's Gramophone and Typewriter Limited (GTL) had restricted itself to then Indian capital — Calcutta. When they next came in 1904-05, they ventured down south to Madras. It was then that Godavari caught the attention of the European recording agents.
In this double-sided recording, Salem Godavari renders saint Thyagaraja's composition Ksheera Sagara Shayana in Raga Devagandhari. One notices a distinct variation from contemporary standards in aesthetics when it comes to rendition style, pronunciation and raga exposition. These standards of what "classical" was, came to be defined and codified in the 1930s with the establishment of bodies like the Madras Music Academy.
Ksheera Sagara Shayana
Interestingly, when recording technology came to India in the early decades of the 20th century, it was women like Gauhar Jaan and Salem Godavari — from the tawaif and devadasi communities across India — who accepted this novel and unfamiliar medium and adapted to it. Disregarding several superstitions like 'recording on evil English instruments would displease the gods and make one lose one's voice', they went ahead and recorded. Most of the ustads and vidwans stayed away from the recording experiment.
Sadly, records about Salem Godavari's birthdate, or background, are not extant. We find the first account about her in recording expert Theobald Noble's memoirs. Godavari haggled for a suitable price and Noble had to make two visits before securing 16 titles from her for a sum of Rs 300 per song. She and her agents eventually managed to bargain harder and enhance this payment to Rs 900 per record!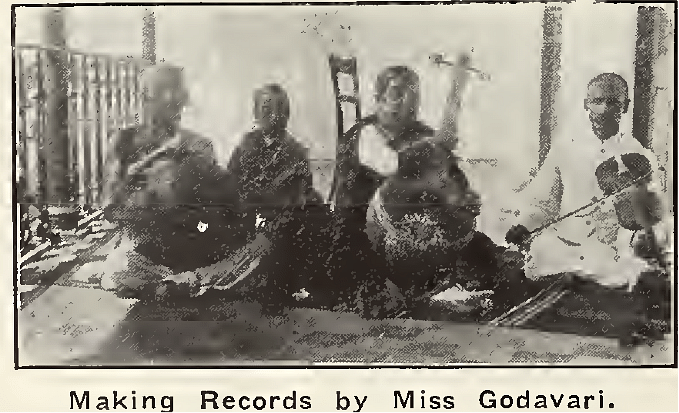 Noble recounts Salem Godavari came to the studio with her accompanists and a retinue of seven servants. She was decked from head to toe with gold and several precious stones, diamond earrings, as well as platinum and gold toe rings. She wore a necklace of English sovereigns around her neck; the clasps that held them were studded with diamonds. A keen observer, Noble noted that there was almost fifty such sovereigns and fifty clasps. Her drone instrument or tambura was just as bejewelled with gold and precious stones as her, and its estimated cost was nearly Rs 12,000.
---
Also read: Gauhar Jaan, India's first record artist, took Rs 3,000 a session & threw parties for her cat
---
Quite amusingly, when Noble wanted to photograph her, she insisted on removing all the jewellery on herself before posing. With experience of recording in acoustic era, where artists had to scream into horns fitted on the wall to record their songs in the absence of microphones, Salem Godavari was very comfortable with recording on gramophones. In fact, she herself guided the accompanists with where to sit and how to play, explaining all the while to Noble that this had yielded favourable results with so-and-so company. And she was right, as Noble would find out later. Salem Godavari sang exceptionally well with her high cadenzas being loud and clear in the recordings.
In three minutes, which is all that a single gramophone disc could hold, Godavari sang her heart out to several soulful Aalaapanai, Thyagaraja and Dikshitar Kritis, sensuous Padams and Javalis, and devotional and Tamil folk songs that were best-sellers until the end of the 1920s. Given the demonisation of the devadasis and their repertoire, particularly the sensuous and erotic Padams and Javalis, very few of these records survive. One such rare Padam in Telugu that Godavari sings in her characteristic peppy style is Intirovaani Manasu in Raga Bilahari:
Intirovani Manasu 
In her recorded repertoire found in the Gramophone Company catalogues, there are more compositions of saint Thyagaraja. It is likely that she was trained under someone who belonged to the shishya-parampara or lineage of Thyagaraja.
---
Also read: Ustad Zia Fariduddin Dagar, the Dhrupad titan whose music was as much whim as tradition
---
However, one hears a very different flavour of saint-composer Muthuswamy's Dikshitar's famous Sanskrit composition, Sri Subrahmanyaya Namaste, in Raga Kambhoji. The lilt and glides of Kambhoji are markedly different from a rendering of the same song and composition by a contemporary Carnatic artist. This makes us wonder when and where "tradition" was defined and what its hoary past was, if such popular compositions sounded so different just 100 years ago.
Sri Subramanya Namaste
An important observation made by Theobald Noble in his memoirs is the presence of Salem Godavari's "agent" who bargained fees and settled the deal, but also accompanied her to the studio and haggled for more money. In fact, in the above recording too, if we note carefully, we hear some male voices shouting loud exclamatory remarks towards the end of 'Bhale!' or 'Shabhaash' (literally meaning wonderful and excellent). These were possibly her agents who were trying to impress the European recording experts that the quality and classicism of the music was high enough to warrant an enhanced remuneration.
On one occasion, the agent seemed to have been "so enraptured with the singing that he immediately ordered 3,000 of each title for himself." All this seemed to have been the tactics of the artists of those times to convince the recording experts about the commercial success of the records and thereby make their case for better payments. Obviously, the agents took their huge cuts and commissions, too.
Independence activist and historian C. Rajagopalachari supposedly attended a party in Salem, hosted by famous advocate C. Vijayaraghavachariar, and was captivated by Salem Godavari's performance. In 1910, she hosted her friend Gauhar Jaan of Calcutta at her residence when she came to Madras for a performance.
The Hindu archives dated 1 November 1911 reported Salem Godavari's death on 20 October 1911. She had made several bequests in her will to various institutions. These included Pachaiyappa College, Society for Protection of Children, Annanda Samajam, Salem College, and a Vedic school attached to Salem Theosophical Society. She even donated her wealth for temple cars and a pilgrim guesthouse at a Shiva temple in Salem.
---
Also read: Gangubai Hangal championed tradition to excel in male-dominated world of Hindustani music
---
But today, as a forgotten footnote, Salem Godavari unfortunately evokes no memory in most Carnatic musicians or connoisseurs. Her records, scattered across flea markets and with scrap dealers, still do try to tell her story to us.
We end with the popular Tamil devotional, Aru Marundu Oru, composed by saint Muthu Thandavar and dedicated to Lord Nataraja of Chidambaram. Godavari renders this in her characteristic style of joyful abandon.
Aru Marundu Oru
The author is a historian, political analyst and a Senior Fellow at the Nehru Memorial Museum and Library, with an upcoming biography of Savarkar. The music clips are from the 'Archive of Indian Music' that he has established to digitise and preserve vintage recordings of India. Views are personal.