The foundations of contemporary Carnatic music were being laid towards the end of the 1920s when the genre witnessed path-breaking changes. In December 1927, along the sidelines of the Congress' annual session in Madras, a week-long music conference was organised. It helped bring together several musicians, musicologists and scholars keen on standardising and defining classicism in south Indian classical music. The deliberations covered matters like music education, its appreciation and review, and what performance standards to set. This was quite similar to the exercise of purification and standardisation that was gaining ground with Hindustani music through the efforts of Pandit Vishnu Narayan Bhatkhande.
The result of the experts' meeting was the establishment of the famed Madras Music Academy, which was to play the role of an important arbiter on all matters related to Carnatic music, its theory and performance. As its 1935 journal stated, the Academy was "not a mere sabha" or concert proscenium that had mushroomed all over Madras by the dozens. But it was "aimed at purifying Indian music, setting standards, educating the audience and training teachers who would ensure that 'classicism' was maintained."
Central to this project was a man who was veritably the uncrowned monarch of Carnatic music in his long and illustrious career. Ariyakkudi T. Ramanuja Iyengar is credited with amalgamating the styles of various musicians to create the 'golden mean' for Carnatic music. He devised the 'kaccheri paddhati', or the concert format that is assiduously followed by Carnatic musicians to date. Ariyakkudi's concert formula was a mélange of varied fare, aimed at arousing audience interest and curiosity. Hitherto a single raga would be exposed for four or five hours and the arithmetic jugglery and pyrotechnics of the pallavi genre of Carnatic music was what was displayed. Audience interest had begun to flag and concerts would be punctuated with yawns and snores from the crowd.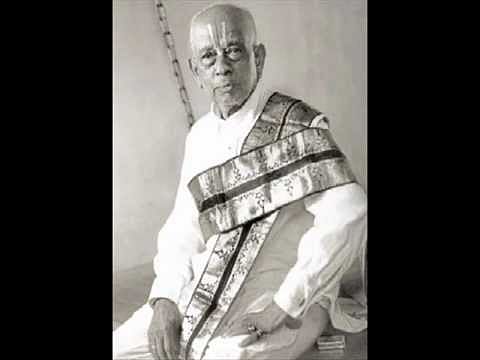 Ariyakkudi's magic formula had something for everyone. It began with a brisk varnam that served as a nice vocal warm up, followed by an invocation to Lord Ganesha. Songs of various composers across centuries, eulogizing different gods and goddesses, and in varied languages were sung with or without improvisatory solfa syllables, or kalpana swarams. The musician then landed into the hallowed 'main piece' that had an elaborate alapana, or sketch, of the raga, followed by the violinist's impression of the same, the composition, improvisatory techniques such as the neraval and kalpana swarams, and ended with a rhythmic duel of the percussionists known as the Tani-avartanam.  This was then followed by smaller songs called tukkadas that included bhajans, familiar songs and finally ended with a brisk thillana. The Academy ratified this new structure after much debate and discussion.
---
Also read: Sundarabai, the versatile singer-actor who helped women musicians herself died unsung & poor
---
We see the same sense of proportion in his 78 RPM recordings as well, where Ariyakkudi divides the time between the composition and the improvisatory aspects – choosing either an alapana or fast kalpana swarams. This is illustrated in his following renditions: the famous Tamil composition by Papanasam Sivan in Raga Thodi — 'Kartikeya Gangeya Gowri Thanaya'; in 'Kadai Kann' in the same raga (where he chooses kalpana swarams over alapanas); and in Thyagaraja's Telugu composition in Raga Kambodhi 'Evvari Maata':
Karthikeya Gangeya
Kadai Kann – Thodi
Every Mata
The style and structure of the ragas in the above recordings are exactly similar to what one hears in a modern Carnatic music stage today, but are quite different to the recordings of the devadasis like Salem Godavari or Coimbatore Thayi who recorded in the earlier decades. The aesthetics of presentation had to be consciously altered to not 'sound' like the devadasi. The anti-devadasi campaign– at its peak during this time in the Madras Presidency, resulting in their eventual abolition in 1930 – classicism in music too had to be thus redefined.
Born on 19 May 1890 in the village of Ariyakkudi in Tamil Nadu to Tiruvengadam Iyengar and Chellam Ammal, Ramanuja was one of the seven children in the family. His father was a prosperous astrologer at the court of the Raja of Chettinad. He foresaw a bright musical future for his son and put him under the tutelage of Malayappa Iyer of Pudukottai and then Namakkal Narasimha Iyengar in the temple town of Srirangam. In the precincts of that vast temple of Srirangam, the young boy's music blossomed to its full beauty. As a finishing school, he was sent to the famous Ramanathapuram 'Poochi' Srinivasa Iyengar, who belonged to the guru-shishya lineage of Thyagaraja, being a student of Patnam Subramanya Iyer.
---
Also read: Bangalore Nagarathnamma, the singer who took to Sanskrit and feminism in 19th Century India
---
After an intense gurkula-vaasam or stay with the guru to learn, Ariyakkudi Ramanuja finally stormed the concert platform in 1912 at a wedding performance of the Devakottai zamindar. His first major break came in 1918 at the Thyagaraja aradhana in Tiruvaiyyaru and there was no looking back after that. By 1920, he had 'arrived' as an artist of repute in Madras too, and travelled far and wide giving performances. The Gramophone Company naturally solicited him in a couple of years and his records made brisk sales as well.
Ariyakkudi's facile voice modulations, fine enunciation and rich musical imagination are evident in this recording of a Tamil devotional that is strung in a ragamalika or a garland of ragas, as also in the peppy rendition in Raga Athana of Thyagaraja's 'Anupama Gunambudhi' and Muthuswamy Dikshitar's 'Kamalambam Bhajare' in Raga Kalyani.
Avanani
Anupamakunambudi
Kamalamba Bhajare
During a performance at Devakottai, Ariyakkudi met Kanjanur Sundarambal Dhanammal, a devadasi who too was performing there. She requested him to take her in as his student. After much dithering he agreed. The interaction soon blossomed into a love affair. Though married to Ponnammal (in 1909) and from whom he had two daughters, Ariyakkudi set up another house in Kumbhakonam with his newfound love. Dhanammal stayed close to him for the rest of his life, even when they moved to Madras. Ariyakkudi would use his clout to always find a slot for Dhanammal in sabhas, even if he had to fight, often falling out with many of them. Dhanammal and her siblings were, however, trying to siphon away his wealth, and his last days were hence filled with domestic acrimony. The musical colossus breathed his last in Madras on 23 January 1967.
---
Also read: Salem Godavari, Carnatic vocalist who fought superstitions to record erotic compositions
---
Ariyakkudi enjoyed great camaraderie with his accompanists. His combination with violinist Papa K.S. Venkataramaiah and mridangam vidwan Palghat Mani Iyer was legendary. The famed violinist Mysore T.Chowdaiah was so enthralled after accompanying Ariyakkudi once that after the concert, he hoisted him on his shoulders and danced around the hall. There was hardly any award in music that he did not win — from the coveted Sangita Kalanidhi from the Music Academy in 1938 to the Padma Bhushan by the government of India in 1958. He left behind a rich legacy of disciples too such as K.V. Narayanaswamy, B. Rajam Iyer and Madurai N.Krishnan. The stalwart of Carnatic music Semmangudi Srinivasa Iyer had famously commented: "I was greatly influenced by Ariyakkudi Ramanuja Iyengar. I do not want another life. But if there is one, I want to be able to sing like him!"
We end with Ariyakkudi's recording of Neelakanta Sivan's poignant Tamil composition in Raga Mukhari: 'Endraikku Shiva Krupai Varumo?' — When will I receive Lord Shiva's grace? When will this wretched man's grief cease? When you are wealthy and happy, everyone crowds around you. When you are not, they are the first to desert you. It is only Shiva's grace that is permanent in this ephemeral world.
Endraikku Siva Kripai – Mukhari
The author is a historian, political analyst and a Senior Fellow at the Nehru Memorial Museum and Library, with an upcoming biography of Savarkar. The music clips are from the 'Archive of Indian Music' that he has established to digitise and preserve vintage recordings of India. Views are personal.