Lights, traffic, markets!
Diwali, India's festival of lights is here and so is the season of gifting. Those big Diwali hampers are out and soon the streets are going to be clogged with cars ferrying and distributing the hampers to friends, relatives and professional contacts. But this year, let's not get carried away with chocolates, cookies, juices and other packaged foods. Bring the humble halwai back into the hamper.
For some years now, middle-class Indians have been declaring their new urbanity and cosmopolitanism by frowning upon the desi mithai and opting for packaged brands of sugary delights for Diwali hampers. Amitabh Bachchan's campaign in the early 2000s, placing chocolates at the heart of Diwali gifting was the beginning of the edging out of desi mithai. Newspapers routinely publish articles just before Diwali about food adulteration in desi mithai. But the aggressive rejection of halwai-made Indian sweets is unfortunate. Especially because chocolates aren't exactly a healthier option.
So why does the halwai get a bad image?
One glance at India's bustling markets and you'll have your answer. The humble neighbourhood Halwai pales in comparison to fancy confectioners, catering only to staunch mithai loyalists who know that the festival of lights is incomplete without a generous sprinkling of tradition.
Moreover, back when I was a child, food adulteration affected sweet buying decisions greatly. While gifting glistening cartons of cookies and chocolates, people often cited how adulterated milk and other ingredients forced them to not enter the sweet shop.
Improper storage, contamination, bad hygiene and risk of stomach infection were concerns buyers couldn't shirk.
Massive advertisement budgets and big stars ensured that Indian consumers stayed with a safe choice. But I think it's time we give bring our delectable 'desi mithai' back into the limelight.
---
Also read:
---
Bring mithai back
There are plenty of reasons to support Indian sweets. In terms of nutrition and adding value to festival aesthetics, mithais do more good to Diwali than the insipid packed snacks you munch on every day.
Think of this—the confections you receive this season are just bundled in one box, Cadbury Celebrations to Ferrero Rocher. Except for the packaging, none of these brands make anything 'festival specific'. Nobody counts day or occasion while eating a bar of chocolate, but place a Gulab Jamun or Barfi box at the table and everyone feels a sense of festivity and celebration.
---
Also read:
---
No calorie bombs
If you make faces when offered a gulab jamun because it is 'too sweet' or 'calorie-dense' but don't think twice before gobbling candy, I have some bad news. Thanks to the norms set by food regulators in India, every packaged food item has a nutrition label that must draw your attention irrespective of its font size.
Consider this. A basic 100-gram bar of chocolate contains over 57 grams of sugar. Do you know how much sugar 100 grams of Gulab Jamun contains? About 50 grams, if you buy the tinned cans. Even the mighty soan papdi—which I have a personal vendetta against—contains 47 grams of sugar, about 20 per cent less than standard milk chocolate. All mithai demonised as 'sugar bombs'—Rasgulla, Kaju Katli or Barfi—are likely to contain less sugar for every 100-gram serving compared to a chocolate bar of the same size. The data on sugar content displayed here comes from leading sweet makers in the country, such as Haldiram's, MTR and Big Basket.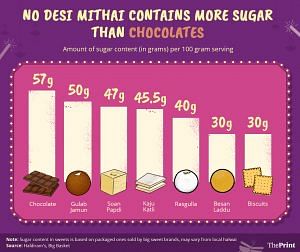 People tend to consume less mithai compared to junk foods. So there is a bright chance that you might end up buying only a 200-400 gram pack, which becomes economically reasonable compared to an ornate box of chocolate. Moreover, by gifting a smaller pack of sweets that can be consumed quickly by a family, you may also solve the 'storage' clause people cite when not opting for mithai.
With stringent norms on what can be passed as edible and growing competition among local mithai makers, halwais know that bad-quality sweets will not sustain in today's economy.  Such is the power of market competition—everyone is trying to achieve the best standards at the most reasonable price.
But if you're still concerned about quality and hope to add meaning to the gifts you give out, making your own is probably a good idea. Take this example. On Holi, a bunch of my friends and I tried MYOM—Make Your Own Mithai. We gathered ingredients and in one kitchen—with full coordination and decided roles—managed to make 100 Gujiyas. Each took 10 pieces along with the wonderful memories, gossip and praise for the ones gifted.
If you don't have the will to go this route, try reaching out to trusted friends, individuals or boutique stores specialising in Indian sweets. Next, if you do want to purchase mithai from local shops but are concerned about ill effects, making an informed buy can help. Read food reviews on Zomato, Google and Swiggy to mitigate the risk of buying and consuming bad-quality products.
If handmade chocolates, assorted candles and premium baked goods can travel from one home to the other via word of mouth, so can our beloved mithai. You can even call them 'handcrafted Diwali assortments' to sound fancy.
Last year I wrote an opinion about the hierarchy of Diwali gifts, most of which were ruled by desi mithais. This Diwali, let's make our mithai popular again.
(Edited by Zoya Bhatti)